September 26, 2014
3 Ways to Ensure Your Sports Bar Doesn't Suffer During the Winter Months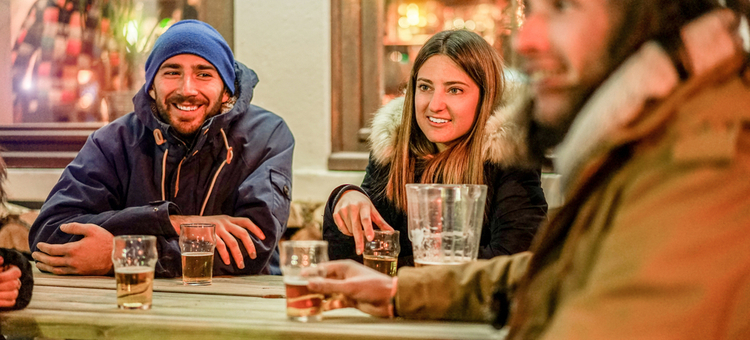 When the weather gets cold and the roads are covered in snow, it can be hard to get customers to come out to your sports bar. Most of them would rather stay at home where it's warm…that is, unless you can entice them to come out! It takes some creativity and persistence to bring customers out to your bar when it's cold, but you can do it! Here are three things you can do to ensure your sports bar doesn't suffer during the winter months.
1. Have some indoor activities.
Yes, of course you'll have games on your televisions. But you should make sure there are other things for customers to do, too! Maybe during the summer you have an outdoor fire pit, a great patio, or even outdoor games like corn hole. Be sure you have equally awesome indoor activities when it gets too cold to go outside. Do you have pool tables, darts, or other games? With Buzztime's Trivia LIVE, you can give customers a fun game that tests their knowledge while also being a great social activity
2. Utilize social media.
When your customers are comfortable at home on their sofas, it can be easy for them to forget about what's going on at your bar, even if they're typically loyal customers. It's your job to remind customers of what you have to offer. Of course, you can't exactly call up every single customer. Instead, focus on your social media presence. Tweet about your specials and promotions and post pictures on Facebook and Instagram. If you post about your happy hour deals near the end of the work day, you might be able to convince customers to stop by your bar before they hibernate for the rest of the night. And don't forget to interact with customers, too!
3. Offer something special.
It you're hoping to tempt customers out of their comfortable homes, you can't just do business as usual. You have to offer customers something unique that they can't get at home. Whether it's a killer drink deal, a brand new item on your menu, or a unique game like OpinioNation LIVE, it's important to offer something new and exciting. Or, consider having a summer-themed party in the middle of winter! Bring in sand, beach balls, and beach umbrellas.
Winter is just around the corner, so it's important to be prepared! By having indoor activities, utilizing social media, and offering something special, you can ensure that your sports bar doesn't suffer during the colder months!
The Bar Owner's Guide to Live Streaming
The ultimate guide for owners & managers.