November 5, 2014
4 Must Have Thanksgiving Drinks for Your Bar Menu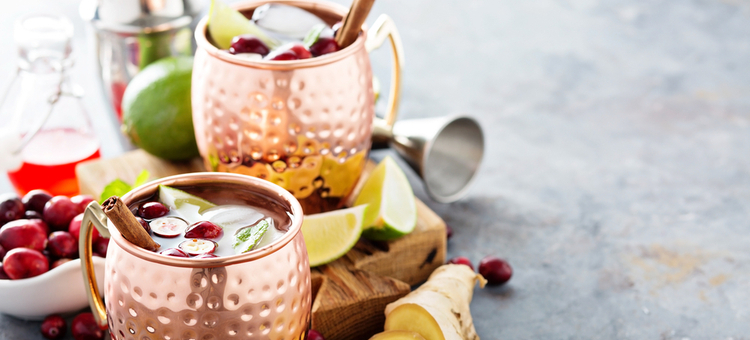 Pumpkin pie, cranberry sauce, turkey, and stuffing are just a few of the foods that people look forward to on Thanksgiving. But why should food get all the attention? Try out these four must-have Thanksgiving drinks at your bar. By incorporating holidays flavors like maple, cranberry, apple, and pumpkin, you can get your customers into the Thanksgiving spirit!
Pumpkin Pie Martini
Pumpkin, nutmeg, vanilla, and white chocolate flavors make this super-sweet cocktail perfect for a fall dessert. The graham cracker crumb rim is a perfect added touch.
-2 ounces vanilla vodka
-2 ounces white creme de cacao
-1/4 cup heavy cream
-1.5 tablespoons of pumpkin puree (pie mix)
-1 dash of ground nutmeg
-Powdered graham cracker (for the rim)
Rim two martini glasses with crushed graham cracker. Fill a shaker with ice and add the vodka, creme de cacao, cream and pumpkin puree. Shake well until chilled. Strain into martini glasses. Sprinkle ground nutmeg on top for garnish.
The Ultimate Checklist For Bigger Bar Sales
The ultimate guide for owners & managers.
The Maple Perfect Manhattan
Manhattans are a special treat any time of year, but adding maple syrup makes the drink extra appropriate for a Thanksgiving feast.
-2 ounces rye
-1/2 ounce dry vermouth
-1 tablespoon pure maple syrup
-2 dashes bitters
-Ice
-Pickled cherries
Add the rye, vermouth, maple syrup and bitters into cocktail shaker. Shake and pour over ice in a rocks glass. Add skewered cherries and drink.
Cranberry Ginger Martini
Cranberry and ginger are two flavors that are right at home on any Thanksgiving menu, so why not add them to a martini?
-2 tsp. grated ginger
-8 cranberries
-4 oz. cranberry vodka
-Splash of lime juice
-Splash of cranberry juice
-Splash of simple syrup
-Splash of Sprite
-Lemon twist
Muddle ginger and cranberries in a shaker. Add ice, vodka, both juices, and simple syrup. Shake well. Strain into a martini glass, and add Sprite. Garnish with lemon twist.
Apple-Pie Spiced Cider
Just as Thanksgiving dinner doesn't feel right without a slice of pie, your cocktail menu won't be complete without this hot apple pie spiced cider.
-1 1/4 quarts apple cider
-3 tablespoons firmly packed light-brown sugar
-7 whole cinnamon sticks, (6 sticks for garnish)
-1 teaspoon ground allspice
-1/2 teaspoon ground ginger
-Ground cloves
-Freshly grated nutmeg
-Salt
-1/2 cup Calvados, or other brandy
In medium saucepan, whisk together cider, sugar, spices, and salt. Bring to simmer. Remove from heat; pour in brandy. Strain into a pitcher; discard solids. Serve in mugs, garnished with cinnamon sticks. Serves six.