July 24, 2014
6 Fun Summer Games for Your Bar Patio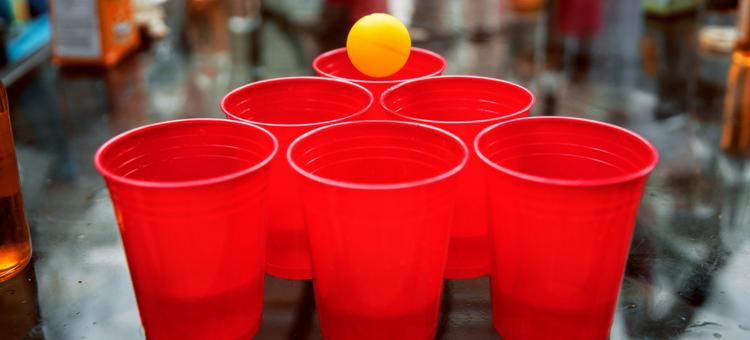 Now that summer weather is here, your bar guests don't want to be stuck inside. It's time to take advantage of your patio and play some games in the open air. Customers who play games end up staying at your bar much longer…which means more sales for you! Here are some of our favorite summer games that are perfect for your bar patio.
Giant Jenga.
Giant Jenga is exactly what it sounds like…a giant version of the childhood favorite Jenga. Instead of removing tiny pieces, players are tasked with trying to remove huge game pieces. And when the tower finally topples, the results are pretty dramatic! Giant Jenga is a game that tends to attract a crowd of curious spectators. You can learn how to make your own giant Jenga game with this tutorial from Instructables.
Spelling bees.
Spelling bees might have been fun when you were a kid (or, if you were a bad speller, just plain annoying). But if you try out a spelling bee with a group of tipsy adults? Suddenly things get a lot more interesting. The Rock and Roll Hotel offers an event called the Spelling Buzz; every contestant must have a drink in hand, because the host and the speller can order players to drink at any time. Letting customers enjoy the fresh air on your patio while trying to spell difficult words can lead to some hilarious memories.
If you bar has a lot of outdoor space, you might consider bocce. The social game is easy to play while drinking and is newly popular with younger players.
Shuffleboard.
Shuffleboard isn't just for senior citizens; in fact, there are whole bars popping up that specialize in the game! The court is relatively narrow and won't take up too much space on your patio. Customers will definitely be intrigued!
This classic bar game doesn't need to take place indoors. It's a great game for your customers to enjoy on your patio on a warm summer night with a beer in hand.
Board games.
Board games aren't just for kids anymore. Newly opened establishment, Kingmakers, refers to itself as a "board game parlor," realizes that a captive audience of board game players is great for business. There's no reason why customers have to play board games inside; they can be easily moved to your patio during summer months.
OpinioNation LIVE.
You might already have trivia games at your bar, so you know that they can create a fun sense of competition and engage your customers. But sometimes trivia games can feel like they're for brainiacs only. Enter OpinioNation LIVE, a game that's just as fun as trivia but is way more accessible to a broader audience of your customers. Instead of trying to find the right answers, players attempt to figure out the most popular answers. This light game is perfect for everybody!
Beer pong.
No, you're not having a flashback to college parties. Beer pong is the perfect patio game. Customers can make a mess without worrying about destroying your bar, and they will be purchasing a lot of beer!
Now that summer's in full swing, there's no excuse not to bust out some fun games for your patio! What will you be playing this summer?
26 Bar Promotions That Work
The ultimate guide for owners & managers.