Consumer Use of Restaurant Technology On the Rise
According to research from the National Restaurant Association, restaurant technology use has significantly increased in the past two years—in fact, over one third of customers report that they are more likely to use restaurant technology now. As this infographic shows, the use of smartphones to interact with restaurants has gone way up.
And what might be the most surprising is that it's not just Millennials! While it's no shock that 90% of Millennials own or regularly use a smartphone or tablet, 60% of Baby Boomers can say the same. And while 53% of Millennials say that they are more likely to use restaurant technology options now than they were two years ago, Baby Boomers aren't lagging far behind at 26%.
As for how customers are using their smartphones to interact with restaurants, Millennials and Baby Boomers have a lot in common. 12% of Millennials and 8% of Baby Boomers use restaurant-branded apps to order takeout or delivery at least once a week. 11% of Millennials and 6% of Baby Boomers use their smartphones to redeem special deals or promotions at least once a week. An equal number of Millennials and Baby Boomers (10%) use their smartphones to pay for their meals at least once a week.
There's one area where Baby Boomers actually surpass Millennials—just 14% of Millennials report using their phones to look up nutrition info once a week, while 19% of Baby Boomers say the same.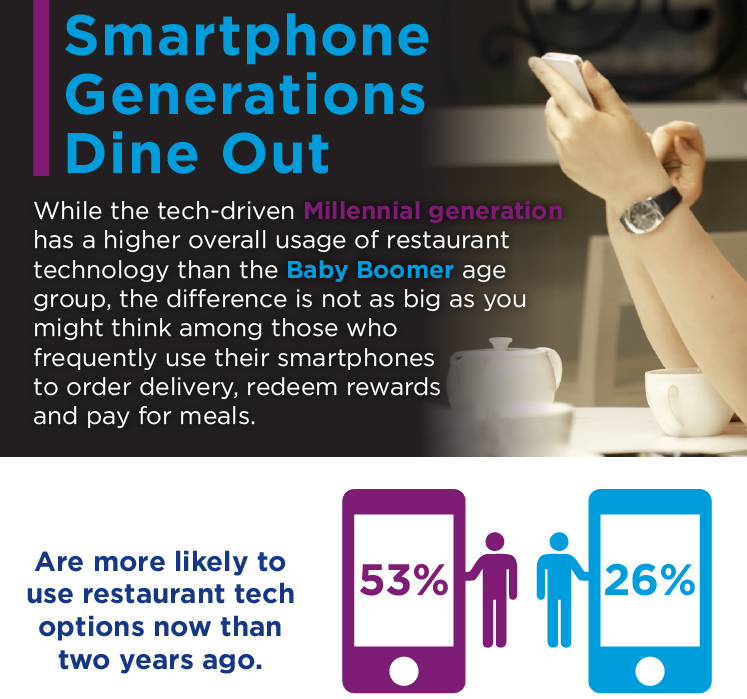 So what can your restaurant learn from this information? Customers, no matter their age, are hungry for technology options. A majority of customers have or regularly use smartphones or tablets, and many report interest in using them to interact with your restaurant. Creating your own app, making it possible for customers to order online, offering online promotions, and letting customers pay for their meals via smartphones are just a few ways that you can take advantage of your customers' desire for restaurant technology. And, if you're intent is to attract Baby Boomer customers, you may want to focus on including your restaurant's nutrition information online.