Partners in Your Profitability: Buzztime Tabletop Ordering and NCR's Aloha POS
The Aloha POS from NCR becomes even more powerful when you bring Buzztime handheld tablets into the mix! As an authorized NCR Hospitality Technology Partner, Buzztime's tabletop dining and digital menu technology solutions seamlessly integrate with the Aloha POS. Explore what Buzztime brings to YOUR table:
Pay at the Table: Guests can check out right on the EMV-capable Buzztime Tablet
Entertainment: Wait time becomes play time as guests tap into Buzztime's vault of on-tablet games and trivia
Dynamic Digital Menu: Dynamic Digital Menu Easily create a digital touchscreen version of your menu customized with your brand
Turn Tables Faster. Make Guests Happier
Like your best server, the Buzztime Tablet is wired to please guests and drive up sales. Here's how tabletop ordering boosts business and delights guests:
Customers are shown add-ons with each digital menu item which adds excitement and novelty to ordering – guests are wired to indulge and pile on the extras.
From grain-free to extra dressing, the Buzztime Tablet is always accurate and timely! Orders and reorders are sent straight to the kitchen.
Enjoy reduced labor costs as fewer servers are needed to cover tables because the Buzztime Tablet manages tabletop ordering and payment.
No more bored guests! With endless entertainment at their fingertips, guests are too busy playing to realize they're waiting.
Upgrade Their Dining Experience
Watch Guests Return for More
Buzztime and NCR's Aloha POS empower you to super-serve guests by giving them more than a meal. With Buzztime digital menu and tabletop ordering, you're giving guests what they crave: entertainment, convenience, and control. It's an experience that boosts loyalty and drives repeat business for the 3,000 bars and restaurants that carry Buzztime.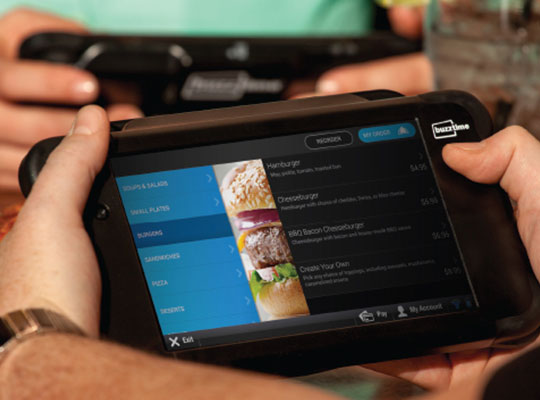 The Buzz About Buzztime From Satisfied Venues
Buzztime brings in new customers and new business. With the tablets we have something to offer them that our competitors do not.

– Old Chicago
Stand Out in the Crowded Restaurant Scene
Get ahead of the competition by integrating the latest technology into your business from NCR and Buzztime. Digital menu and tabletop ordering capabilities will set you apart from the rest – while delivering unprecedented guest satisfaction.