April 29, 2019
Reviews of Stump Trivia: Taking the Guesswork Out of Live Trivia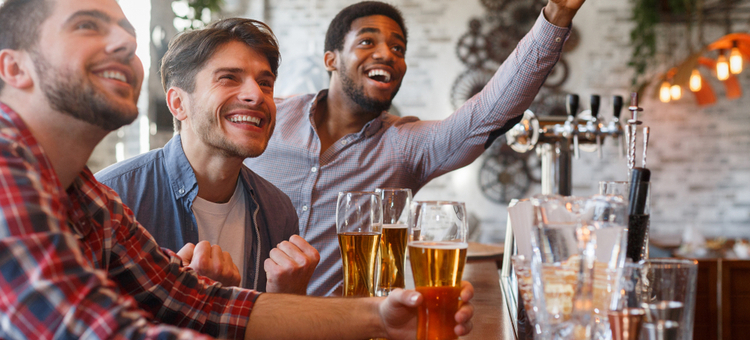 So, you've finally decided to get in on the live trivia trend? You're in good company. Right now, thousands of bars, restaurants, and other venues are using trivia events to attract customers – and bring them back on a repeat basis.
The next step is deciding which trivia subscription service or hosting company is best for your business. That's why we put together this review of Stump Trivia, one of America's leading trivia companies.
Stump Trivia 101: 300 Events Per Week, Millions of Players, and 20 Years of Experience
As you explore trivia subscription services and hosts, look for companies with a proven track record. There are plenty of fly-by-night trivia "companies" out there. But your business's reputation is on the line. If your customers have a bad time or the questions are inaccurate during your first trivia event? You won't get a second chance.
Stump Trivia is one of the original trivia companies and has been in business since 1999. Founded in Boston, Stump now provides trivia subscription services and fully hosted options to thousands of venues nationwide.
Pick a Trivia Package…Any Package
When looking at reviews of Stump Trivia, venues appreciate the many different packages available. There's the "full-service" option where Stump Trivia provides it all: a professionally trained trivia host who runs the entire event, answer sheets, pens, even music during the event.
However, Stump Trivia can also hook you up with pre-packaged questions and answers – so you can run the event yourself! (Plus, there's even a mobile trivia subscription service available, more on that in the next section.) If you decide to host your own trivia event, check out this beginner's guide to hosting live trivia.
Stump Trivia even offers themed trivia packages. With themed trivia, the entire game is devoted to a singular, popular topic such as The Office, Friends, Game of Thrones, Harry Potter, and 90s TV shows. Venues that run a weekly general trivia event, or use a trivia subscription service, are now adding on these "one-off" theme nights to attract fans of the TV shows, who may have never competed in live trivia before. So far, venues are seeing theme night attendees joining in the weekly events!
New Mobile Trivia Subscription Service
Together with Buzztime, Stump Trivia is launching a new twist on the traditional pen-and-paper trivia format. Stump Mobile is a trivia subscription service that runs entirely on mobile devices. Here's how it works:
For about $25/week, you can subscribe to Stump Mobile. Each week, you'll have unlimited access to a new batch of trivia questions and answers. Yes, that means you can run as many trivia events as you want. This trivia subscription service is all about flexibility when it comes to hosting. You can use one of your staff members, any outside host, or Stump! Trivia can provide a host.
Instead of writing down answers, and then running them up to the trivia host, Stump Mobile players use their smartphones to submit answers. Auto-scoring to make it easy for anyone to host, the questions show up on the screens, it's a faster paced game, and it's a "greener" option. These are just some of the benefits of the Stump Mobile trivia subscription service vs a traditional pen-and-paper pub quiz.
The Supreme Guide to Throwing Live Events at Your Bar
The ultimate guide for owners & managers.
What Sets Stump Trivia Apart? 3 Things: Questions, Format, Hosts
100% Accurate, Up-to-Date Questions
No matter which Stump Trivia package you select – from the mobile trivia subscription service to the fully hosted option – you can trust the quality of the questions.
Stump Trivia prides itself on trivia that's relevant, current, interesting…and never "trivial." You won't find obscure questions that are nearly impossible to answer. Stump Trivia is known for having one of the world's largest collections of trivia, with over 700,000 questions and more added daily.
Unfortunately, some trivia subscription services and companies just perform internet searches to find their questions and answers. The result? Questions are often boring, and answers can be flat out wrong. Instead, Stump Trivia employs actual trivia writers who come up with original, custom questions. All answers are verified by researching multiple sources.
The Unique, Strategy-Based Format
Trivia players want a chance to show off their knowledge, not their ability to guess the correct answer! Many trivia subscription services run on a simple, multiple choice format. Instead, Stump Trivia incorporates strategy as players wager points throughout the game. Bonus rounds also require clever, out-of-the-box thinking.
Stump Trivia also offers a truly unique game called OpinioNation. Each week, the public is polled for their opinions on certain topics. (You can even get involved by answering this week's set of OpinioNation questions). Then, OpinioNation players have to guess how everyone answered. If you're thinking this sounds similar to "Family Feud", you're correct. It's a ton of fun and totally cheat proof. OpinioNation is currently not available through the mobile trivia subscription service, but it's available in a pen-and-paper format.
The Hosts: Friendly, Charismatic, and True Trivia Lovers
Stump Trivia hosts have a reputation for being some of the best in the business. No, they are not just DJs. Rather, they're people who are passionate about trivia. And they've undergone some pretty serious trivia training through Stump Trivia! Over half of the Stump Trivia hosts have been employed by Stump for over 5 years, 25% of the hosts have been with Stump for over a decade!
While the mobile trivia subscription service is cost-effective and convenient, if you want to hire a professional host…definitely turn to Stump Trivia.
How Stump Trivia Sets You Up for Success
When looking at Stump Trivia reviews, many business owners and managers praise the support provided by the company. There's no need to wing it and hope for the best. After two decades as a top trivia provider, Stump Trivia knows what works – and what doesn't. And they're happy to share their insider tips and best practices with you.
Just like you, Stump Trivia wants as many attendees at your live trivia event as possible. Stump Trivia goes the extra mile with free resources like posters, table tents, and other promotional tools – whether you're hiring their hosts or using the Stump Mobile trivia subscription service.
Stump Trivia's goal is the same as yours: put on the very best trivia event that draws a crowd…and keeps 'em coming back for more.