January 2, 2018
More Guests, Bigger Checks: Make it Happen in 2018 with 5 New Year's Resolutions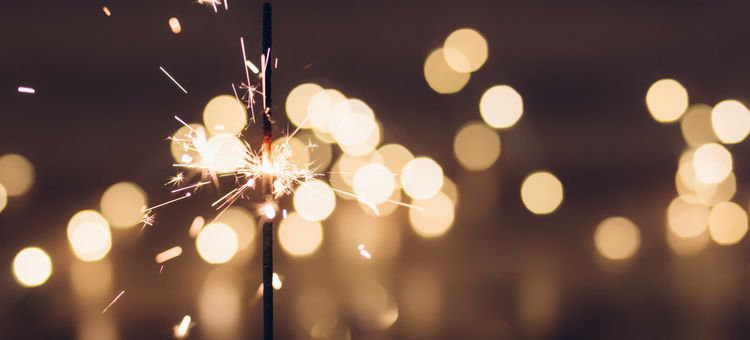 Procrastinated on your New Year's resolutions? Good! Because these are the only bar and restaurant goals you need for a successful 2018. Each goal includes action items – shown to be effective by the latest stats and studies. Get ready to say "cheers" to your most successful year…ever.
Goal #1 – Increase Check Averages
It's the holy grail of bar and restaurant goals: bigger checks. These 3 strategies can help increase sales while driving up guest satisfaction – it's a win-win.
Action: Tune Up Your Playlist
Adjust your playlist by daypart as one of your bar and restaurant goals.
Result: Boost Drink Sales
Select louder, higher tempo tunes during busy times (you'll turn tables faster). Play it low and slow when business isn't brisk to see up to a 40% lift in drink sales. See 7 more researched-based background music tips, here.
Action: Train Your Staff to Upsell
Don't leave upselling up to chance. Train your servers and bartenders using this free Golden Book of Upselling Secrets. When it comes to bar and restaurant goals, get your entire team on board for maximum results.
Result: 27% Higher Sales
Here's just one example of bar and restaurant goals focused on upselling: Instruct servers to vividly describe a dish to increase its sales by 27%, according to a Cornell University study. Tonight's special isn't the "blue cheese burger with fries" – it's the "1/2 lb. Prime Angus burger with creamy blue cheese, caramelized onions, and house-cut fries."
Action: Raise Your Fun Factor
The best bar and restaurant goals add value to every guest visit. One of the easiest ways to enhance the guest experience? Make it more entertaining. Treat guests to free, nationally scheduled trivia 15 hours a day, 7 days a week. It's all served up on touchscreen Buzztime Tablets that also let guests tap into an on-demand digital arcade.
Result: 21% Average Increase Per Table Check
An independent Arbitron study revealed that Buzztime players spend 21% more per table check than non-players.
Goal #2 – Boost Your Marketing ROI
Marketing takes time and money. Save on both by making "marketing automation" one of your 2018 bar and restaurant goals.
Action: Automate Your Email Marketing
For as low as $10/month, you can use a service like MailChimp to automatically send guests a welcome email when they subscribe to your email list. Or, set a "trigger" to email a coupon on the guest's birthday. You can even automate your email list buildout with a service like Gazella. Gazella asks for the guest's email in exchange for use of your free wi-fi.
Result: 175+ Email Signups Per Month
Services like Gazella boost email signups by 175 per month on average. It's all automatic. It pays to prioritize "automation" bar and restaurant goals.
Action: Use Digital Signage
All signs point to putting digital signage at the top of your bar and restaurant goals list. Simple software turns your existing TVs into dynamic display ads. With the right digital signage partner, you get free templates – ready to customize with daily specials and upcoming events. You can even set digital ads to automatically rotate by daypart and day.
Results: Save on Print Costs, Increase Sales by 30%
A Nielson study revealed that on-site digital signage can increase sales of an item by over 30%.
Action: Set Up a Chatbot
Admit it, you've always wanted your own robot. So, set one up using this how-to guide. You can create automatic responses to frequent questions asked on Facebook Messenger, like: "Can I make a reservation?" or "What are your hours?" Don't worry, you can still respond personally to messages, too.
Results: Reduce Time Spent Responding to Facebook Messages
Yes, chatbots are still an emerging trend. But if you – and your guests – love trying the latest tech, make chatbots one of your bar and restaurant goals. You'll be in good company: Taco Bell's "Taco Bot" is gaining momentum.
Goal #3 – Bring in More Customers
Attracting more patrons is one of your 2018 bar and restaurant goals…right? Try these simple crowd-building tactics.
Action: Market to Millennials with Snapchat
If you want to be the "It" spot with millennials, your bar and restaurant goals should include Snapchat. The latest stats from comScore show that over 60% of smartphone users under 34 are on this trendy photo-sharing and messaging app. You can get up and running in about 10 minutes using this Snapchat guide for bars and restaurants.
Result: 40% of Local Businesses Using Snapchat Had a 10x-19x ROI
Action: Host Live Trivia
The answer to slow midweek nights? Live trivia. It's a must if your bar and restaurant goals are focused on bringing in more guests. Live event is trending everywhere from college bars to neighborhood restaurants. Instead of hiring an (expensive) outside trivia host, you can use Buzztime tablets to host live trivia yourself.
Result: Consistent Midweek Business, Exposure to 10 Million People
Beef O'Brady's in Apollo Beach launched Buzztime Trivia LIVE – and saw guest traffic grow by 40% and pitcher sales increase by 200%. Plus, when you become a Buzztime location, you'll be seen by 10 million registered players looking for a place to compete in their favorite games and trivia.
Action: Press Record on Social Videos
Use videos to kickstart your social media bar and restaurant goals. You'll stick out on Facebook – catching the eyes of new customers. Try Facebook's free slideshow feature. You pick the title, music, and as many as ten pictures – then Facebook creates a short video. See how to do it, plus check out the latest Facebook DOs and DON'Ts for restaurants.
Result: Increased Visibility on Facebook
According to a study by Social Bakers, videos are 135% more likely to be seen on Facebook than photos. It's a great reason to prioritize videos in your bar and restaurant goals.
The Ultimate Checklist For Bigger Bar Sales
The ultimate guide for owners & managers.
Goal #4 – Improve Guest Loyalty
Bar and restaurant goals that revolve around loyalty pay off. After all, if you can boost guest retention rates by 5%, you could increase your profitability by 25-95%.
Action: Launch a Loyalty App
Guest loyalty. There's an app for that! It's more affordable than ever to build out a loyalty app that guests can download to their smartphone. See the step-by-step guide for designing a restaurant loyalty app – and put it on your 2018 bar and restaurant goals to-do list.
Result: Guests 73% More Likely to Recommend Your Business to Others
In addition, a strong loyalty program is also shown to keep 81% of guests coming back to you. Both statistics are from a 2017 VISA/Bond Brand Loyalty study of over 28,000 North Americans.
Action: Use EMV-Equipped Restaurant Tablets
Hackers. Identify theft. Stolen credit cards. It's all top-of-mind for today's guests – with good reason. Your bar and restaurant goals should focus on easing their fears. One way to do this is by letting guest pay in the most secure way possible: using EMV ("chip" card) readers. With the latest restaurant tablets, guests can order and securely pay on handheld tablets equipped with an EMV card reader. Their credit card never leaves the table, for added peace of mind.
Result: 85% of Guests are More Loyal to Businesses That Protect Their Financial Info
A massive 2017 study performed by Accenture revealed this powerful link between security and customer loyalty. Analyze your operations to see if other security measures should make it on your list of bar and restaurant goals.
Goal #5 – Rock Your Reputation
It may be a new year, but that one-star Yelp review from November 2017 isn't going anywhere. Focus some of your 2018 bar and restaurant goals on reputation management.
Action: Stalk Yourself
Yes, we're serious. Keep tabs on your reputation so you can take action to address any customer complaints or negative press. Here's how to put these bar and restaurant goals into action:
Set up free Google Alerts for your business name
Activate "push notifications" to alert you when someone leaves a Facebook review or comment
Subscribe to a reputation management service like Review Trackers
Monitor your Yelp page on the daily
Result: A Better Reputation
Awareness is critical for achieving reputation-related bar and restaurant goals: Once you know about negative reviews or comments, you can take action…using the next step.
Action: Respond. To. Every. Single. Review.
Learning how to respond to negative reviews using the 7A Formula should be a priority as far as 2018 bar and restaurant goals go.
Result: 34% of People Remove Initial Bad Reviews, 5-9% Revenue Boost
Experts recommend responding to all reviews – good and bad – within 24 hours. But it's never too late to address complaints. In fact, if you offer a great response, 34% will delete their bad review and 33% may add a new, positive review. (Source: The Retail Consumer Report by RightNow and Harris Interactive.). Plus, a Harvard Business School study shows that restaurant revenue increases by 5-9% for every extra Yelp star.
The secret to setting bar and restaurant goals is to first focus on the results you want. Then, select the action items that will help you achieve those results. Use this list of bar and restaurant goals to guide you to a most prosperous new year. Cheers to 2018!