Tabletop Ordering: Powered by Buzztime + Digital Dining
Buzztime and Digital Dining have teamed up to bring tabletop dining and digital menu technology to your venue. Guests can order, pay, and play – right at their table from handheld Buzztime Tablets that seamlessly integrate with your POS.  It's all 100% customizable. You select which integration options are right for your business!
Pay at the Table: Guests can securely check out directly on the EMV-capable Buzztime Tablet
Entertainment: Give guests unlimited access to Buzztime's massive suite of trivia and games for all ages
Dynamic Digital Menu: A fully branded, touchscreen version of your menu that changes with dayparts and specials
Business Benefits
Turn Tables Faster. Make Guests Happier
Like your best server, the Buzztime Tablet is wired to please guests and drive up sales. Here's how tabletop ordering boosts business and delights guests:
Customers can't resist automatic add-ons and extras that show up with each digital menu item. Instant re-ordering is also a breeze.
From gluten-free to extra cheese, the Buzztime Tablet always gets it right – and sends orders straight to the kitchen.
Lower labor costs by freeing up servers to cover more tables while the Buzztime Tablet handles tabletop ordering and payment.
Wait time becomes play time as guests enjoy endless on-tablet entertainment at their fingertips. Let the fun begin…
Enhance Their Dining Experience
What Guests Want:
Tech with a Personal Touch
Digital menu technology feels more personal to today's customer – because it's all about them. They order and check out on their time. They select extra toppings for their burger with one click. And they play their favorite Buzztime game on demand. It's instant gratification that fosters loyalty and drives repeat business. Just ask the 3,000 bars and restaurants that offer Buzztime.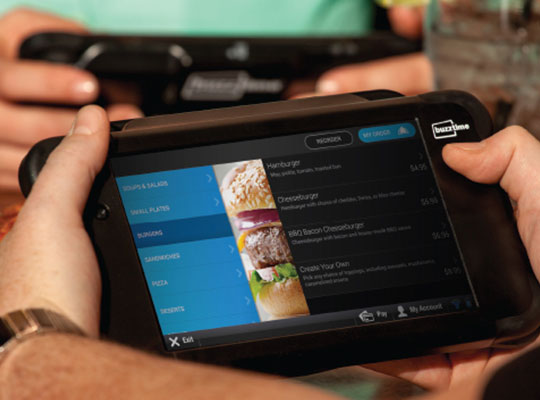 Tabletop Ordering is Tops for Venues Like Yours
Buzztime brings in new customers and new business. With the tablets we have something to offer them that our competitors do not.

– Old Chicago
Your Competitive Advantage
Now is the time to integrate digital menu and tabletop ordering into your operations. You'll stand out in the crowded bar and restaurant biz, while super-serving guests. Make your move to increase revenue and improve guest satisfaction.
This is your moment.