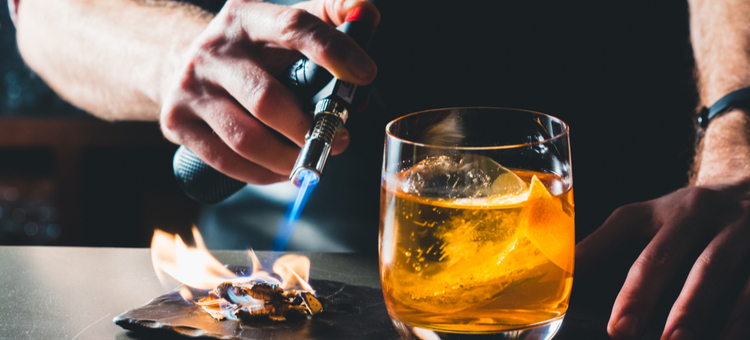 If bar gadgets make you think of the basics, like corkscrews and hourglass jiggers, think again. Today, everyone from veteran bartenders to new-school mixologists are incorporating tech-forward devices into their craft. And it's not just for kicks…
Bar owners realize that guests want more than just a drink, it's all about the overall experience. Bar gadgets can create those memorable, Instagram-worthy experiences: whether it's a bar trivia throwdown or a smoke-infused cocktail. Read on for the 10 best bar gadgets and why you need them. 
1. Got Foam FOMO? Get Beer Ripples.
Why let café baristas have all the fun (and Instagram action) with their fancy latte art? With the beer ripples bar gadget, you can print anything you want onto beer foam. The beer art possibilities are endless. It could be your bar's logo, a funny saying, a seasonal symbol like a heart for Valentine's Day…you get the picture.
2. Entertain and Retain Customers with 24/7 Trivia
It's no secret that live bar trivia is a big deal. The problem is, most bars only run live trivia for a few hours once a week. What if there was a bar gadget that could put trivia within reach of all customers, at all times?
Glad you asked because there's a Buzztime bar gadget that instantly connects your TVs – and your customers – to a nationwide trivia network. Using their smartphone to submit answers, players compete for prizes and glory in real-time trivia games with folks across the bar or across the nation.
3. Impress Guests with a Total Smoke Show
Chances are, Charles Joly is one of your bartending idols – and for good reason. This award-winning bartender with 20 years' experience has taken mixology to another level by creatively incorporating bar gadgets into his routine, like his signature "Smoking Box."
Smoke is pumped into the glass box which has room for a cocktail or two. Guests then open the door to reveal their smoke-infused concoction. Joly created this bar gadget because he believes "the more ways you can impact your guests' senses, the more memorable and experiential (their visit) is going to be." We couldn't agree more…
[fl_builder_insert_layout slug="whitepaper-signup-module-50-best"]
4. Put a Spin on Classic Cocktails
From mixology, we move to mad-scientist-approved bar gadgets like a…centrifuge!? Yes, the same apparatus used in scientific labs is making its way to the bar top thanks to the popularity of the Spinzall, a centrifuge made for bars that costs under $1,000.
A centrifuge spins super-fast to separate components of a single substance by density, such as extracting liquids from solids. So how would you go about using this bar gadget? You might clarify juices or do a "fat-washing" process that adds extra flavor and texture to cocktails. For more centrifuge inspiration, read anything by Dave Arnold, the famed creator of the Spinzall and a master of wild and weird cocktails.
5. Watch Your Likes in Real Time
Want to boost your Facebook or Instagram likes? You'll love this next bar gadget. Meet the Like Box by Smiirl.
It looks like a minimalist, vintage alarm clock, with numbers flipping over to reveal your total likes in real-time. Yes, that means if a customer sees the box, they might be inspired to follow you on Facebook or Instagram – just to see this bar gadget in action. Set it out on the bar top and watch the likes come rollin' in…
6. Get Iced Out
Presentation is everything when it comes to cocktails with a higher price tag. Plus, no one is going to post a pic of their cocktail to Instagram if it contains boring, basic ice cubes. Instead, the Icebirg Press is a small bar gadget that churns out large, round ice balls. Prefer your ice with more bling? The Icebirg Diamond Pro is for you. Yes, it makes 2.5" ice diamonds.
7. Shake Things Up
You could add a dash of soda water to make that cocktail bubbly or opt for this next bar gadget instead. The Perlini Carbonated Cocktail System is essentially a cocktail shaker that injects CO2 (what creates those bubbles) as you shake. Yes, you could technically create your own seltzers and make all those Whiteclaw-crazed customers happy.
8. Show Me the Signs
The same bar gadget you could use to connect guests to on-demand trivia can also do something else: turn your TVs into customizable digital signage. In a few clicks, you can showcase drink specials, upcoming events, and customers or employees of the month – right on your own TVs. This is one type of bar gadget that could really pay off. A study by Nielsen revealed that sales of items shown on digital signage increase by up to 33%.
9. I, Robot, Will Serve Your Drinks (Say Hello to Robotic Drink Delivery)
Yes, we've heard the news, too. An actual robot is mixing up drinks and pouring beer at a Tokyo bar. Equipped with AI, the robot can even read customer reactions to ensure they're happy. Scary stuff.
But there's no need to fear Bbot, a robotic drink delivery system. It's not meant to replace you, the bartender. Rather, Bbot just delivers drinks via a pulley system that can be installed in your bar. Bbot can boost convenience, create a unique experience, and give your local media (and maybe national media) something to talk about – bringing more customers through your doors.
10. Grow Your Own Garnishes
How does your garden grow? Behind the bar, of course. Many bars and restaurants are tapping into the hyperlocal trend and growing their own garnishes and ingredients like microgreens right on-premise. Not only is this a cost-effective option, but it's also another opportunity to impress guests. To grow herbs and other plants indoors, you need proper lighting and ventilation. That's where a bar gadget like a grow cabinet comes in. Prices range from $5,000 to $10,000 but it's worth the investment if you cater to a health-conscious crowd.
Ultimately, bar gadgets are only that – gadgets. They are tools. What matters most is that you've mastered the basics of bartending and awesome customer service. After that, by all means, go all-in for the gadgets…