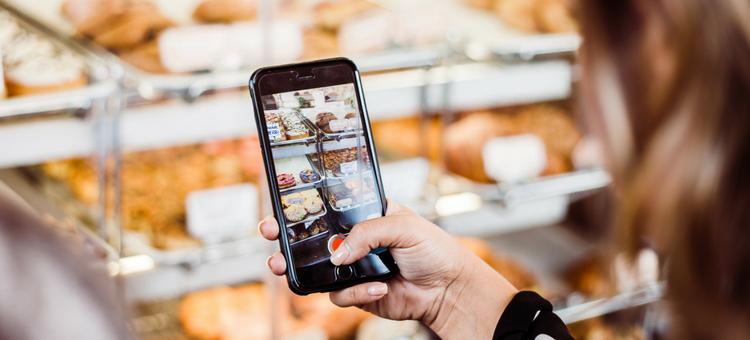 Do you want more millennials in your bar or restaurant? If the answer is yes, Snapchat is a must. Over 60 percent of Americans ages 13-34 use this popular instant picture messaging app, and 40 percent of Snapchat users are 25 and older. These Snapchat restaurant marketing tips will get you up to speed…in a snap.
Snapchat 101: 6 Terms to Know
Before we tackle the top Snapchat restaurant marketing ideas, here are the must-know terms:
Snapchat: Yes, it's the app name but it also refers to the picture or video that you share. It's also used as a verb. "I've got to Snapchat that awesome burger."
Friends: Snapchat is different from most social media platforms in that you can't search for users within the app by first and last name. You have to add them by Snapchat username or by syncing your contact list with the app. That's why it's important to promote that you're on Snapchat. (See step #1 in our list of Snapchat restaurant marketing tips.) Once you've added a contact, they're now your Snapchat "friend."
Snap: Snaps are pictures or videos you share directly with friends. When the friend opens your Snap, they only see it for 10 seconds, then it disappears. If you send a video, the recipient can replay it once. You can send Snaps to multiple friends.
Snapchat Story: Your Snap can last for longer than 10 seconds but only up to 24 hours by adding it to your Snapchat Story – this is viewable by all of your friends. Unlike Facebook, Instagram, and Twitter, there's no need to "curate" a Snapchat profile. After 24 hours, it's a new day on Snapchat!
Snap Maps: Recently launched, Snap Maps allow users to find each other using an interactive map that shows the real-time location of their friends (hopefully they're at your venue thanks to these Snapchat restaurant marketing tips). To maximize the power of Snap Maps, be sure to host millennial-friendly events and activities.
Our Story: Users can also submit public Snaps via the "Our Story" (otherwise known as the "Live Story") feature. If your Snap is accepted by Snapchat, it's then viewable by the public – and tagged to your location. Snapchat restaurant marketing should involve encouraging your patrons to submit their Snaps to the public "Our Story." Or, you can do it yourself. It's like free Snapchat restaurant marketing.
[fl_builder_insert_layout slug="whitepaper-signup-module-50-best"]
The 10 Best Snapchat Restaurant Marketing Strategies
1) Make a Snapchat Account!
Just dive in! This is the most important of our Snapchat restaurant marketing tips. The app is easy to navigate and fun to use. Once you've installed the Snapchat app on your smartphone, create a username of 15 characters or less. Your username should be your restaurant or bar's name.
When your account is set up, the second most critical item on our list of Snapchat restaurant marketing tips is to start advertising your username and the fact you're on Snapchat.
Of all the Snapchat restaurant marketing ideas, the best one is to always share your username. Don't just say you're on Snapchat. Each Snapchat user has a unique URL – put your URL anywhere you're online (website, other social media profiles, your email signature). That way, people can click the link and easily add you as a friend from any mobile device.
Put up posters or use digital signage on your TVs to let guests know you're on Snapchat: share your user name!
Give guests a reason to follow you on Snapchat like secret menus and specials
Snapchat restaurant marketing should happen on all digital platforms – other social media, web, email – by including your unique Snapchat URL
Also share your unique Snapchat code graphic, generated by Snapchat. This will be a yellow square with dots and the Snapchat "ghost"
Add your username and Snapchat code to your print materials
Start adding your contacts who may already be on Snapchat. Snapchat automates this for you.
2) Create a Geofilter – The Most Important Tip of All Snapchat restaurant marketing tips!
Your Snapchat restaurant marketing game plan should include a geofilter! A geofilter is a graphic overlay that Snapchat users can add to their photos and videos to display an event they are attending, or a business they are visiting. Users often browse geofiltered Snaps to see what the "vibe" of a business or location is like. Luckily, Snapchat just made it easy to create an on-demand geofilter! Or, hire a graphic design to create one for you – it's just one image.
As far as Snapchat restaurant marketing tactics go, the main takeaway is the fact that it's not cost-prohibitive to start promoting your business using geofilters. Once you've set up your geofilter, you set the time and location you want Snapchat users to see it. The minimum buy is $5.
3) Share Snaps of Your Food and Drinks
Snapchat users love to share what they are eating and drinking. In fact, 93% of Snapchatters have sent drink pictures to their connections on Snapchat. One of the top Snapchat restaurant marketing tips is to visually let Snapchatters know that you have Snap-worthy food and drinks.
As of June 2017, Snapchat lets you include links with your Snaps. Once in a while, add a link to your menu along with your Snap. But don't get too sales-y as we explain in the next item on our list of top Snapchat restaurant marketing tips…
4) Be Personal
Users expect a casual, personal experience on Snapchat. Don't be too promotional all the time (although the next topic on our list of Snapchat restaurant marketing tips is a great promotion to try!).
Treat Snapchatters to a behind-the-scenes look at the restaurant business. Snap a video of a prep chef preparing fresh ingredients for the night's special or an artisan cocktail. If you're comfortable, get even more personal. Heading to the farmers market? Give your culinary expertise on the ingredients you see. Traveling? Snap your meal in a cool restaurant. Have a dog? Snap. You get the picture…
Another example of personal Snapchat restaurant marketing tips is to use Snapchat's interactive filters. From dog ears to flower crowns, dancing characters to nerdy glasses, you can apply one of these fun filters to photos and videos taken of people's faces. Snapchat was original created as a selfie-sharing app. So occasionally sharing Snaps of yourself and your staff with goofy filters. You can't go wrong with Snapchat restaurant marketing that's personal and fun!
5) Offer Frequent Promotions via Snapchat
Next up on our list of Snapchat restaurant marketing tips is to offer promotions. Post a video or picture to your Snapchat story and offer a discount to the first 15 people who show their server the video or picture on your Snapchat story. To entice your friends, Snap a video your bartender mixing up a drink special or your chef prepping the appetizer you're offering at a discount. As far as Snapchat restaurant marketing tips go, videos are a great way to show off the skills of your team.
Your Snapchat restaurant marketing plan should also include incentives if patrons promote your restaurant or bar by adding your Snaps to their Snapchat stories. Give the user a discount or free appetizer, etc. for adding a Snapchat from your restaurant or bar to their own Snapchat story. This is easily one of the best Snapchat restaurant marketing tips – it's like an endorsement from your friends to their friends.
6) Pay for Snapchat Restaurant Marketing
We can now put SnapAds on our list of Snapchat restaurant marketing tips. Up until recently, it cost a 5-figure minimum to run a campaign! Now, Snapchat advertising is available to small and medium size businesses. We still think geofilters are the way to go, but if you want to really dive into these Snapchat restaurant marketing tips, give SnapAds a try!
7) Host VIP Events for your Snapchat Friends
Here's one of the easiest Snapchat restaurant marketing tips. Every few months, host a VIP event with complimentary appetizers for your Snapchat friends. You'll build bonds with your guests, boost patron loyalty, and of course…they'll be posting Snaps all night – promoting your location.
8) Announce Daily Specials and Tap Releases
When you release a new dish or cocktail, or tap a new craft beer, Snapchat it. You'll get patrons excited to be the first to try the new item. Here's a secret on our list of Snapchat restaurant marketing tips: don't always add the Snap to your Snapchat story. Just send it directly to your friends – it will seem more personal. Noticing a theme here on our list of Snapchat restaurant marketing tips? Snapchat's unofficial slogan is "Snapchat is for friends." So, ensure your Snapchats are friendly and casual.
9) Snap Pictures and Videos of Your Guests
Designate a night of the week when you only add photos and videos of your patrons to your Snapchat story. People like to be seen. Featuring them on your Snapchat story will give them their moment in the spotlight. Get creative with these Snapchat restaurant marketing tips and come up with your own ideas, too.
10) Host a Snapchat Takeover
Once a month, have your chef, host, or a server (that you trust!) take over your Snapchat account to show different perspectives. Snapchat takeovers will feel more personal, which as we've emphasized, is one of the most critical Snapchat restaurant marketing tips.
Don't be intimidated by Snapchat. Try out some Snaps with a few friends you trust before adding any "real" friends (aka customers). Remember, nothing lasts for more than 24 hours! Once you're ready, put these ten Snapchat restaurant marketing tips into play.