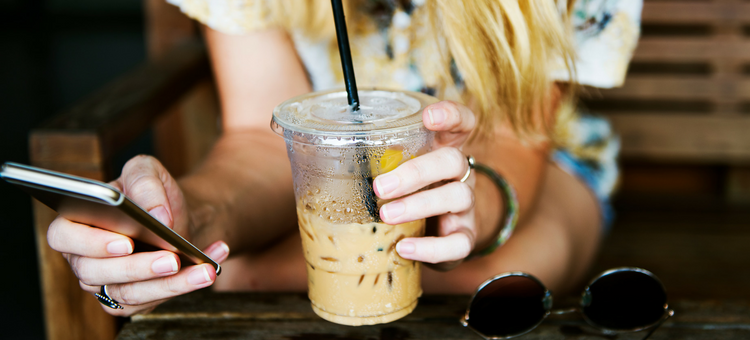 Once you've done all of the hard work of getting your social media ducks in a row, the obvious problem is letting people know how to find you online. The "conversation" that is social media requires people to be on the other end, after all.
So the key for you is to find ways to get information like your Facebook page and Twitter handle to the people you want to be following along with your marketing efforts. The most obvious place for that to take place is inside your bar, as those folks clearly have some interest in what you're all about.
Here are ten clever ideas on how you can let your customers know where to find you on social media:
Staff T-Shirts
It would be pretty difficult for your customers to avoid seeing or interacting with your staff members on any given visit. Why not advertise your social media accounts right on their shirts? When customers ask about the links on their shirts, make sure your staff is ready to tell them how great your Facebook account is. Customers are bound to check it out just to see what all the buzz is about.
Menu Boards
Do you display daily specials on a board outside of your bar? That's a perfect place to advertise your social media pages. Not only will this catch the attention of your customers, but it will also spark the curiosity of random passersby. Once they check out your pages, they'll want to come in and see for themselves how great your bar or restaurant is.
Wi-Fi Signal
If you offer WiFi, change your network to "Check In On 4SQ" or "Like Us on Facebook". Sometimes people just need a reminder. They'll be glad they checked in on Foursquare when they see the exclusive deals you are offering!
Gift Cards
Find a creative way to include your social media URLs on gift cards. This way, the recipient is also getting the gift of knowledge. They will be happy to learn about your deals, specials and events in order to make the most of their gift card.
Restrooms
You'll be sure to get a laugh if you advertise your social media pages above the men's urinals. But really, it would be impossible not to notice!
Business Cards
Anyone taking your business card is likely interested in more information about your bar. Save them a step and include the URL for your Facebook page and Twitter account.
Receipts
Include your social media information on the bottom of all receipts. A message like "Want a free drink? Like us on Facebook!" couldn't hurt either.  Are you sending an invoice? That's another opportunity to promote your social media pages.
Menus
Everyone has to look at your menu, right? Include a message saying "For more specials check out www.facebook.com/YourBarName". Everyone loves specials, so naturally they will want the inside scoop.
Verbal Reminders
Have your servers remind customers to check out your social media pages for specials and updates. If you have a DJ, have them announce your current Facebook/Foursquare promotion. Tell your customers to tweet at your bar and you will select a random winner at a certain point in the night.
Coasters + Napkins
Napkins and coasters are more great places to advertise your social media pages. Writing "call me" on a napkin is old news. Today it's all about "tweet me".
As you can see, the possibilities are endless. Get creative! Advertise on the ceiling, floor, walls and windows. Project it onto the side of a building. Have a staff member wear a fake tattoo with your Facebook URL. Turn it into a contest and reward the staff member who comes up with the most creative way to display your URLs. You can do anything you want, as long as you get it out there.
Remember …
Including the Facebook, Twitter or Foursquare logo on advertising is a must. The logos are highly recognizable. Always be sure to list your unique Facebook URL, though. The last thing you want to do is tell your customers to find you on Facebook. Make it easy on them. Give them your unique URL. For example: Like us on Facebook to get daily bar owner tips: www.facebook.com/BuzztimeBusiness!
[fl_builder_insert_layout slug="whitepaper-signup-module-5-step-marketing-budget-planner"]