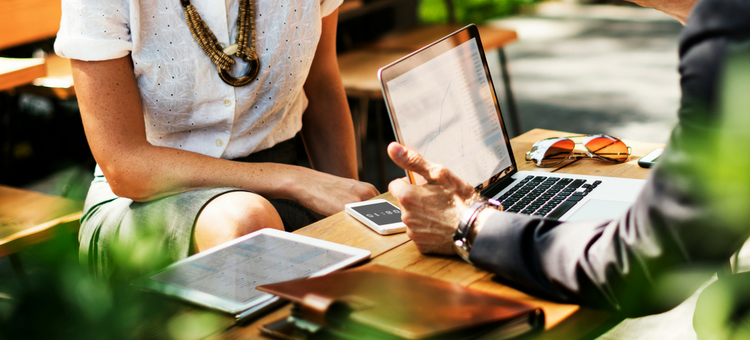 Your restaurant rocks. So, start spreading the news! Launch an email newsletter campaign. A 2017 Campaign Monitor study shows you'll benefit from a return of $44 for every $1 you invest in email marketing efforts. Use these 10 strategies to send a restaurant newsletter that delivers maximum ROI.
1) Restaurant Newsletter 101: Distribution, Masthead, and Layout
Distribution
While there's nothing wrong with a printed newsletter, save time – and money – by creating a digital restaurant newsletter.
Use an email service provider (ESP) like MailChimp or Constant Contact to build out, manage, and send it. Starting at about $10 a month, the best ESPs include free, customizable newsletter templates.
Another key benefit of using an ESP for restaurant newsletter design? ESPs help you maintain CAN-SPAM compliance by providing legal language and unsubscribe links at the bottom of each newsletter.
Plus, ESPs assist with list management and can automatically remove unsubscribes while adding new signups. Skip to tip #7 for 7 ways to get more restaurant newsletter subscribers.
Masthead
A masthead is the name of your restaurant newsletter in a specific font at the top of the page (in print or online). Close your eyes. You can picture the Wall Street Journal, New York Times, or USA Today masthead. They rarely change. Your restaurant newsletter masthead shouldn't either.
Give your restaurant newsletter a name inspired by your brand. For example, Buzztime sends out a monthly newsletter called "The Buzz." Or, you can just call it a newsletter. Whatever you decide, stick with it.
Layout
Use Photos Use one picture per restaurant newsletter article. Size it correctly so your email isn't too large.
Be Responsive Need another reason to use an ESP? Most offer automatic responsive design. That means your restaurant newsletter will respond to fit the size of the screen it's viewed on. With 55% of Americans now reading emails on their smartphone according to MediaPost, responsive design is a must.
Font Basics Select a font that meshes with your branding and is easy to read. Use black or dark grey font color.
Stay on Brand Use colors from your logo in your newsletter, but use color sparingly. Stick to a white or light background for easy reading.
2) Create a Restaurant Newsletter Content Template
Picture your favorite magazine. The content changes, but the featured sections stay the same – like a letter from the editor. Take the same approach with your restaurant newsletter using these ideas:
Manager/Owner's Greeting Keep it short, sweet, and personal.
Upcoming Events List out your events. Go a step further and link to a Facebook event so guests can RSVP.
Specials and Deals Give guests a head's up on upcoming offers in your restaurant newsletter.
New to the Menu Spotlight new dishes – and describe them in detail. A study by Cornell University revealed that vivid descriptions can increase sales of an item by 27%.
What's on Tap Describe tasting notes of new brews to boost sales.
Ask the Chef/Bartender Readers can submit questions to be answered in your next restaurant newsletter.
5 Fun Facts Share interesting facts from one staff member per month. Don't forget the back-of-the-house crew, too.
Write each feature using bulleted lists and short paragraphs. Keep each article to no more than 250-300 words – shorter is even better. Use the next tip to go even shorter.
3) Links and CTAs
You don't need to cram the entire restaurant newsletter into one email. Instead, use snippets and teasers – about 2 sentences – then include a call to action (CTA) link to "read more" at your website.
Link back to your restaurant's blog, where you can post the full article. There are many benefits to starting a restaurant blog including the fact that 60% of guests feel more positive about a restaurant after reading their blog.
CTAs can also direct readers to view your menu, join you on Instagram or Facebook, make a reservation, or purchase a gift card.
4) When to Send?
Be realistic. If you can't stick to a monthly restaurant newsletter, send it quarterly.
The time of day – and the day you send matters, too. One blogger analyzed data from a dozen ESPs to uncover when your email is most likely to be opened.
Best Time to Send Your Email Newsletter
10am or 11am: Late mornings ranked #1 across many ESPs. Perfect timing since people get hungry around then!
8p-midnight: Take advantage of America's bad habit of checking email before bed.
2pm: A good time to remind them to choose your place for dinner that night!
6am: Since half of Americans start the day by checking email, this one makes sense.
Best Day to Send
Tuesday
Thursday
Wednesday
Worst Day to Send
Sunday
5) Press Record: Use Video in Your Restaurant Newsletter
Bring your restaurant newsletter to life with short videos. A study by Syndacast found that including the word "video" in your subject line can boost the open rate by 19%.
Keep your videos casual and genuine by recording them on your smartphone. For less than $20, get a smartphone tripod with a remote control. Use a lavalier mic to drown out background noise (under $20). Finally, edit your video on your smartphone using an app like Magisto or Adobe Premiere Clip. Need ideas for videos?
Meet Our Crew Short video of a staff member introducing themselves
Bartender's Secrets Bartenders share how to make a drink, proper glassware, pouring tips, etc.
Chef Shortcuts Chefs share insider tips for saving time plus prep secrets
Name this Drink Show your bartender mixing a new drink, ask guests to submit name ideas
Month in Review: Photo Slideshow Feature pictures of guests at your restaurant events
[fl_builder_insert_layout slug="whitepaper-signup-module-26-bar-promotions-that-work"]
6) Read Me! Subject Line Secrets
The right subject line can boost the open rate of your restaurant newsletter. Here's how:
Avoid dull subject lines like: "January Newsletter." Instead, pull something exciting from the content to highlight like: "New Year, New Menu Items…Sneak a Peek!"
When you collect email addresses, get the guest's first name so your ESP can drop the recipient's name into the email subject. Example: "Jenn, we think you'll like these 3 new menu items." A study by ESP Campaign Monitor showed that emails with personalized subject lines are opened 26% more.
Don't be deceptive with subject lines – even if you're trying to be funny. "Jenn, you just won $10 million dollars."
7) Sign Me Up – 7 Strategies to Build Your Subscriber List
Use your ESP to create a welcome email that's automatically triggered when someone subscribes to your restaurant newsletter. Welcome emails can generate a 336% increase in transactions.
Offer an Incentive No matter how you collect emails, an incentive will increase restaurant newsletter signups. Offer a $5 off coupon or a free appetizer.
Server Signups Servers should ask guests for their emails or addresses at the meal's end. Incentivize servers, too. Whoever collect the most emails each week gets a $25 paycheck bonus.
Digital Signage Turn your TVs into digital signage that promotes the restaurant newsletter subscriber incentive. They might sign up on the spot to get the $5 coupon!
Free Wi-Fi Automate email collection using special software that collects email addresses when guests sign-in to enjoy the benefits of free wi-fi.
Website Widget Most ESPs include a free code and graphics that you can place on your website. When guests visit, they'll be prompted to sign up for your restaurant newsletter. It's another automation "hack."
Facebook Signup You can change the button on your Facebook page to read "sign up" with a link directly to your restaurant newsletter signup page on your website. Yes, it's automation at work again.
Forward to a Friend Remind guests to forward your email to a friend. Include this in your restaurant newsletter boilerplate.
8) Guest Writers and Ghost Writers: Restaurant Newsletter Secret Shortcuts
Ghost Writers
A ghost writer is someone who writes content on your behalf. Many busy owners and managers use this restaurant newsletter tactic. The "ghost" could be a marketing writer or someone else on staff. Jot down notes, then let the ghost work their magic.
Guest Writers
Popular on many blogs, invite someone else to write restaurant newsletter content. Why would they go to the trouble? They're getting free exposure in your newsletter! Here are some ideas:
Ask your foodservice distributor if they can write up an ingredient spotlight. What makes it better? Where is it from?
Carrying a new brew? Ask the brew master to take guests behind the scenes of how the beer was made.
9) Use A/B Testing
Most ESPs include A/B testing. It's a fancy way of saying you should send out 2 versions of your restaurant newsletter to see which performs better. You don't need to change much – the most important factor to switch out is your subject line. You can also test length. Send one version with 2-3 articles and another with 4-5 and see which restaurant newsletter delivers the most click throughs to your website.
10) Final Tips
Subscribe to other restaurant newsletter emails or mailings – both local independents and big chains – to get content and design ideas.
Include a survey at least once a year. Ask restaurant newsletter subscribers for ideas and feedback using a service like SurveyMonkey.
Test. Proofread. And test again. Always send out a test email and ask someone else to proofread the restaurant newsletter before it goes out to hundreds of subscribers.
A restaurant newsletter is worth the time and effort. Whether you send it monthly or on a seasonal basis, you'll keep your restaurant top-of-mind with guests, build loyalty, and boost sales.