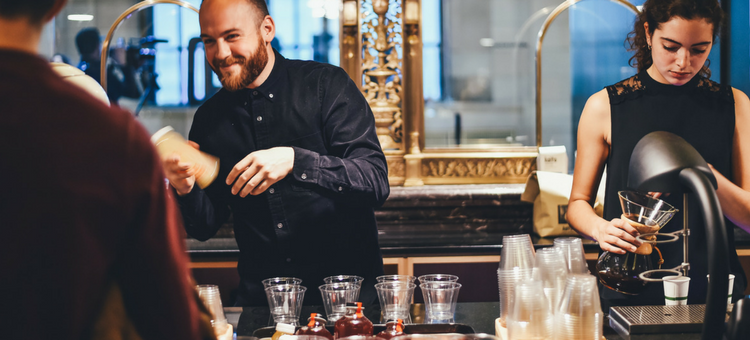 Bartenders at America's busiest bars have a few tricks up their sleeves to increase bar sales – and now they're talking. Put these 10 strategies into play for bigger bar sales and a better guest experience. It's time to raise the bar…on your bar sales.
1) Strategic Samples Boost Bar Sales
"I give tastes of new or superior products to customers who might be interested in them." -Adam, Bartender in Madison, WI
Give away a sip for free, and watch profits pour in.
There are two reasons free sampling works to boost bar sales.
First, it activates the "reciprocity principle." Basically, when a person is generous with us, we feel indebted to return the favor. That means after a free sample, the guest will likely purchase the full pour or leave a bigger tip.
The second reason to make sampling one of your bar sales strategies? A study showed it can result in a 2,000% increase in sales of the sampled product.
2) Pump Up the Jams (or Turn Down the Tunes)
On a slow afternoon, you may be tempted to crank up some Zeppelin.
Instead, play your tunes low and slow during the afternoon as studies reveal the right background music can increase dessert and bar sales by up to 40%.
"While table turn is a priority during the dinner rush, I like guests to feel relaxed during middays. A chill playlist helps set the slower pace. Guests order more drinks in the afternoon when they don't feel rushed," said Torrey, a bartender at a restaurant in Los Angeles.
On the flip side, rock out with high energy music during busier times to boost bar sales and turn tables faster.
3) Tap Into Your Distributor
"My distributor connected me with one of their wine reps. The rep does guided tastings on Thursday nights. Honestly, Thursdays are like weekend nights now." –Patrick, Bartender at a Restaurant in Syracuse, NY
Meet your secret bar sales weapon: your distributor. Wine and liquor brands are eager to get their products in front of your guests, so they'll do what it takes:
Some wine, beer, or liquor reps may come in to do special tasting events or talks.
They may provide giveaways like pint glasses, sunglasses, and t-shirts.
Ask about any promotional pricing so you can pass along savings to your guests.
A former manager of Dave and Buster's told us his distributor regularly sent in street teams and models to hand out giveaways – he would build an event around those special appearances.
Your distributor has access to resources that can help you build bar sales. All you need to do is ask.
4) Upsell Like You Mean It
The biggest way to hurt bar sales? Leave upselling up to chance.
Instead, arm your team with proven upselling tactics. Make it part of your training and employee manual.
Start with this simple tip to energize bar sales: Instruct bartenders to share tasting notes when suggesting drinks to patrons. A study by Cornell University showed that vivid descriptions can raise sales of an item by as much as 26%.
To see 7 more upselling tactics, plus 22 more strategies to boost bar sales, download this free whitepaper.
5) Social Media Secrets
"Full disclosure: I'm 52. I run our Facebook page but made my younger server an admin, too. He posts content for me that just sounds cooler and gets more response." -Tim, Bartender in Dallas TX
If you're a millennial bar owner, cheers to you. But if you're like most bar and restaurant owners, you might need to work a little harder to reach the younger crowd.
Enlist the help of a social media-savvy millennial on your staff. Or just dive into the trendiest social media apps like Snapchat and Instagram using these 13 tips.
6) Be Salty…
One bar in Chicago puts out a complimentary "Mini Mediterranean Bar" loaded with salty, savory bites like gourmet almonds and olives.
You might think the saltiness boosts bar sales by making guests thirsty. Yes, but the manager believes salty snacks also lead to increased food sales. She's right. And science backs it up.
7) …Be Sweet
"When a guest hands me their credit card to open a tab, I always check the first name, look at the guest and say 'Tom, I'll keep this open for you.' Then I use his first name whenever I can the rest of the night. It makes guests feel special.
-Rachel, Bartender in Tampa FL
Treat every guest like a VIP to supercharge bar sales.
Start calling guests by their first name whenever possible as studies show it activates the reward center in the brain.
Then, try these other bar sales strategies to have guests feeling the love, and spending more:
If you haven't already, design a great guest loyalty app. It's easier than you think and a 2017 VISA study of over 28,000 guests shows that 81% of guests recommend businesses with a strong loyalty program.
Loyalty programs also drive bar sales by "gamifying" purchases. A 2016 study by LevelUp and Nation's Restaurant News shows that guests will spend up to 39% more to unlock a reward.
Use digital signage on your bar's TVs to highlight a guest of the month – or to promote high-margin drinks and specials.
Reward your regulars with stein mugs engraved with their names and kept hanging at the bar. Yes, it's a little old school. But a mug club can increase bar sales by requiring regular visits to maintain membership.
8) Aim for Unicorn Status
"I always go to this one restaurant outside of Boston when I visit because they've got Pappy Van Winkle bourbon at a great price." –William from NYC
Offer a rare beer or liquor, and you'll create a cult following and drive bigger bar sales.
Find your "unicorn" – a hard-to-locate, expensive, or just insanely popular beverage and always keep it in stock. Like the fidget spinner craze of early 2017, once people find out you've got it – they'll come rushing in.
The rise in popular apps like TapHunter means people – especially millennials – can now share which bars and restaurants carry these coveted spirits and brews.
Think of your unicorn drink as a loss leader. You may not take a big margin on it, but you'll make up for it with more food and bar sales.
9) Design Your Menu to Increase Bar Sales
"It's crazy. A few menu fixes – like a fancier font and taking away zeroes – moved the needle on my bar sales. It pays off to read up on menu engineering." -Annaliese, Manager at a Pub in Ocean City, Maryland
Yes, removing the zeroes – and dollar signs – on your menu is a smart way to see bigger bar sales. Why? A study by Cornell University showed a "significant increase in spending" when prices were presented as simple numbers. For example, that craft brew isn't $5.00, it's just 5.
The researchers believe it's because dollar signs remind guests they're spending money, and zeroes subconsciously suggest higher prices. A $500 craft beer? No thanks.
10) Be the Main Event
"When my friends and I need a midweek break from studying, we pick bars that have something going on." -Sara, a graduate student at Ohio State University
It's so obvious, you might overlook it. One of the best ways to see more bar sales is by serving more than just drinks. Give guests a reason to choose you over the competition with exciting events designed to drive up bar sales:
Offbeat Holiday: See 50 promotion ideas and events including 12 ideas to build a crowd around an offbeat holiday like Talk Like a Pirate Day (September 19th) and Pi Day (March 14th).
Winter Bar Games: Take inspiration from the Olympics. Patrons can form teams to compete in bar games like indoor cornhole, darts, and flip cup.
Beer Bingo: Use beer brands on the bingo cards and reward winners with bar tabs.
Adult Card Game Tournaments: Use the latest R-Rated games like What Do You Meme? and Cards Against Humanity.
Get a complete list of the trendiest bar events in this popular whitepaper:
It's competitive out there. But these strategies can help you gain an advantage by enhancing the guest experience and driving up bar sales – one drink at a time.