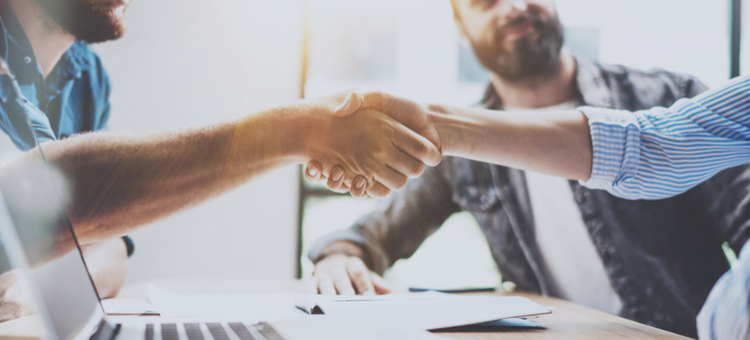 Cross promotion is an excellent way to give your restaurant's marketing initiatives some extra leverage in order to strengthen brand awareness and patronage among your customers and fans. Here are 10 simple cross promotion ideas that you can put into action.
1. Print marketing messages on your customer receipts.
Use your receipts to let customers know about special offers, new menu items, or to invite them to follow your restaurant's social media pages.
This cross promotion tactic also works well if you offer digital receipts. You can include that same promotional message right on the emailed receipt.
2. Team up on cross promotions with special events.
Ultimately, successful cross promotion involves have a team spirit. Sometimes, you need to put differences aside and team up with competitors.
For example, why not host a bar crawl with other bars and restaurants in your area? Ideal for times of the year when business is sparse, cross promotion events like bar crawls can bring out big crowds – and there's plenty of business to go around.
Or, what about a bar vs. bar or restaurant vs. restaurant live trivia event? This cross promotion event is easy to set up with a company like Buzztime. Customer use their smartphones to submit answers, and each venue can either hire a host or use their own staff to rock the mic.
Other businesses that aren't competitors can be your new best friends when you team up on cross promotion initiatives. A popular recent trend is the rise in "pop up shops." Invite a local jeweler, crafter, sports memorabilia shop, or clothing store to set up a mini shop in your restaurant. It could be a small area in your restaurant that you devote to this pop-up shop for a month. Or, make an event out of it. For pop-up shop tips, check out this guide to setting up a pop-up shop.
3. Offer up your restaurant's venue to host local community and philanthropic events.
Hosting special community or non-profit fundraising events in your restaurant not only demonstrates your business's commitment to giving back, it gives you the opportunity to open up your restaurant to new guests.
The beauty of this cross promotion strategy is that the non-profit will be promoting your bar or restaurant to their supporters. At the same time, you'll be showing the charity some love by promoting that you're hosting their special event. It's proof that cross promotion is truly a win-win for all.
Be sure that at least one of you sets up a Facebook event for the occasion, then invite the other partner to be a co-host so the event appears on their Facebook page. Need tips on rocking Facebook events? Sprout Social share 13 pieces of insider advice for using this powerful (and free!) Facebook feature.
4. Host guest chef events with another well-known restaurant in your area.
Partner with another well-known, local restaurant to exchange Executive Chefs for special guest chef appearances. Have the guest chefs prepare special tastings or dinners to give both restaurants' guests a taste of something new from each other's establishments.
Another riff on this cross promotion concept is to team up with a local brewery, winery, or distillery on a "perfect pairs" menu. Pair up your chef with the brewmaster. Together, they can create a special menu of food paired with drinks, complete with tasting notes and inspiration behind each pairing.
[fl_builder_insert_layout slug="whitepaper-signup-module-run-a-promotion-max-roi"]
5. Insert special promotional offers or coupons in your local business's shopping bags.
Put coupons or promotional offers in local business's shopping bags and offer to return the favor by sharing their promotional offers to guests in your restaurant.
One way to master this cross promotion strategy is to turn your TVs into digital signage. How? By putting simple and affordable digital signage to work! In a few clicks, you can customize templates that showcase your own events and menu offerings – as well as advertisements for other local businesses.
In fact, you could even turn this cross promotion tactic into a money-making endeavor. Offset the costs of digital signage by charging local businesses to display their ads on your TVs.
6. Offer joint promotions or discounts.
Partner with another local business to offer joint promotions or discounts. For instance, create a joint promotion with the boutique down the street to offer all boutique customers a 25% discount on any lunch entrée when they dine in your restaurant for lunch following an afternoon of shopping.
You could even work with a local spa on cross promotions. Invite one of their masseauses in to give chair massages during happy hour. In return, ask the spa to spread the word that your place is the place to be for a relaxing, indulgent happy hour escape (even when the chair massages aren't in session).
7. Give a joint interview to the local media.
Share the PR with your neighborhood business partners by offering joint media interviews. Using the example of the neighborhood boutique above, if the local TV station is planning to visit your restaurant for a chef food demonstration highlighting the best flavors of summer, invite your boutique neighbor to also participate by showcasing their summer fashions during the segment.
This sort of collaborative cross promotion could even turn into an entire event. Why not create a weekly "shop and dine" event leading up to the holidays or when the spring season begins?
8. Promote joint social media contests.
Here's another great cross promotion idea… Create joint social media contests, whereby your restaurant and your partner business both offer joint prizes to your shared social media fan base. Not only does this give you an opportunity to market to their social media fans, it also makes your contests more enticing by giving participants a chance to win more prizes.
9. Share promotions on email blasts.
In your upcoming email blasts, feature a special message from your business partner, and have them do the same, to double your email marketing reach. It's cross promotion made easy!
10. Bring in free food and drink samples to other local businesses.
Partner with other local businesses by offering to give their customers free food and drink samples. Their customers will appreciate it, and it's a great way to give these customers a taste of your menu, encouraging them to stop in.
Ultimately, cross promotion is all about getting creative and taking a collaborative, team-focused approach to marketing. Yes, competition may be fierce in the restaurant business, but that doesn't mean you can't partner up with other businesses. We hope these 10 cross promotion ideas have inspired you to team up for marketing success!