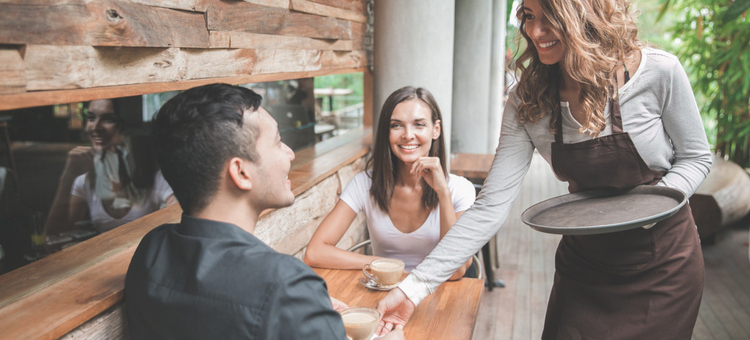 When it comes to running a profitable bar or restaurant, the ability to deliver exceptional customer service is crucial.
And all that it takes is just a handful of negative customer experiences or Yelp reviews to hurt your bar or restaurant business. In fact, according to a 2012 study conducted by two economists at the University of California, Berkeley, Professors Michael Anderson and Jeremy Magruder, a restaurant with a rating improved by just half a star – on a scale of 1 to 5 – was much more likely to be full at peak dining times.
[fl_builder_insert_layout slug="whitepaper-signup-module-33-customer-loyalty"]
Even if your bar or restaurant delivers good customer service most of the time, there is always room for improvement, right? So, here are 10 Smart Ideas to help elevate your customer experience from good to great.
1. Properly train your service staff: In the hospitality industry where employee turnover is generally high, instituting an effective training program for your service staff can be difficult. But cutting corners on training is a big mistake.
2. Understand your customers' expectations: In order to avoid disappointing customers, you need to know what they want and expect. Online surveys and guest comment cards offer valuable information about what customers want and expect from their visit.
3. Deal with customer complaints quickly: The more quickly you can deal with a customer complaint or issue, the better. For strategies to quickly respond to customer complaints, read our previous blog post here.
4. Know what is going on in your bar or restaurant at all times: While you can't be at your bar or restaurant 24/7, you need to know what is happening at all times. Install a video surveillance system and monitor it constantly.
5. Show your customers that you care about them by going the extra mile: Simple gestures can make your guests feel valued and important. For instance, personally visit each table to see how your guests are doing or make sure that your kitchen staff is flexible in accommodating your customers with special requests.
6. Be prompt: Don't leave your customers waiting. Make sure your guests have drinks while they are waiting, or if the server is too busy to get to the table, help them out.
7. Instill service with a smile: Positive energy is contagious. Hire servers and hosts/hostesses who will smile and make your guests feel happy, especially when unforeseen issues arise.
8. Keep your guests entertained: Give your customers fun things to do while they are waiting, such as the ability to play fun arcade and trivia games on their mobile device or tablets at the bar or table. Check out our Buzztime tabletop tablets to learn more.
9. Make sure your employees are knowledgeable: Avoid mistakes like a server who doesn't know the daily specials or a bartender who doesn't know how to make a popular cocktail, even if it's off menu. Everyone on your staff has the responsibility of being knowledgeable.
10.  Say thank you: Always thank your guests and be grateful for their patronage no matter how great your business is doing.
Put these basic strategies into action to elevate your customer service from good to great in no time.