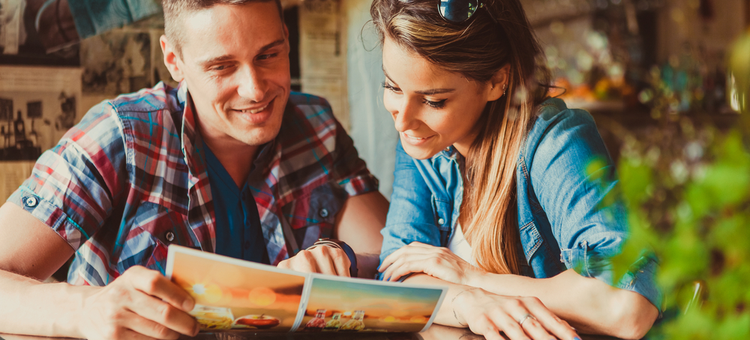 Like your best server, a strong menu can drive upsells and increase your profitability all while pleasing your guests. The secret is deploying smart menu pricing strategies. We share 11 of the top menu pricing strategies for more profit.
Food Cost Percentage – The Holy Grail of Menu Pricing Strategies?
25 percent. 33 percent. A quick internet search reveals many restaurant experts justifying the ideal food cost percentage when setting menu item prices. What's a food cost percentage? Here's the equation:
What you paid for the ingredients (divided by) What you sell the dish for = Your food cost percentage
While 30 percent is a good food cost to aim for, too many restaurant owners end their menu pricing strategies at this point. They think their business is profitable as long as they hit that 30% food cost percentage or lower. Is that really true? Yes, the menu itself will be profitable, but that doesn't mean your business is profitable! Cash is king, and the actual dollars you bring in matter most. Your gross profit margin in dollars – not percentage – is the number you need to watch.
Food Cost Percentage v. Gross Profit Margin in Action
Let's say you're selling a chicken Caesar lunch salad for $8, and your food costs are just $2.50. That salad has a very low 31% food cost percentage. But you also have a steak chopped salad that's $14, with food costs at $6. The steak salad's food cost percentage is higher at 43%, but your gross profit margin is better at $8. It's only $5.50 on the Caesar. You'd want to sell more steak salads assuming the $14 price point is acceptable to your customer base (more on that later), especially when you consider the next secret of menu pricing strategies…
How Labor Costs Impact Menu Pricing Strategies
In our steak versus chicken Caesar salad example, how much kitchen prep is required? Your menu pricing strategies should factor in labor costs. Perhaps your chicken Caesar uses house-made dressing and croutons. Both require more hours from your prep chef. If your steak salad uses a pre-made dressing from your distributor, you're saving on labor costs.
Calculate Every Menu Item Cost
When it comes to menu pricing strategies, don't fall victim to only pricing ingredient costs when adding new menu items. At least once a year, calculate the food costs for every ingredient in your menu mainstays.
Let's look at these menu pricing strategies in action. Your signature dish is Baja fish tacos. Customers love them, so you've kept them on the menu for a decade. You're overdue for a food cost checkup! Your margin could only be a dollar or two based on rising food costs over the years. In this case, menu pricing strategies should aim to regain a strong margin. Have you used (pricey!) mahi-mahi in the tacos for years? Would customers object to less expensive tilapia or another mild white fish? Likely, the flavors are coming from the seasonings, toppings, and sauces anyways.
Hide the Dollar Signs
Your menu pricing strategies should also include how you display prices. Easy, you think. That burger is $10. Or should it be $10.00? What about writing out "ten dollars"? There are many studies that suggest guests will spend the most if you remove the dollar sign altogether from the menu so $10 simply becomes 10. Never add double zeros as it looks like more money and sends a subconscious message that you're expensive (a thousand bucks for a burger?).
Show the Pictures!
One of the top menu pricing strategies involves showing dish photos next to prices. This is best done using the latest guest-facing dining technology on handheld tablets. Companies like Buzztime make it easy to create a digital, touchscreen version of your menu with photos. The photos look vivid and appealing on a backlit touchscreen as opposed to being printed on a paper menu. Buzztime digital menus also drive up sales by showing guests customization options like extra cheese or sides. Plus, 79 percent of restaurant goers believe technology enhances their dining experience, making it more convenient among other benefits.
Menu Pricing Strategies Based on Target Audience
Back to the $10 burger question. You may actually want to sell your burger for $9.95 or $9.99 if your customers are value seekers: think blue collar workers and young families. A study by researchers in the Cornell University School of Hospitality Management found that prices that knock cents off show customers you're trying to save them money. This is one of the best menu pricing strategies but it can backfire if your customers aspire to luxury. Then, you'd want to nix the cents and price your burger at 10 dollars. Prices without cents appeal to customers who take pride in being "above" the need for discounts.
Watch the Competition
The most effective menu pricing strategies take competitor prices into account. What's that restaurant down the street charging for chicken wings? Are your prices too high? Take a look at your Yelp reviews. Often customers will complain about prices if they're too high. But don't build your menu pricing strategies around being the cheapest eats in town.
Remember, price signifies quality. Going too low will have guests thinking you're using low-quality ingredients.
Create Competition on Your OWN Menu!
Often called the decoy method, try giving guests more than one variation of popular menu items. Guests will forget they have a yes or no choice, and instead focus on selecting one of the options you present.
This is one of those menu pricing strategies that may seem manipulative, when in fact, it's far from it. You want to give guests a good, better, best option. Many studies show that guests will often go for the middle option or splurge on the best to treat themselves because of these menu pricing strategies. The "best" option should truly be the best. Here's an example for nachos:
House Nachos: Topped with sharp cheddar and ground Angus beef, served w/ pico de gallo salsa 8-
Nachos con Salsa Trio: Our House Nachos with a trio of house-made salsas 10-
Aztec King Nachos: The ultimate nacho plate with pickled jalapenos, shredded sirloin and creamy queso 16-
What's in a Name? Everything
Noticed how descriptive the menu text is? By far one of the best menu pricing strategies doesn't have anything to do with prices…it's how you describe the dish! The more you describe the individual ingredients or the prep process, the more value the customer perceives – leading to increased sales and a better brand perception of your establishment. In fact, even the names of your dishes matter. You can get away with a higher menu price when you use descriptive names on top of menu pricing strategies. Get creative with menu item names and you could see up to 27 percent more sales of that dish.
Seasonal Menu Pricing Strategies
If you aren't refreshing your menu seasonally, you're missing out on two opportunities. The first is a chance to showcase the freshness and flavor of seasonal food. Guests get excited for a "taste" of the season, drawing in guests to try new dishes. If you're in the Northeast, come fall your menu should incorporate the autumn harvest: pumpkin, apple, squash, sweet potatoes, and more. You'll get bonus points with guests if you source your produce locally: 3 of the top 10 restaurant trends for 2017 revolve around local sourcing!
The second opportunity impacts your bottom line as seasonal menu pricing strategies come into play. Whether you use a major distributor for produce or source from local farmers, in-season produce will cost less. However, the customer value perception of seasonal dishes is higher – so you can charge more per menu item. This is one of the menu pricing strategies that benefits both you and your guests. Try it this season and see for yourself.
We know you're busy, but taking time to plan menu pricing strategies will ensure you're maximizing your menu and building a more profitable business. We hope success is always on the menu at your restaurant or bar.
[fl_builder_insert_layout slug="whitepaper-signup-module-little-black-book-pricing-secrets"]