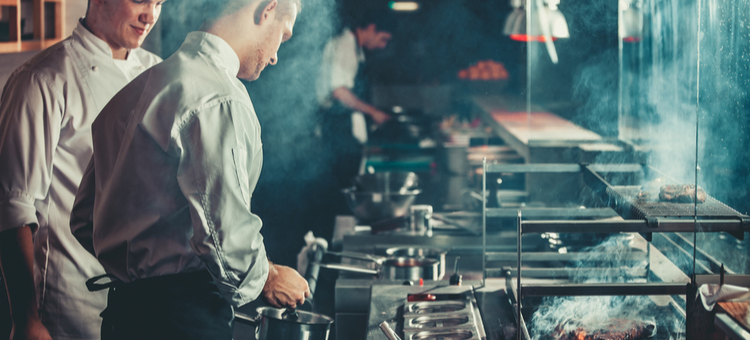 A penny saved is a penny earned. But to make money, you gotta spend it. So, what's a restaurant owner to do? Be strategic when cutting restaurant costs. By taking these 12 steps, you'll improve your bottom line and delight guests along the way. Let's do this.
Step 1 –Trim Your (Food) Waste: The Key to Cutting Restaurant Costs
First, get lean and watch your waste. It's by far the best strategy for cutting restaurant costs – especially when the average restaurant wastes up to 75,000 pounds of food annually. Use these 3 tips to stop throwing food – and money – into the garbage:
Kitchen Prep Lists: Cutting restaurant costs starts in the kitchen. Every cook should have a 1-page kitchen prep list. It tells them how many ingredients to prepare based on the day and daypart's par. Without a prep list? Cooks tend to overprepare, resulting in food waste.
Digital Inventory Tools: Over ordering food is another pesky habit that prevents you from cutting restaurant costs. The latest restaurant digital inventory software like BevSpot identifies ordering trends and suggests ideal quantities.
Reuse the "Unusable": Turn stale bread into house-made croutons, bruised strawberries into sangria, and overripe tomatoes into a Bloody Mary.
First In, First Out (FIFO): Most food that's thrown away is past its expiration date. Here's a simple trick for cutting restaurant costs. Train your cooks using the FIFO method. Clearly label food with its expiration date. Put the oldest ingredients in front so they're used first. Easy.
Step 2 – Get Staff Smart
The second step in cutting restaurant costs is to get your labor expenses under control.
Reduce Turnover: The average annual cost of restaurant employee turnover is $146,600. So use these 18 tips to reduce employee turnover. Start by rewarding high-performing team members. For example, launch an "employee of the month" program and show that employee some love with a gift card and shout out on digital signage or posters.
Cover More Tables: The latest tech empowers you to do more with less – the ultimate goal of cutting restaurant costs. Consider restaurant tablet menus that let guests browse a digital menu, send orders to the kitchen, and even pay. This tech frees up servers to cover more tablets, lowering labor costs. Also, use table management software like OpenTable so you can plan ahead and avoid overstaffing.
Step 3 – Stop the Press! Digital Tablet Menus and Digital Signage
Tablet menus don't just save on labor, you can kiss those expensive print costs goodbye. Third on the list of cutting restaurant costs is switching to digital tablet menus and digital signage.
Appeal to Tech Savvy Guests: According to Toast POS, 73% of today's diners agree that tech improves their restaurant visit. The National Restaurant Association reports that 1 in 3 customers even seek out restaurants with a digitally enhanced dining experience.
Clear the Clutter: Printing table tents is expensive. Newsflash: guests hate 'em. They fall off the table (or into their food). Instead, use digital signage software that turns your TVs into eye-catching billboards. Promote specials, events…anything you want. Cutting restaurant costs forces you to seek out newer, better solutions – like digital signage.
Step 4 – Run the Food Cost Formula on Every Menu Item
Whip out the calculators for this step. Run the food cost formula – on each menu item. Yes, it's time-consuming. But yes, it's essential for cutting restaurant costs. Here's the formula:
Food cost percentage = Total cost of ingredients / Menu item price
Your food cost percentage will tell you how much you're spending on ingredients compared to the price of each menu item. An ideal food cost should be between 15-30% (which means your gross revenue per item is 70-85%).
If you're serious about cutting restaurant costs, and your food cost percentage is over 30%? It's time to either source less expensive ingredients or raise your menu prices.
Bonus! Use our free food cost calculator to calculate your inventory's total food cost percentage and determine your profitability.
Step 5 – Set a Budget
And you thought you could start cutting restaurant costs without one? You can't improve what you can't measure. Call in sick, take a staycation, and spend the day mapping out a budget for your restaurant – if you haven't already. Restaurant guru Michael Hartzell has dozens of free Excel sheets you can use.
Step 6 – Sharing is Caring: Cooperative Marketing
So far, the focus has been on operations and tech like digital signage and tablet menus. The next step in cutting restaurant costs is using collaborative marketing tactics that cost less and deliver a better ROI.
Make New Facebook Friends: Message other nearby businesses using Facebook messenger. Ask if they'll share one of your posts (you'll share one of theirs, of course).
Flyer Drop: Print isn't totally dead. Even if you switch to digital tablet menus, you should still print postcards with a coupon and ask local businesses to set them out. Again, offer to place their brochure or flyer in your waiting area in exchange. It helps to have a little team spirit when cutting restaurant costs.
Get Air: Radio isn't dead, either. Contact local radio stations about creating a weekly or monthly "Ask the Chef" show. You provide the expert advice (and get the free exposure). When it comes to marketing, cutting restaurant costs is about finding new ways to gain exposure – for free.
Step 7 – Expand Your Social Network
Another strategy for cutting restaurant costs in your marketing budget is to reexamine your social media strategy. Make room for emerging tactics like social influencer marketing.
Basically, you pay someone with a massive social media following to talk up your restaurant. It's the closest thing to word-of-mouth advertising. Most influencers charge just $20-$50 per thousand followers. Find the influencers in your area using BuzzSumo.com.
Step 8 – Upgrade Your In-House Events
Restaurant entertainment is a must, but cover bands are expensive (and often mediocre). Instead, impress guests with on-trend events ideal for cutting restaurant costs.
Host-it-Yourself Trivia: Those same tablet menus can double as scoring devices for a live trivia event. So why pay an overpriced trivia host when your staff can run the event? You get everything needed to host a live trivia event – from the questions to best practices.
Chef and Bartender Demos: Launch workshops starring your staff, like a weekly Mixology 101 course during happy hour.
Get Classy: Invite a yoga, ballroom dance, or magic instructor to host a class at your venue. Guests pay the instructor directly. You bring people in the door (where they buy food and drinks). Cutting restaurant costs and wowing guests with an awesome event? That's a win.
Step 9 –Be an Energy Star
Twinkle, twinkle little energy-guzzling lightbulb. It's the small things that get in the way of cutting restaurant costs. Switch to LED or compact fluorescent (CFL) bulbs already. Then try these tips to save on utilities.
Stop the Leak: Beware of "energy vampires" – the enemies of cutting restaurant costs. Those are appliances you think you've turned off, but still consume electricity on standby. Require that the manager unplug these 20 most common energy leakers.
Get with the Program: There are tons of organizations that reward restaurants for reducing energy consumption by bestowing sizable grants and rebates. Check out these local and state energy programs.
Step 10 – Go Local When Cutting Restaurant Costs
Sourcing local ingredients. So hot right now. It's also crucial to cutting restaurant costs. In-season produce tastes better and often costs less. Plus, you gain the marketing edge by offering farm-to-table menu items. View these 11 best sources for local ingredients.
Step 11 – Explore the Automation Nation
From old-fashioned homegrown vegetables…to robots? Cutting restaurant costs requires an open mind.
Automated Email Capture: Collect emails on autopilot using popup software installed on your website. Guests are politely presented with a chance to opt into receiving your emails. The new subscribers go straight to your email management software like MailChimp.
Robotic Drink Delivery: No, the robots aren't replacing humans. They're just cutting restaurant costs and letting bartenders get back to what they do best…chatting with customers and mixing drinks. Meet Bbot, an Instagram-worthy device the delivers drinks to the table.
Chatbots: Time is money. If you're spending hours responding to Facebook messages, set up a chatbot to automatically answer questions about your hours or reservations. It's free and Facebook walks you through the process.
Step 12 – Stay in the Know
As restaurant tech evolves, new tools and apps are being launched almost every day. Many programs were created with the goal of cutting restaurant costs – and boosting efficiency. Stay on top of the latest technology trends by following these 24 best restaurant blogs.
Armed with these tips for cutting restaurant costs – from going digital with tablet menus to sourcing local – you're 12 steps closer to having the profitable restaurant you deserve. The secret is to know when to pinch those pennies – and when to spend.
[fl_builder_insert_layout slug="whitepaper-signup-module-little-black-book-pricing-secrets"]