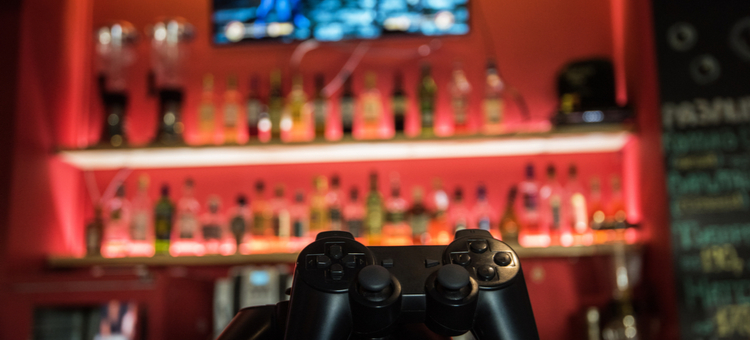 Need a cheat code to improve slow nights at your bar? Electronic bar games could be the "extra life" your business needs. From handheld bar trivia to eSports tournaments, these 12 ideas can attract avid video gamers to your bar. And no, that doesn't mean teenagers: more adults ages 21 to 49 are into video games than ever before. So press start, and let the games begin…
Add a Gamer Twist to Patron Favorites
The latest tech turns traditional events like bar trivia night into irresistible, electronic bar games.
Next-Generation Bar Trivia
Live trivia events are trending at bars nationwide. But if you want to attract video gamers, ditch the old school pen-and-paper scoring method. Today, thousands of bars are using handheld bar trivia tablets instead. Players use the tablets to submit answers, which speeds up gameplay.
Bars love this tablet-based solution because it's so simple to use, they can run the game themselves – no need to hire an outside host! Scoring is automated, all questions and answers are provided, and bars can run as many trivia electronic bar games as they want.
eSports Tournament
Almost every sport has a video game version. For example, there's Madden for NFL, FIFA for the World Cup – even Wii Golf for the Masters. So, set up a video game tournament that coincides with a seasonal sporting event! Customers can sign up for the electronic bar games that match their sport of choice, prior to watching the "real game" on TV. Track the winners and hand out prizes, like a free appetizer, they can enjoy while cheering on their team.
Tableside Arcade Games
A room dedicated to bulky arcade gaming consoles is so 1980. Instead, offer electronic bar games that players can access…right from their table! With just a few taps of their fingers, patrons can enter a gallery of arcade-style games on handheld tabletop tablets. From puzzles and strategy games to first-person hunting and racing events, gamers can test their skills, without ever leaving their seats.
Host an Electronic Bar Games Event
Take your electronic bar games from the virtual world into reality with events specifically catered to celebrate gamers.
New Game Release Party
The excitement of a new video game release generates major buzz in the gamer world. Celebrate with your gamers by hosting a release party! Set up a tournament featuring some of your most popular electronic bar games.
Or, if the release is for the next segment of an already-popular game, have players participate in a battle royale of the original. Think of it like binge-watching Game of Thrones before the next season kicks off. It will build even more excitement for your gaming crowd while boosting your bottom line.
Gaming Tutorials
This one is for the noobs…Every gamer had to start somewhere, so why not help out the newbies with a gaming tutorial? Whether it's one of your popular electronic bar games or a mainstream phenomenon like Fortnight, bring in a high-ranking player to show the newbies the ropes. The expert can go over the basics and offer tips for reaching the next level of the game. Feature a new game each week to keep things fresh, or focus on specific levels of well-known games.
Cosplay and Fandom Night
Looking for a reason to play dress up? Host a mini-Comicon at your bar. (Just come up with your own unique name like Gamer's Night or Gamer's Bar Convention.)
Invite local video game and comic vendors, artists, and authors to set up tables at your venue to feature their latest products and works. Focus on businesses that will appeal to gamers, like comic books, gaming and book stores, costumes, and anything related to Sci-Fi or Fantasy genres.
Encourage guests to dress up as characters from their favorite video or electronic bar games, and hold a competition for best outfit or costume. You can even sell tickets to the event as extra revenue, on top of what you would make from food and drink sales.
Gamify Your Marketing Plan
Gamers love a little friendly competition and the chance to go on a quest. So turn your marketing into one big game…
Loyalty Tokens
Loyalty programs are an effective way to bring repeat business to your bar. But, instead of a traditional punch card or app, give your program the gamer treatment with tokens. Every time a visitor comes in, they earn a token which they can collect and redeem at a later date.
Create a points system where a certain amount of tokens can be redeemed for drinks, appetizers, or maybe even bonus points during your trivia tournaments or electronic bar games.
Achievement Unlocked
Word of mouth and recommendations are some of the most effective forms of restaurant marketing. Send your patrons on a side-quest to spread the word about your bar with an online review or post to their social media page. They can bring in their post as proof and earn extra points or tokens toward your loyalty program. List the different achievements for your patrons to unlock, like:
Bringing a new buddy to one of your weekly events
Having an entire table sign in and play one of your electronic bar games
Sharing a picture of recent scores for electronic bar games on social media
Posting a Yelp review or rating your bar on Facebook
Badges of Honor
Is your bar known for having an extensive craft beer list? Do you offer a variety of spirits from around the world? If so, you have the perfect opportunity to turn your drink list into a challenge. Print out a drink checklist for participants to track every beverage they try during a visit. The goal is to sample every item on your drink menu (over time, NOT in one visit!) in order to earn a badge.
If you're not "game" for setting up your own program, turn to existing electronic bar games and apps like Untappd. Players, err, drinkers can earn badges for checking in at participating bars and sampling certain beers.
Load Your Gaming Arsenal
Whether you want guests to enjoy RPG's from their own devices or you want to host in-house electronic bar games, you're going to need the right tools to make your bar the "it" spot for gamers.
The Basics
Almost all electronic bar games require outlets and screens. So, before you book your first tournament, make sure your venue has what you need for your gaming crowd. Check the number of outlets and ensure that they're conveniently located for the gaming consoles or devices you want to use.
If you intend on featuring electronic bar games on your TV's, the screens should be big enough for players and onlookers to see the action. Keep in mind that multiplayer games will require a split screen, so your TV's should be able to accommodate that. If possible, try to use a projector – that'll ensure your electronic bar games are the main focus on the night of your tournament.
The Right Console
Here's some good news if you want to offer electronic bar games like on-demand trivia and arcade challenges! Certain companies can provide you with a simple hub that projects the gaming action onto your existing TVs.
Unfortunately, not every video game is compatible with every console. So, if there are specific electronic bar games you want to feature, check that you have the right device to play them on. Include any other pieces you might need, like controllers and power sources for your devices. You could also have players BYOD (Bring Your Own Device) if they want to host their own small tournament at your venue.
Wifi of Champions
Nothing is worse than Internet lag during a critical moment in the game. To keep your patrons from rage-quitting in the middle of a game, check that your wifi can handle the extra load on your network! Usually, that means a quality connection speed…and the higher the broadband, the better. Xbox recommends 3 Mbps for their games, but PlayStation recommends at least "10 Mbps for single player games and 5 Mbps for every additional player stream." Check with your Internet provider to find out which plan would work best to support your electronic bar games.
No matter the competition, one thing is for sure: electronic bar games are all about having fun! Chat up local gamers to find out how your bar can appeal to their gaming interests. The next thing you know, you'll experience a critical hit.