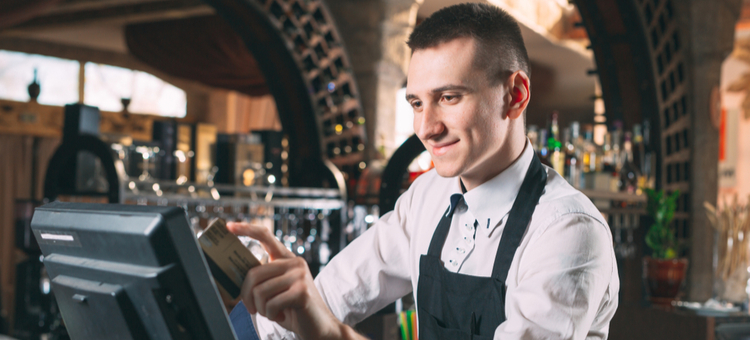 Thanks to the latest tech, it's a brave new world behind the bar. From apps that speed up the inventory process to futuristic devices that turn beer foam into artwork (worthy of big tips), these are the 12 types of bar technology that have caught the attention of bartenders and managers nationwide…
Be a Smooth Operator with Inventory-Focused Bar Technology
It all starts in the back of the house…
1) Smarten Up Your Inventory
What if we told you beverage inventory can be done in minutes…not hours? (Mind. Blown.) BevSpot can make it happen. BevSpot's bar technology decreased time needed to take inventory from 2 hours to 20 minutes for a restaurant in Southport, NC. Mainly because any number of bartenders can take inventory simultaneously using the BevSpot app on their own mobile devices.
2) Capture Every Drop of Profit with Digital Flow Meters
Overly generous pours. Spillage. That server who likes to help themselves to a pint of your priciest craft brew between shifts. These factors could account for a beer revenue loss of up to 25%, according to Sculpture Hospitality. So, they created the Bevchek digital flow meter to track pour data that's 99% accurate. When synced with your POS, this bar technology can compare ounces of beer that flow through your lines with bar sales. The result? A real-time snapshot of pour cost.
"Put it On My Tab…let": Order and Pay Goes Mobile
Step, err, tap into the future with touchscreen and tablet-focused bar technology.
3) Give Your Patrons Pour Choices with Tablet Menus
Gone are the days of having a few domestics on your beer menu. Today, the average bar is swapping out kegs, cans, and bottles of craft brews throughout the day. Some bars have given up (sad) and just don't offer printed menus. But there's a better way: say hello to bar tablets. With this bar technology, you can update all of your tablet menus at once, in just a few clicks. Plus, there's plenty of space for you to get wordy and describe the terroir of that funky wild ale…
4) Simplify the Payment Process
Do you want to woo Gen Z and millennials? Look to bar technology that gives them the ability to pay their way. Today, that means accepting mobile payments like Apple Pay and Google Wallet. To do that, you need mobile POS devices like bar tablets.
In fact, bar tablets empower guests to do it all: place orders, view their tab, close it out, and securely pay by credit card or their smartphone – all on one device right at the bar. Need proof that mobile POS systems are in high demand? According to a study by TSYS, 79% of today's guests want bars and restaurants to offer tableside payment.
[fl_builder_insert_layout slug="whitepaper-signup-module-26-bar-promotions-that-work"]
Bar Technology to Up Your Instagram-ability
Your goal in 2019 and beyond: to have your bar be seen – and liked – on Instagram. The best way to do that is by giving guests something exciting to photograph…
5) Grow Your Own Way
Chances are, you're already integrating locally sourced ingredients into your cocktails. Up your game by going hyper local with bar technology…like your very own mini hydroponic growing station behind the bar. Imagine "harvesting" fresh mint, basil, or rosemary for those on-trend culinary cocktails. We'd put that on the 'Gram ASAP, wouldn't you?
6) Take a New Kind of Mug Shot 
We all know that Instagrammers love the overhead shot of latte foam art. But why let baristas have all the fun? Get in on the hype with bar technology like the Beer Ripples machine that imprints almost any image onto beer foam. For the best Instagram ROI, set the machine to print your logo. But it's totally cool if you snap a selfie and put your own mug – in their beer mugs…
Entertainment Made Easy with Bar Technology
Live bands will never go out of style, but it's time to raise the bar with interactive entertainment…
7) Rock the Mic Yourself with Live Trivia Tech
Bar trivia is trending nationwide: from neighborhood pubs to college town watering holes. However, it's not just trivia as usual. More bars are using the latest bar technology – like bar tablets – to run the game. Instead of submitting answers using the old school pen-and-paper method, players can send their best answers (or guesses) to the host.
Scoring is 100% automatic, so the host can mix and mingle with the crowd instead of tallying team standings. As an added bonus, this trivia-focused bar technology includes access to over 700,000 questions and answers. The result is a bar trivia solution that's so simple, bartenders and bar managers can run the game themselves without hiring an outside host.
8) Put Fun on Demand for Every Guest
Those bar tablets can do one more thing…connect guests to nationwide trivia network with games running all day, every day. Players can compete across the bar, or across the country in trivia challenges – all while sipping on their favorite beverage. Oh, and there are sweet prizes up for grabs as well. In December 2018, 8 trivia players took home $1,000 each in the popular Trivia for Cash competition. The best part? Players can only compete in events like Trivia for Cash if they come into participating bars and restaurants. Just one more reason to give this type of bar technology a try…
Bar Technology to Help You Soak Up the Knowledge
Yes, bartenders can always benefit from a little professional development, too.
9) Podcasts for Bartenders Only
We get it, you may be tempted to catch up on season 3 of the uber-popular Serial podcast. But make room on your podcast playlist for a little professional development (and have fun along the way). Just tune into A Bar Above's Mixology Talk Podcast.
10) Virtual Training
If you like what you hear on the Mixology Talk Podcast, why not take their virtual course to become a certified mixologist? You'll get printable cheat sheets, interactive quizzes, and lifetime access to all the resources. Or maybe you've always dreamed of doing those fancy flair tricks. Bar technology makes it possible to learn from the best in these series of flair training videos.
Market Like You Mean It…
Bar technology can help you hack your marketing, and we've got the proof…
11) Get Found by Beer Lovers
For beer lovers, the only thing better than drinking beer is talking about it. It's not enough to savor that crushable, juicy IPA. If you're a true craft brew geek, you need to let your crew know that A) you tasted it, B) where you found it, and C) what you think about it. That's where apps like Untappd and TapHunter come in.
This social media bar technology can put your place on the map. Users "check in" at bars and breweries, alerting other beer lovers. Your bar is likely listed on the app, but you can take this bar technology to the next level with paid advertising. Check out the case studies at Untappd: Spots like Night Shift Brewing in Massachusetts have gained hundreds of new customers.
12) Digital Signage for Breweries
Chalkboards featuring your drink list may look cool, but they're a pain to keep up with. That's why bars are using digital signage to spotlight what's on tap. This bar technology brings your tap list to life with photos, tasting notes, and prices. If you've already got TVs in your bar, digital signage software can turn them into eye-catching billboards.
This bar technology includes templates you can customize to highlight events or feature a new brew. By the way, unlike a chalkboard, digital signage drives sales. A study by Nielsen found that sales of items promoted on digital signage increased by 33%.
When it comes to the bar of tomorrow, the future is now – and these 12 types of tech are a great place to start. Of course, there are some crazy concepts floating around out there like robots that can mix up a cocktail (now that's a bit disturbing). But we've found that the best bar technology doesn't diminish the human factor, it only enhances it.