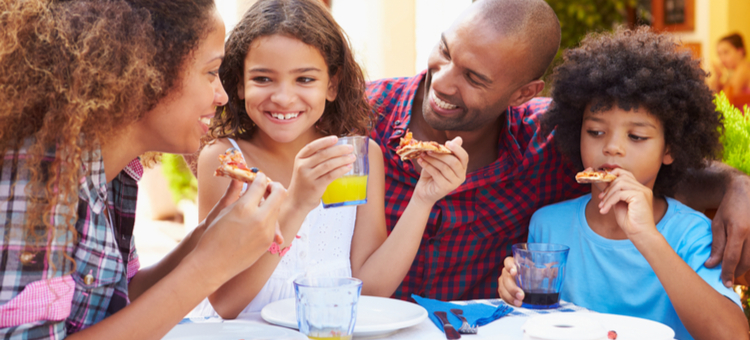 The kids are more than alright. They're in charge and making boss moves. Today, 43% of parents let their children decide where to dine out according to Technomic's recent Generational Report. To bring the fam to your restaurant, use these 13 family friendly entertainment ideas…from cooking classes to the newest type of arcade games.
Family Friendly Entertainment Ideas to Build Fun Into Every Visit
A pack of crayons and a coloring placemat is a good start. But if you really want to be the "it" spot for families, try more creative family friendly entertainment ideas.
1) Start with Your Menu
Sorry to be Captain Obvious here, but if you want to appeal to families, create a kid's menu. Yet, only 30% of all restaurants offer a children's menu according to another report from Technomic. So, what do the cool kids want on their menu?
Play with Your Food: Kids (and honestly, a lot of grownups) like playing with their food. Indulge them with family friendly entertainment ideas on the menu like cheese fondue, or a mini chocolate fountain with fruit for dipping. At Stella Barra Pizzeria in North Bethesda, Maryland kids can even play chef and make their own pizza.
Go Global and Appeal to "Mini Foodies": You won't hear today's kids whining that "it's too spicy." The opposite is true. Today, 36% of parents with kids under 18 say that their kiddos have adventurous palates and like African (27%), Indian (36%), and Middle Eastern (38%) cuisines. An easy way to upgrade your kid's menu to incorporate international flavors is to offer dipping sauces like a zaatar yogurt.
Prize Included: Why let McDonald's have all the fun? Young children would love a small prize with their meal (branded with your restaurant's logo of course). Or, get collaborative with your family friendly entertainment ideas and prizes: partner with a local business to supply fun giveaways for kids.
2) Kid's Only! Play Areas
While some family friendly entertainment ideas are meant to bring kids and parents together, sometimes a little space is good. Give kids their own fun zone in a corner of your restaurant like PLG Coffee House and Tavern in Brooklyn, New York. This hipster-approved spot set up a kid's area with books, toys, and games.
3) Get Arty
Let a little creativity guide your family friendly entertainment ideas…
Color on the Walls…and Floors: Why hire a street artist when you've got kids? As one of your family friendly entertainment ideas, use chalkboard paint to create a wall – indoors or out – and set out chalk. Expect to see both kids and parents playing Picasso. If you have an outdoor patio, sidewalk chalk is a must.
Magnetic Mayhem: Get poetic with your family friend entertainment ideas. Set up metal boards with magnetic words and phrases, and let everyone channel their inner Shakespeare.
4) Today's Arcade is Tableside
To you, Pacman may be retro cool. To today's kids? It's just old. Now, the arcade has gone digital and arrived tableside in the form of handheld restaurant tablets. Loaded with both single- and multi-player games, it's one of the best family friendly entertainment ideas. From word games to race car challenges, there's something for everyone. Or, the fam can work together to solve trivia challenges.
5) Dinner as a Show
Take a cue from Japanese steakhouses when planning family friendly entertainment ideas. You don't need to go full hibachi to tap into this concept. Add at least one special menu item that involves tableside prep. It could be Saganaki, flaming Greek cheese. Or, whip up that classic Caesar salad tableside. You could even have bartenders work their flair to create "mocktails" for the kids at the table.
6) Kid's Clubs and Loyalty
You've got a loyalty program from grownups, but don't forget the kids! Again, Japanese steakhouses are doing things right…Check out Benihana's Kabuki Kids program to inspire family friendly entertainment ideas for loyalty clubs. Parents can enroll children under 12 to receive a free Benihana mug, and membership to the club. Kids get exclusive access to gigs like sushi-making classes.
7) All Together Now! Family Selfies Made Easy
Put a photobooth area on your list of family friendly entertainment ideas. Invest in a "step and repeat" banner with your logo (you see these behind celebs on the red carpet). It will only set you back about $200-$300. Then, set out fun props like giant hats and sunglasses. Invite families to snap pictures to share on the 'Gram and Facebook.
[fl_builder_insert_layout slug="whitepaper-signup-module-get-more-customers"]
Family Friendly Entertianment Ideas for Special Events
Now you have 7 family friendly entertainment ideas to add a little fun at every visit. The next step is creating events for the entire family to enjoy. For the best ROI, set up your events to run on a recurring basis.
8) Sing-a-Longs
Honestly, if your goal is to up your game when it comes to family friendly entertainment ideas…visit Brooklyn. It's full of young, hip families – and hundreds of restaurants and even bars who cater to them. Case in point: Elk Brooklyn Café sets up an outdoor tent where kid's events are held. Their most popular offering is live music and sing-a-longs for families.
9) Trivia Night: Family Friendly Entertainment Ideas Made Easy
Question: What's one of the best family friendly entertainment ideas? Answer: A live trivia night. But skip the old school pen-and-paper method and the pricey (sometimes gimmicky) trivia host. Join thousands of bars and restaurants that host trivia night themselves using handheld tablets. The best trivia company will provide tablets – and access to endless, up-to-date questions. Guests submit answers on the tablets, and scoring is fully automated. It's pure fun for everyone.
10) Believe in Magic
Every kid – and most adults – wish they could make magic like Harry Potter. So, let them! Bring in a magician to either put on a performance, or show attendees a few simple magic tricks. A quick note: skip the clowns when planning family friendly entertainment ideas. They're just creepy.
11) Cooking Classes and Competitions
It's surprising, really. Not many restaurants offer kid's cooking classes. Yet, even in smaller cities across America, you'll find dozens of cooking classes for children at community centers and big-name stores (Panera, Whole Foods, Williams Sonoma). Why not get in on the action with your own family friendly entertainment ideas revolving around culinary classes at your restaurant? For inspiration, check out these 17 kid's cooking classes in the Western Michigan area.
12) Workshops as Family Friendly Entertainment Ideas
From computer coding to robot building classes, techy kids can't wait to geek out at workshops. As one of your family friendly entertainment ideas, hold these events at your bar or restaurant. Chicago's Logan Arcade bar hosts a yearly robot-building class with Metropolitan Brewing. It's a must-attend event for "kids" of all ages.
Older kids and teens are also joining in Paint Nite and Plant Nite events held at local restaurants. These companies send in instructors who provide supplies and lead guests in potting a terrarium, or painting a masterpiece. It makes sense why family friendly entertainment ideas like Plant Nite are "sprouting up" everywhere: over 67% of guests return to the restaurant again.
13) Social Influencers and Radio Remotes
When new pop stars have a hit on the radio, they visit stations across the country – and make appearances at local businesses. Contact your local radio station to see if they'd do a remote broadcast with the musician at your venue as one of your family friendly entertainment ideas. Expect to see families of tweens lined up to meet the new star singer.
Now that you have 13 family friendly entertainment ideas, the next step is turning these concepts into reality. Ask loyal customers who are parents: how can we make our restaurant even more entertaining for your family? Then put an events calendar together, promote your family friendly entertainment ideas, and get ready for a rush of new business.