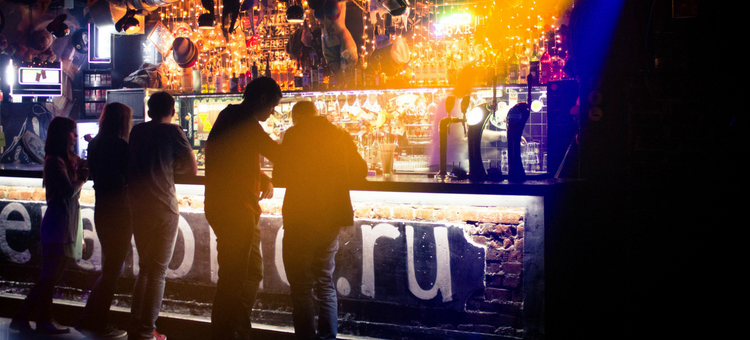 It's a bar eat bar world – and competition is fierce. To stand out, deploy marketing strategies that work double duty: bringing guests through the door, then inspiring them to spend a little extra. Get ready to double down on sales. Try these 13 on-trend bar marketing strategies…
1) A Night of Extra-Special Specials
Feel like customers always go for bottom-shelf booze? These bar marketing strategies are an entry point to the top shelf.
One night a week, slash prices on fancier pours. For example, Chicago's Twisted Spoke hosts half-price whiskey night on Wednesdays. Each whiskey pour, including those in the triple digits, is slashed in half. This gives guests the opportunity to find a new (more expensive) favorite.
2) Our Little Secret
The big secret about secret menus? They're great bar marketing strategies. Perhaps the most famous holder of a secret menu, In-N-Out Burger, has spent decades touting its Animal-Style burgers to a cult following.
Have each bartender create their own "secret" signature cocktail, and not-so-quietly let regulars in on the fun. Word-of-mouth will spread the news. Encourage customers to share the cocktails on social media with the #secretmenu hashtag.
3) Double Dare You to Try…
These bar marketing strategies appeal to adventurers (and those looking for something to brag about on social media).
Bring in a crazy beverage and "dare" guests to give it a try. You could start with Rogue's Beard Beer, brewed with – yes – yeast from the brew master's beard. Or, put the epically bitter Jeppson's Malort on your menu. You're likely to see some strong reactions (and a ready-made social media campaign).
4) Put the (Trivia) Game On
The best bar marketing strategies give customers a sense of happiness and connection. They'll have such a good time bonding over trivia and games that they forget to leave the bar.
Studies show that it pays when guests play. Nielson research found that when guests played Buzztime bar trivia and games, they spent 21% more per table check than non-players.
Recruit your most engaging staff member to host live trivia one night a week, and you can kiss those slow weeknights goodbye.
5) Make Mine a Mocktail
Wait, shouldn't bar marketing strategies revolve around…alcohol? Not necessarily.
From pregnant women to dieters, the mocktail market is growing. According to research firm Technomic's Beverage Consumer Trend Report, 51% of millennials and Gen Z purchased more mocktails than they did two years ago.
Plus, for the workday lunch crowd, mocktails can drive incremental sales. Instead of a basic fountain drink, entice them with bar marketing strategies focused on high-margin mocktails.
Gourmet lemonade made the list of non-alcoholic beverage trends on the National Restaurant Association's 2018 What's Hot Chef Survey. Try adding a house-made lavender or sage syrup to give lemonade a mocktail twist.
For more bar marketing strategies and proven tips to increase sales, download the popular whitepaper: The Ultimate Checklist for Bigger Bar Sales.
6) Give Your Sales a Caffeine Kick
A close cousin of the mocktail? Gourmet coffee. In fact, cold brew coffee and local- or house-roasted coffee were two of the National Restaurant Association's top five nonalcoholic beverage trends for 2018.
Adding coffee to your bar marketing strategies doesn't mean you have to hire a barista. You don't even need new equipment. Search cold brew coffee in bottles and display it in a glass-front cooler next to your beers.
Nitro coffee, which is kegged and infused with nitrogen, can be served from a regular beer tap. Customers will appreciate being able to get their (trendy) caffeine boost without leaving the bar.
7) Flights of Fancy
While beer flights are a no-brainer, savvy managers are expanding their flight bar marketing strategies…to spirits. Arrange a St. Patrick's Day tasting of Irish whiskies, a tasting of multi-colored liquors for Pride Week, or a champagne flight to toast the first day of spring or summer.
8) Alcoholic Beverages…Made Healthy?
Yes, many are building bar marketing strategies around health crazes – like the quest for antioxidants. Technomic's research finds that 54% of millennials seek out immunity-boosting, antioxidant-rich beverages. Muddle some blueberries in that mojito or experiment with turmeric. You could also offer "skinny" versions of your most popular cocktails for dieters (hint: reduce sugar wherever possible).
9) Mezcal, Por Favor
Trends make for great bar marketing strategies. Guests are eager to try the latest and greatest – then boast about it on social media. Like the Aperol Spritz (the "it" cocktail of summer 2017), mezcal is having a moment.
While tequila isn't going anywhere, the smoky flavor profile of mezcal has America intrigued. Research firm Future Market Insights anticipates a 17.8% growth in demand for the agave-based beverage through 2022. Mix mezcal into cocktails as you would tequila, and offer flights as one of your bar marketing strategies.
10) Go Local Already
Stop using bar marketing strategies from the past. National, big-name brands don't have the same appeal to today's guests. They want beer, wine, and liquor with a local connection. In fact, locally-produced spirits, beer and wine is the #2 alcohol trend for 2018 according to the National Restaurant Association.
As far as bar marketing strategies go, bringing in local alcohol has another big advantage. Let's say you source craft beer from a local brewery. The brewery will alert their customer base that you've got their brews on tap. It's a win-win.
11) Tell Me a Story
When it comes to bar marketing strategies, guests want the whole story behind items on your drink menu. They want to know how (and where) the hops were grown – or how a distiller chose a spirit's name. Plus, descriptive details have been shown to drive sales of a menu item by up to 27%, according to Cornell University research. Customers were even willing to pay 10% more for well-described items…
12) Rosé All the Way
For bar marketing strategies with staying power, look to rosé wine and its frozen slushy counterpart, frosé. Wine Access has seen a 1,400% increase in rosé sales in the past two years. The beverage's visual appeal – a perfect shade of trendy millennial pink – makes it eye candy for Instagram. Use the #RoseAllDay hashtag to up your social media bar marketing strategies.
13) The New Cider House Rules
Rosé has entered the hard cider arena. For the trendiest bar marketing strategies, source rosé ciders. You won't have to look far. In February 2018, MillerCoors launched Crispin Rosé Cider and Strongbow is releasing a Rosé Apple Cider. Or combine two bar marketing strategies, and find locally produced rosé ciders.
Gone are the days of sneaky bar marketing strategies. Customers are sophisticated. Gimmicks don't work. But give guests a fresh taste of what's trending? They'll come in, spend, and return to see what's new.
Capitalizing on the latest trends is just one way to increase bar sales. For more bar marketing strategies, check out this free whitepaper, The Ultimate Checklist for Bigger Bar Sales.