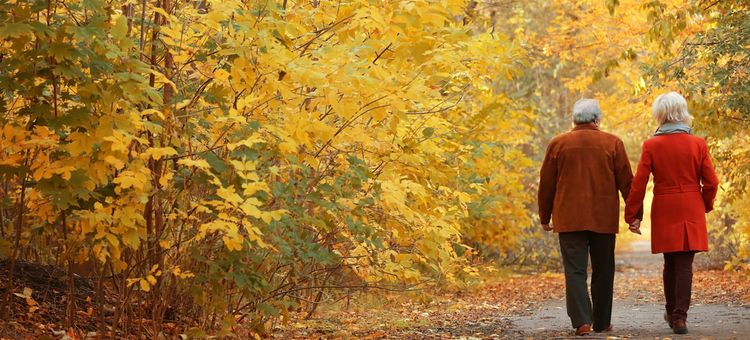 Days are shorter. Nights are chillier. Fall is in full swing! With autumn's arrival comes an opportunity for senior living community managers to enrich life for residents with these 14 wellness-focused fall activities for seniors.
The Great Indoors
When the weather isn't cooperating, host fall activities for seniors indoors. In fact, this is where fall activities for seniors can have the greatest impact on their wellbeing.
Depression is a risk factor for any adult, but seniors are especially susceptible. Launching fall activities for seniors that help them socialize and feel connected to others can make a big difference in their quality of life. Here's how:
Outdoor Fall Activities for Seniors
Give seniors the chance to enjoy the autumn air with fall activities for seniors held outdoors – weather permitting!
Tailgate Saturdays

Nothing says fall like football. Even seniors who aren't fans of the game will enjoy the excitement and togetherness of a tailgate-themed event. All of these football-themed fall activities for seniors would work indoors, too.

Set up lunch outdoors with hotdogs, hamburgers, nachos, chicken wings and other tailgate favorites
Encourage seniors to wear apparel from their favorite sports team – provide awards for seniors with the most team spirit
Most high school football games are on Friday evenings, could a few members of the high school band volunteer to perform a few songs?
Turn on the football games in all communal areas making it easy for fans to gather together
Consider taking seniors to a local high school or college football game – be sure to plan ahead for seniors with mobility issues

The Ultimate Leaf Peeping Experience

Leaf peeping is one of the most beloved fall activities for seniors. Give seniors a truly eye-opening look at fall foliage with a walk or bus tour led by a horticulturist or arborist from your local extension office.

Every state, and almost every county, has an extension office that is an "extension" of a university. These offices are tasked by the USDA with providing educational outreach related to natural resources and agriculture. To find your local extension office, just click here. In fact, your extension office may have other ideas for fall activities for seniors!

Fall is For Planting…

One of the best fall activities for seniors is gardening. Why? Fall is the best time to plant perennial flower bulbs, which bloom year after year.

Involve seniors in the garden plan: which bulbs would they like to plant? Daffodils, tulips, allium, and hyacinth are 4 of the hardiest perennials for all planting zones. Come spring, seniors will look for their budding flowers!

For more tips on launching a garden program – including senior-friendly gardening tools, safety ideas, and proven health benefits – view this guide.
Halloween-Themed Fall Activities for Seniors
Treat residents to a scary good time and lift their spirits with fall activities for seniors that are so easy…it's spooky.
Thanksgiving Fall Activities for Seniors
Give residents even more to be thankful for with fall activities for seniors centered around Thanksgiving.
Gratitude Wall

Expressing gratitude is scientifically proven to reduce stress and promote better sleep in addition to 5 other health benefits. Put up a large white sheet of paper in your reception area, and invite seniors to write what they are grateful for. Or, ask them to write words of thanks which you can then display throughout your facility using TVs and digital signage.

Meal Planning for Those Sticking Around

Not every senior has family to visit with on Thanksgiving Day, so make meal planning for your on-site Thanksgiving Feast one of your fall activities for seniors. Partner seniors with kitchen staff to design a menu together. Imagine the pride a resident would feel knowing a treasured recipe was cooked by your staff on Thanksgiving Day…

In fact, one of the best tips for planning ALL of your fall activities for seniors is to include them in the process. Together, you can create an autumn to remember at your senior living community.