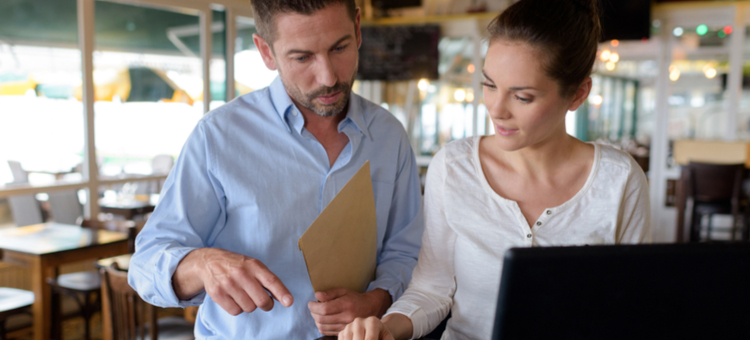 They're not bad enough to be fired, but they're far from good. Meet Tardy Tamara, Clueless Carl, and 3 more usual suspects who are giving restaurant owners grief. Then, get 14 solutions for handling unreliable employees…like a boss.
Issue: Tardy Tamara Sneaks in 15 minutes After Her Shift Starts
According to a survey by CareerBuilder, 1 in 4 employees admit to being late at least once per month. For 13% f those surveyed, it was a regular occurrence. When handling unreliable employees, the best way to combat lateness is to act early with these methods:
Solution #1: The Three Strike Policy
It doesn't necessarily have to be three strikes, but you should have a set amount of times staff members can clock in late before you take action. When handling unreliable employees, it's important to be clear and consistent. So, set your plan in place, communicate it to your team, and dole out the appropriate punishment when necessary.
Solution #2: Clock-In Software
The best way to track when your employees arrive and leave is with software – like 7Shifts – that records their clock-in times. This way, you can view your staff's habits over time and prepare ways for handling unreliable employees.
Solution #3: Regular Kick-Off Meetings
If you want to take things up a notch when handling unreliable employees, schedule a quick meeting at the beginning of every shift. It's a great way to sync with your team before the lunch or dinner rush. Plus, it ensures that everyone will make an extra effort to be on time. Who wants the shame of slinking in halfway through the meeting? No on.
One-on-One Advice for Handling Unreliable Employees Who Are Late
Sit the staff member down and ask why they continuously come in late. If they have a legitimate reason and are otherwise a rock star, work with them to find a solution. For example, consider starting their shift 15 minutes later so that it's expected they'll be in at that time.
[fl_builder_insert_layout slug="whitepaper-signup-module-29-tactics-busiest-bars"]
Issue: No-Show Sean Called Out of His Shift Last Minute. Again.
Life happens and sometimes your employees miss a shift last minute. But there's a difference between excusing the occasional emergency and handling unreliable employees. Unfortunately, this one affects your wallet – research from TSheets shows that missed shifts could cost you $7,500 in operating costs each year.
Solution #4: Prepare for the Worst (a No Show)
Even with a missing employee, the shift must go on. Have a plan in place for your manager to follow. After attempting to reach the missing staff member, refer your manager to a list of reliable employees they can contact to cover the shift last minute. Then, reward the replacement with an early cut, a comped meal, or their choice of next week's shifts. Sure, this process doesn't do much for handling unreliable employees directly – but your business won't take the direct hit.
Solution #5: Empower Your Staff
Shuffling schedules can be a nightmare for managers. Yet, it's better than employees not showing up. So, allow your employees to trade shifts, if needed. However, put them in charge of finding their own replacements instead of your managers. It may seem counterintuitive to give out more responsibility when handling unreliable employees. However, it could really help your managers and ensure every shift is covered.
Solution #6: Use an Employee-Friendly Scheduling App
If you have a complicated system for requesting time off or switching shifts, that will increase the probability of no-shows. When handling unreliable employees, give them the ability to easily view and switch shifts when needed. Scheduling apps like When I Work allow your team to request time off or find someone to cover their shifts in a few clicks.
One-on-One Advice for Handling Unreliable Employees Who Miss Shifts
Get to the root of the problem. Find out if it's a time management issue or a personal situation that's causing them to call out. Give them a warning and let them know the importance of showing up for their shifts. Termination should be the last resort, but sometimes it's necessary when handling unreliable employees.
Issue: Negative Nancy Brings Everyone Down With Her Bad Attitude
Good morale matters when handling unreliable employees! It's been proven that happy employees work harder. But as the saying goes, one bad apple can spoil the bunch. If you have an employee that brings a storm cloud with them wherever they go, it could spread to the rest of your team and even to your guests. Nip bad attitudes in the bud with these solutions:
Solution #7: Keep it Fun
Host regular team nights with your staff to help build camaraderie and strengthen their bonds. A team that has fun together will generally work well together, and it could reduce any tension between staff members. Treat your employees to a free dinner or pizza party once or twice a month. Set up some friendly competition, like a live trivia tournament or bowling night. Working among friends could turn bad attitudes around, making handling unreliable employees that much easier (and even fun).
Solution #8: Call it Out
One thing you definitely shouldn't do when handling unreliable employees is ignore the issue. Let your team know upfront that bad attitudes and disrespect won't be tolerated. Encourage staff to speak with you or their manager if they have an issue that needs to be addressed.
Solution #9: Check in Often
Sometimes, absent managers or owners could be the source of bad attitudes. That's why being present is such an important step when handling unreliable employees. Perhaps tensions have been brewing for a while and you just didn't see it. Schedule regular meetings with your staff once a month so they can air grievances.
One-on-One Advice for Handling Unreliable Employees with Attitudes
Speak with the employee privately and try to understand the source of their issues. Attempt to work toward a solution together. Then, schedule regular check-ins with them to see how they are progressing.
Poor-Performance Paul is Doing the Bare Minimum
It's difficult for your team to shine when not everyone is pulling their weight. These solutions can help with handling unreliable employees who may be cutting corners or taking one too many breaks…
Solution #10: Communicate Standards
The best way to prevent the need for handling unreliable employees is to set expectations on day one. During training, clearly state what you expect. Include details like dress code, and what the proper wait times should be during the guest experience. Use some of your best staff members as an example of what you expect from every team member…on every shift.
Solution #11: Quiz Your Team
Staff quizzes are a golden opportunity for indirectly handling unreliable employees. During your shift meetings, have two or three random menu or policy questions on hand to test your employees. The added pressure of a crowd will encourage your team to stay sharp and up to date on your menu items and standards (especially if the correct answer results in a reward). Incorrect answers are an opportunity to review your policy with your entire team present.
Solution #12: Go on a "Secret Shopper" Spree
Keep your team on their toes with regular visits from a secret shopper. After establishing your standards, let your staff know that secret shoppers frequent the restaurant and will report back to you with their experience. A rave review from the shopper means a reward! Poor feedback could result in a reprimand or other punishment reserved for handling unreliable employees. Chances are, most of your employees will treat every customer like a secret shopper to avoid a bad review.
One-on-One Advice for Handling Unreliable Employees Who Are "Just Getting By"
If you notice a staff member slipping in their performance, offer to re-train them on your standards and procedures. Require them to shadow one of your veteran servers who always goes above and beyond their normal duties. Sometimes, your stellar staff members can be assets when reforming or handling unreliable employees.
Issue: Clueless Carl Has No Idea What's On The Menu…Or Your Specials Board
Your staff must be well-versed in your menu! Servers need to be able to list ingredients and flag potential issues with allergies. Your line cooks should know how every dish. Handling unreliable employees includes making sure your team knows what's on the menu and your weekly specials – here are some strategies to get the information to stick:
Solution #13: Retraining Rocks
Regular re-trainings are recommended, but especially necessary when handling unreliable employees. Have your newer team members follow some of your long-time employees as they learn the ropes. Encourage veteran employees to re-take your menu quiz to ensure they're on top of their game.
Solution #14: Run Menu Tastings
Feeding your team may be the best approach to handling unreliable employees who frequently forget your menu. It can show your team what the dishes should look and taste like, which may help them remember the details of your menu. And, they'll have a better reference when describing dishes or giving recommendations for your guests. Aim at featuring one menu item at the beginning of each shift, or hold a tasting of the entire menu at least once a month for your staff.
Solution #15: Go Digital with Your Dining
Do you keep handling unreliable employees who forget the menu? Try something new, like digital menu tablets. Digital menus allow you to list more details and descriptions so guests can find answers themselves without putting your servers on the spot. However, your team should still be trained on your menu.
The real secret to handling unreliable employees is working with them towards a solution. Perhaps they're going through a hard time and need some guidance, re-training, or help. A little understanding and a willingness to meet their needs will build loyalty and could turn a potential turnover into an attitude makeover.