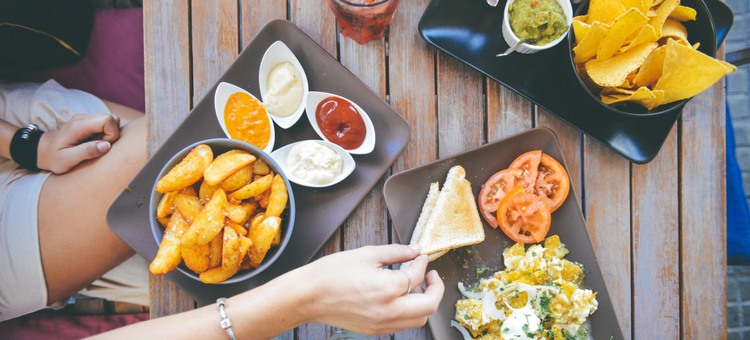 There's no such thing as a free lunch, but the next best thing is a sweet midday meal deal. Use these 15 lunch special ideas to draw a crowd, boost profits, and stand apart from competitors.
Lunch Special Ideas for Guests on the Clock
Make noontime, boomtime. These irresistible lunch special ideas will attract busy, budget-conscious guests…
1) $15 in 15
Some like to relax during lunch. For others, it's a race against the clock. Build your lunch special ideas with their (limited) time in mind. Launch a $15 lunch menu guaranteed to be served within 15 minutes or less. Include a drink and dessert to sweeten the deal. While guests are waiting, they can even enjoy a round of 15-minute Lunchtime Trivia.
2) $9.95 Mix and Match
Create a "build your own" lunch deal for $9.95. Guests select two items from a list of sandwiches, salads, and soups.
Why $9.95? Two reasons:
People love the number nine. In a study by MIT and University of Chicago, guests bought more of a product when it was priced at $39 – as opposed to $34.
The second reason to price your lunch special ideas at $9.95? It just makes "cents" to guests. Research from the Cornell University School of Hospitality Management suggests customers perceive more value when you knock a few cents off.
3) Take a Cue from QSR with Grab and Go
The main appeal of quick service restaurants (QSRs) like McDonald's and Taco Bell is quickness combined with low cost. Here's how to provide a similar level of convenience and value with readymade lunch special ideas:
For inspiration, look to the new TGI Fridays location in Corpus Christi, Texas. An attractive, open cooler lets guests select from pre-made sandwiches and salads plus bottled drinks.
Some like it hot! Purchase a food warmer with a glass face so guests can see your mouth-watering offerings like paninis, flatbread pizzas, and wings.
Not ready to invest in an open cooler or food warmer? You can still reap the rewards of readymade lunch special ideas. Just promote your grab-and-go items with digital signage using your existing TVs. Your kitchen staff can prep and package items and store in the back of the house: in the cooler or under heat lamps.
4) Use Tech to Speed Up Service
According to a 2017 Toast POS report, 73% of patrons agree that restaurant technology improves their experience – and the National Restaurant Association found that nearly 8 in 10 patrons want more of it. The easiest way to incorporate tech into your lunch special ideas? Bring in restaurant tablets.
Guests order from a digital menu and send meal selections straight to the kitchen.
When patrons are ready to pay, they pull up on their check on the tablet – and securely pay ASAP. No need to flag down a server.
Be sure to select restaurant tablets that include EMV card readers ("chip card" readers) and NFC payments (like ApplePay and SamsungPay) for ultimate security and convenience for guests.
5) Salad Bar 2.0
There's nothing wrong with self-serve buffet or salad bar lunch special ideas. But if you're a full-service restaurant, it may not mesh with your concept.
Instead, one popular full-service restaurant in Upstate New York invites guests to walk through a quick-serve line.
Patrons select from freshly made salads and pastas (which are plated by staff), pay, then sit and enjoy their lunch.
[fl_builder_insert_layout slug="whitepaper-signup-module-golden-book-of-upselling"]
Creative, Concept-Driven Lunch Special Ideas
6) The Lunch Brunch
According to research giant Technomic, more people are skipping breakfast than ever before. The same study revealed that 30% of customers are purchasing breakfast food outside of the morning daypart more often than they were two years ago.
Capitalize on these trends with breakfast- and brunch-inspired lunch special ideas. Include filling favorites like eggs benedict and house-made hashes.
Need inspiration for brunch-themed lunch special ideas? Use these trends highlighted on the National Restaurant Association's 2018 What's Hot Chef Survey:
Ethnic-inspired breakfast items: Use trendy spices like Middle Eastern za'atar to transform basic omelets.
Avocado toast: you could build an entire menu around hearty toasts topped with filling fixings.
Traditional ethnic breakfast items: Try Shakshouka, popular in North Africa and Israel, it consists of eggs poached in a tomato sauce with onions, chilis, onions, and cumin. Huevos rancheros is a close cousin.
Overnight oats: Hello, profit margin. Soak oats in milk overnight, serve in a mason jar for an extra trendy twist.
Breakfast hash: Think house-cured beef and fingerling potatoes.
7) Picnic in the Park
Portable meals make great lunch special ideas, especially if you're near a scenic area or park.
Serve the lunch in a paper bag stamped with your logo and a red-and-white checkered napkin for extra picnic appeal.
One restaurant in Boston even provides picnic blankets and chairs for guests to borrow.
Task your chefs to get creative with these lunch special ideas. Think street-food inspired dishes like tacos, kabobs, and other easy-to-hold items.
Don't forget the kids! On weekends and summer weekdays, give families everything needed for a picnic lunch including a healthy kid's meal packed with grilled chicken nuggets, whole grain breads, and fresh fruit.
Marketing Your Lunch Special Ideas
Make lunch at your place part of their routine with marketing that encourages repeat visits.
8) Limited Time Offers
The big QSR chains have mastered the art of repeat visits. One way they do it is by turning lunch special ideas into LTOs (limited time offers).
For example, McDonald's offers a 2 for $5 combo – and regularly switches up the menu items available at the promotional price. It encourages guests to try new menu items, while delivering amazing value. Because the items switch often, guests feel urgency to return and take advantage of the meal deal while it lasts.
You don't need to go as low as 2 for $5, try 2 for $9 – remember, 9 is the magic number.
9) Lunch with a Side of Loyalty
Make one of your lunch special ideas a loyalty offer. If you haven't already, design a loyalty program for your restaurant or bar. Then, incentivize repeat lunchtime visits with a $10 gift card or free lunch for every 10 visits.
Liquid Lunch: Lunch Special Ideas Based on Beverages
While the 3-martini lunches of the 1950s aren't really a thing anymore, some guests still want a drink. Offer a menu of "mini pours" – 8 ounce sips of craft brews – then try these lunch special ideas, too:
10) Pub and Grub
If you're a bar, pub, or brewery with a small or non-existent kitchen, no worries. You can still get on these lunch special ideas by partnering with a local food truck. One brewery in Tampa hosts a different food truck every day of the week.
That way, they attract that food truck's followers – exposing their brewery to new crowds. Contact your area's food truck association and brew up a new partnership with collaborative lunch special ideas.
11) Gourmet Mocktails
Try adding upscale non-alcoholic beverages to your lunch special ideas. Making ingredients in-house will boost your profit margin while appealing to guest cravings for made-from-scratch everything.
Gourmet Lemonade: Offer lemonade with a twist. Add strawberries or raspberries for a sweet, refreshing treat.
Not Toddy: In the colder months, try a virgin "not" toddy made with warm tea, honey, lemon, and spices.
House-made/artisan soft drinks: Add house-made syrups to seltzer water and create bespoke soft drinks. Some delicious lunch special ideas for artisan soda flavors include watermelon and jalapeno; citrus and mint; or rosemary and grapefruit.
12) Caffeine Fix
For many lunchtime patrons, staying caffeinated is a priority. Win over the coffee-loving crowd with these lunch special ideas:
Find the trendiest locally roasted coffeehouse in your area. Many will gladly partner with other businesses to promote their coffee.
Create a special café menu with light bites and gourmet coffee drinks available either to-go or to enjoy on premises.
Bring the "it" coffee trend in New York City to your bar or restaurant: Offer pour-over coffee. It sounds fancy, but it's easy to do – see how, here.
Add Some Fun to Your Lunch Special Ideas
Entertainment isn't just for evenings. These lunch special ideas add value to the guest visit.
13) Live Trivia
Give groups of office workers a reason to choose you by offering live trivia once a week. No need to hire a trivia host, a staff member can run the game if you use the right live trivia partner. An independent Arbitron study* showed that this type of entertainment can boost check averages by up to 21%.
14) Live Music
Bands bring in business on the weekends, so why not liven up your midday atmosphere with live music? Ask the band or a solo guitarist to play their tunes low and slow – studies show slow tempo music can boost drink sales by up to 40%.
Group Think: Lunch Special Ideas Meant for Sharing
15) Office Meal Kits
Offer meal kits with items that customers can take back to the office for everyone to customize. It's the perfect solution for a lunch meeting, or just a treat from the boss. Get inspired with these lunch special ideas:
Italian Family-Style: Include a variety of noodles and sauces, plus salad and house-made garlic bread.
Taco Kit Box: Assemble a box with enough taco ingredients to feed four to six people. Give the option of a couple sides to go with your taco lunch special ideas, like refried beans or a corn and black bean salad.
Country Style: Comfort food is always a favorite when it comes to lunch special ideas, especially in cooler months. Think fried chicken, meatloaf, mashed potatoes, and mac and cheese.
The best lunch special ideas are fresh, fun, and convenient for patrons. Whether they're hungry for a lazy lunch or a quick meal, these lunch special ideas are the perfect solution for their midday meal.
*2008 Independent Arbitron Study. Actual results may vary.