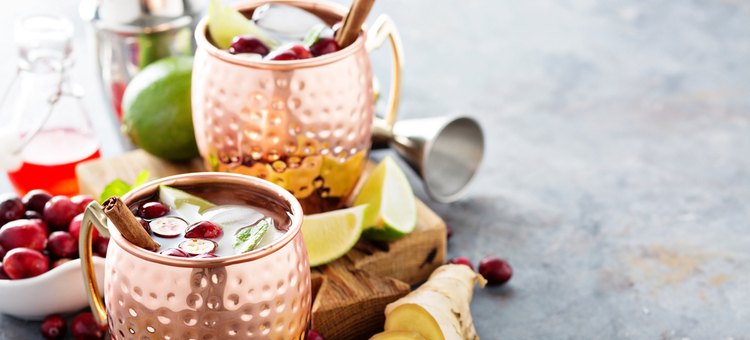 Food usually takes the spotlight on Thanksgiving. But in the spirit of this epic autumn meal, we think you should offer a few of these 16 show-stopping Thanksgiving drinks, too. We're talking fresh garnishes, house-made syrups, and fall flavors like apple, cinnamon, and pumpkin spice (of course). So, dig in…and feel free to come back for seconds!
Seasonal Favorites
1.Apple Cider Mojitos:  Not quite ready to give up summer? Ease the transition with an autumnal twist on a beach-day favorite. Apple and mint blend together to create a smooth and refreshing fall cocktail that feels like Thanksgiving on the beach. But if you prefer your Thanksgiving drinks a little more traditional, substitute rosemary for the mint.
 2. Cranberry Margaritas: It's a Thanksgiving fiesta! With a blend of cranberries, tequila, and lime, this jewel-toned margarita is the perfect addition to brighten up your Thanksgiving drinks menu. Olé!
3. Harvest Mimosas:  Hosting a Thanksgiving brunch? (Great idea, btw.) Then your guests need early-morning Thanksgiving drinks to sip on. Look no further than this seasonal take on a brunch favorite. Adding popular fall flavors like cinnamon, apple cider, and cranberries will make this mimosa the hit of the season.
4. Simple Hot Spiced Wine: Cooler weather means warmer beverages are in order. And our list for Thanksgiving drinks wouldn't be complete without spiced wine. The best part? This easy-to-prepare cocktail can be made ahead in batches to streamline service. (Now that gives your bartenders something to be thankful for.)
Trend-Setting Thanksgiving Drinks
5. Harvest Apple Ginger Spritz: Move over Aperol spritz – it's apple and ginger's time to shine! For Thanksgiving drinks that are sure to wow, whip up a batch of this recipe – it's like fall in a cup.
6. About Figgin' Thyme: In need of Instagram-worthy Thanksgiving drinks? This rum cocktail has what it takes to make it on your followers' social feeds. The mix of figs and thyme provides an interesting pairing that's also camera-ready. And to stay even more on-trend, whip up your own thyme simple syrup in-house with local ingredients.
7. Pumpkin Spice Moscow Mule: Pumpkin spice is the flavor of the season. So mix it with one of the most popular summer cocktails as a Thanksgiving drinks menu item that's sure to be a hit. With pumpkin puree, pumpkin pie spice, vanilla vodka, and lime, this simple drink will have us happily sipping away all day. (Ugg Boots and scarves optional.)
8. Cinnamon Maple Whiskey Sour: Whiskey mixes with most classic fall flavors. So, get in the spirit by featuring an autumnal take on this cocktail classic on your Thanksgiving drinks menu. Steal the show with an apple cider and cinnamon simple syrup that's easy to make in house.
[fl_builder_insert_layout slug="whitepaper-signup-module-create-menu"]
Savory Sips
9. Turkey and Sage Cocktail: Turkey is the main event at Thanksgiving dinner. So why not make it the all-star for your Thanksgiving drinks? This savory cocktail featuring Wild Turkey, sage, and pumpkin butter will be sure to have guests asking for a second helping.
10. That's How We Cass-E-Role: Mixing veggies with cocktails is a trend we can get behind. Especially if it involves one of our favorite Thanksgiving side dishes. This cocktail version of a green bean casserole is sure to please, with elevated ingredients like smoky mezcal, herbal green bean puree, and a house-made salted lime simple syrup. Some of the ingredients are a little more involved and require some planning, so keep that in mind when prepping your Thanksgiving drinks.
11. Holiday Dinner: Take your Thanksgiving drinks to the next level by serving an entire meal in a glass. Thyme and saffron-infused gin? Turkey broth syrup? Celery bitters? Yes, please! These unusual and delicious savory flavors blend together to create a thanksgiving "dinner" recipe even grandma would be proud of. Our mouths are watering just thinking about it.
12. Turdrunken Sour:  Inspired by the famous turducken (a turkey stuffed with a chicken stuffed with a duck), this cocktail is an interesting blend of tasting notes that are both savory and unique – like duck fat-washed rye whiskey. It's a culinary exploration for adventurous guests looking to indulge in appetizing Thanksgiving drinks this season.
Decadent Dessert Drinks
13. Nutty Spiced Chocolate: Not all dessert cocktails have to be creamy. And after a large meal, it's nice to have lighter Thanksgiving drinks on the menu. This smooth cocktail is a blend of hazelnut, chocolate, and a little chili flavor for a sophisticated sipper without the extra dairy.
14. Salted Caramel White Russian: White Russians are quintessential holiday cocktails. Creamy. Sweet. Delicious. Now blend some fall essences like salted caramel to turn this sweet classic into one of your featured Thanksgiving drinks. It's simple to make and delicious to the last drop. What could be better?
15. Pumpkin Spice Oreo Spiked Milkshake:  Featuring pumpkin-spiced Oreos, vodka, and ice cream, this blended cocktail is enough to make any grown-up feel like a kid again. And isn't that what the holidays are all about?
16. Butterscotch Coffee Cocktail: A cup of coffee is the perfect way to end a meal. But for Thanksgiving, you need to kick it up a notch. With some Butter Shots, Irish cream, and a dash of nutmeg, you'll have a new fall favorite to add to your list of Thanksgiving drinks.
Bonus: How to Make Your Thanksgiving Drinks Stand Out
You have the flavor pairings that are sure to please. But how can you take your Thanksgiving drinks to the next level? Follow these simple tips based on the latest culinary and cocktail trends:
In-house Simple Syrup: Many of these recipes for Thanksgiving drinks involve unique simple syrup blends, which can easily be made in-house. And trust us – it's worth going the extra mile. Making syrups in-house allows you to serve tastier drinks while earning a little more cocktail cred with your guests.
Home-Grown Ingredients: Hyper-local ingredients are a huge culinary trend! If you have space, try growing some of the key ingredients, garnishes, and herbs for these cocktails in your own backyard, a container garden, or even a small greenhouse behind your restaurant.
Instagram-Worthy Presentation: Presentation is everything when it comes to getting pics of your Thanksgiving drinks on social media. Take the time to train your bartenders and ensure they're using the right garnishes and glasses to really make the drinks pop on camera!
Thanksgiving drinks are a big crowd-pleaser this time of year. And with flavors like apple, cinnamon, pumpkin spice, and even green beans, your guests are sure to get in the "spirit" of the season. Whether your guests are craving something seasonal, savory, or sweet, there's something for everyone…cheers to that!