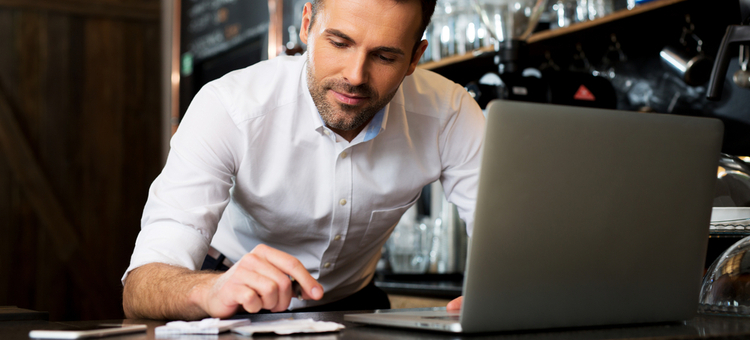 Never say never, except when it comes to restaurant manager missteps. From closing early to relying on regulars, see if you're making these common mistakes. Then, get 17 fast fixes – all backed by the latest research – to rock your role as a restaurant manager.
1. Overstuff the Menu
It's known as the paradox of choice or choice overwhelm. Give guests too many options? They freeze, and avoid making a decision.
Every restaurant manager has heard a guest say "I'll have what she's having – the burger." That's choice overwhelm in action, and it hurts sales. The guest settled on a $13 burger because he couldn't decide between 3 different $30+ steaks.
The Fix: Limit Menu Options, Encourage Customization
Research shows that fine dining restaurants saw higher sales when offering 7-10 items per menu category. Casual and quick service concepts should aim for 6 per category.
As a restaurant manager, you can still give guests options: Let them customize your menu items. With digital menus on restaurant tablets, guests can click to see extras and add-ons for each dish.
2. Rely on Regulars
A smart restaurant manager never takes regulars for granted.
Yet, many spend 100% of their marketing dollars on getting new guests in the door. That's customer acquisition. Your goal as a wise restaurant manager is this: Focus on increasing customer retention rates by 5% – and you'll see 25-95% higher profits.
The Fix: Launch a Loyalty Program
The easiest way to keep 'em coming back? Reward their loyalty. A 2017 study of over 28,000 customers by VISA and Bond Brand Loyalty found that 81% of them will continue doing business with you – if you have a great loyalty program.
3. Minimize Cybersecurity Risks
A careless restaurant manager takes cybersecurity risks: like offering free wi-fi – from the same server that connects to your POS system (you need a dedicated server).
The Fix: Review the National Restaurant Association's Cybersecurity 101 and 201 Toolkits
4. Hate on Millennials
If you're a millennial, skip this one. Other generations, take note: You may cringe at the under-35 crowd's obsession with selfies, job-hopping, and avocado toast. But they make great restaurant patrons – the average millennial eats out 5 times a week. The savvy restaurant manager knows…millennials are a gold mine.
The Fix: Market to Millennials
Millennials – and patrons of all ages – are drawn to social events (skip to #11 for tips). How you market those events as a restaurant manager matters: 83% of millennials don't trust traditional advertising like radio and print. Use personal methods like email and of course, social media: their favorites are Snapchat and Instagram.
5. Close Too Early
Are you closing the door on sales? If you stop serving food at 9pm, you might be.
The Fix: Try a Late Night Happy Hour
From workaholics who need a late-night bite to yes, millennials going out on a Tuesday, keeping your kitchen open later could pay off. In fact, a third of millennials would visit a restaurant more often if it stayed open later. To keep kitchen and server labor costs low, start with a late night happy hour menu.
6. Clap Back to a Negative Review
After being insulted by rival rapper Eminem, Ja Rule responded with his iconic "dis" track, Clap Back.
Like rapper, like restaurant manager. If you've ever written a less-than-friendly response to a negative Yelp review, you've clapped back – and it can seriously hurt business.
On the flip side, respond in the right way to a negative review? 33% will delete their original review and post a positive one. Disappearing negative reviews: what restaurant manager dreams are made of.
The Fix: Use the 7A Formula for Responding to Negative Reviews
One of the 7 A's stands for "authority." It's important that you – the restaurant manager – are the one writing responses.
7. Play Led Zeppelin at 2pm
Maybe instead of rap, you're a restaurant manager who's into rock. On a slow afternoon, you turn on the U2 or Zeppelin. It'll liven things up for guests…right? The opposite is true.
The Fix: Tune Up Your Playlist
When business isn't brisk, creating a relaxing atmosphere will encourage patrons to stick around – and drink. Slow tempo music was shown to increase drink sales by up to 40% in one study.
However, other studies suggest that loud, fast music speeds up alcohol consumption – but only when the bar is packed. The restaurant manager should always control the playlist.
8. Use a Website From 2008
Pretend you're a guest, not a restaurant manager.
Pull up your restaurant website on your smartphone. Do hours, location, and menu show up first? If not, it's time for a website upgrade.
The latest research shows that 9 in 10 smartphone owners use their devices when deciding where to eat. And 88% seek directions and hours, followed by your menu. To ensure guests see these essentials – fast – your website should be responsive. That means it automatically adjusts to screen size, whether it's a laptop or a smartphone.
Yes, another task for the busy restaurant manager. The good news? A new website won't break the bank. There are thousands of responsive templates online – for as little as $50. Hosting fees on GoDaddy are as low as $5/month.
The Fix: Create a Responsive Website with 12 Restaurant Website Design Tips
9. Confuse a Vegan with a Celiac
As a restaurant manager, does this sound familiar?
"I can't eat wheat…do you have gluten-free pizza crust?" (That's a Celiac, or gluten-intolerant guest.)
"I don't eat meat or any animal products, what do you have?" (That's a vegan. Vegetarians just skip meat.)
Instead of labeling them as "picky eaters," embrace these guests. They seek out places to eat where the restaurant manager understands their needs – and happily accommodates them.
The Fix: Include Gluten-Free and Vegan Menu Options
Today, roughly 1 in 5 people will choose gluten-free food, and 37% of the population select vegetarian meals from time to time. This is a golden opportunity to please guests – and increase sales.
10. Put Dollar Signs on the Menu
One little dollar sign. It's the biggest menu mistake a restaurant manager makes. A study by Cornell University revealed that diners spend 8% more when dollar signs are removed. The study also shows that adding zeroes subconsciously suggests an item costs more.
The Fix: It's Easy, Remove Dollar Signs (and Zeroes)
11. Forget About Fun
Think beyond the plate. Your job as a restaurant manager is to create the ultimate experience – and that includes a side of fun. It could be a live trivia competition to increase midweek business. Or, try a wine tasting happy hour event.
Add value to every guest's visit by putting entertainment on the menu. This is the successful restaurant manager mantra. Plus, fun and games give guests a reason to choose you over the competition (gotta love that).
The Fix: Use These 7 Ideas to Create an Entertaining Vibe at Your Restaurant
12. Stay Stuck Indoors
Hey restaurant manager, let's take it outside! That huge parking lot or extra sidewalk space is going to waste. When warm weather hits, guests want to bask in the sunshine. So be their breath of fresh air.
The Fix: Explore the Great Outdoors – Invest in Outdoor Seating
One study revealed an amazing 30% increase in revenue for restaurants with outdoor seating.
Start small: set up café tables and chairs, or picnic tables. Go big: invest in a patio or deck. If it's chilly at night, commercial-grade heat lamps will warm up the crowds.
13. Use Ye Old POS System
Like your website, your POS system may need an upgrade. For a restaurant manager, the POS system is at the core of your business – everything runs on it: from orders to guest payment, even inventory and staff clock-ins.
The Fix: Review the Latest Restaurant POS Systems
14. Neglect In-Venue Marketing
A smart restaurant manager maximizes the time guests are on-premises: from posters for upcoming events to custom coasters at the bar. Look around for missed opportunities. Really, look everywhere. For example, many casual restaurants and bars put signage on bathroom stall doors.
The Fix: Uncover 15 Hidden In-Venue Marketing Opportunities
Spoiler Alert: You can even turn your TVs into digital signage.
15. Hide Out in the Office
It's tempting. You need to finish payroll and inventory by close of business, so you hole up in your office. But as a restaurant manager, you're a big shot to guests. Simply visiting each table will wow them – most won't expect it. According to the well-known Kano Model of customer needs, "surprise and delight" is critical to customer satisfaction.
The Fix: Chat with Guests Whenever Possible
16. Hoard Cash
Alright, that sounds a little harsh. You just don't want to come off as a Scrooge-like restaurant manager. Beyond helping the community, donating time or money to a charity pays off: 72% of guests recommend restaurants that support a good cause.
The Fix: Support Causes Guests Care About
Create a Charity of the Month program. Use the polling feature on Facebook or Twitter. Guests can vote on a charity to receive 10% of your sales from a monthly "charity night" at your restaurant. Or, since you're the restaurant manager, you pick the charities.
17. Ignore Trends
Last but not least, a successful restaurant manager never tunes out the latest trends. It's all about moderation.
Keep your best sellers, but replace your least-ordered menu item with a trendy dish. Then, gauge customer reaction. Who knows, avocado toast could become your most popular appetizer (a millennial can dream).
The Fix: View the National Restaurant Association's What's Hot Culinary Forecast.
Do you have any restaurant manager tips to share? Maybe a lesson you learned the hard way? Tell us in the comments.
[fl_builder_insert_layout slug="whitepaper-signup-module-5-step-marketing-budget-planner"]