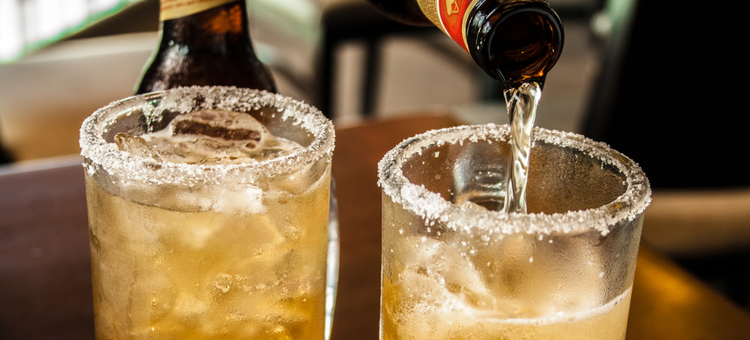 You might stick to liquor when making mixed drinks, but don't forget about beer! Try a delicious, refreshing beer cocktail recipe to impress your customers. Look at beer as a great mixer instead of just a solo drink and try out an awesome beer cocktail recipe. Your guests will appreciate that you're mixing up something new and inventive!
The popularity of beer cocktail recipes started back in 2007 with the rise of the iconic beer cocktail: the summer shandy. While the shandy itself is nothing new (it's a traditional German beer made with equal parts lager and lemonad), it started trending big time. Need proof? Leinenkugel's number one selling beer is their Summer Shandy, making up more than half of all the beer they produce year-round.
If you're new to the idea of a beer cocktail recipe, start with the shandy but capitalize on another big beverage trend…artisanal recipes using hand-crafted recipes. Use a housemade lemonade combined with a popular craft beer and you'll have a serious summer stunner on your drink menu.
A beer cocktail recipe doesn't need to be limited to the summer season, you should incorporate them into your menu year-round to give patrons an exciting option. Get your bartending staff involved in creating their own twist beer cocktail recipe options. Don't be afraid to get creative with beer cocktails. Beer mellows out when mixed with other beverages, it often comes through as a subtle note that doesn't overpower the rest of the drink. To get started, check out these beer cocktail recipes…
The Basics
1. The Black Velvet. Add one part Guinness to one part sparkling wine and you'll end up with a simple-yet-delicious cocktail with a fancy name. This beer cocktail recipe will appeal to both wine and beer lovers!
2. The Michelada. Combining beer with Worcestershire sauce and a mix of ingredients that includes cayenne and paprika might seem strange, but that's what gives the Michelada its unique kick. It's a nod to the Bloody Mary, making it a great addition to your brunch menu.
3. Hangman's Blood. Gin, whisky, rum, port, brandy…what isn't in this drink? A variety of liquors combined with stout makes this one potent drink. Plus, this beer cocktail recipe comes with a quirky name and would be perfect for a Halloween themed beverage menu.
4. Black and Tan. Okay, so this one's just two different beers, but it's a classic. Combine Guinness with a pale ale and you'll end up with this favorite beer cocktail recipe. Get in on the craft beer trend by incorporating an in-demand pale ale with the classic Guinness.
[fl_builder_insert_layout slug="whitepaper-signup-module-create-menu"]
Just Have Fun with it!
5. Sweet Blonde. Combine Franziskaner, Chimay White, and Hornsby Cider to make this refreshingly fancy cocktail that will appeal to those with sweeter tastes. This beer cocktail recipe would rock on an autumn drink list!
6. Beermarita. For those times when you want both a beer and a margarita, you can combine beer, tequila, and frozen limeade concentrate – and enjoy both. This is one beer cocktail recipe you've got to try! For added value, offer pitchers of beermarita. Since both beer and margaritas are often served in pitchers, this would be a fun twist that could drive up your sales.
7. Lambic Sangria. What's better than sangria? Sangria with beer in it of course. Plus, lambic beer – a sour beer – is trending right now.
8. The Cure. You can class up Miller High Life by adding fresh lemon juice, fresh ginger, and ginger liqueur. The question is, will this beer cocktail recipe cure a hangover – as the name suggests – or become the start of one?
9. Snakebite. Lager, hard cider, and black currant liqueur combine to make a cocktail that goes down dangerously smooth. The snakebite has a nice sweet bite making it a great introductory beer cocktail recipe for someone who doesn't love beer, but is seeking a new cocktail to try.
10. The Luchador. If you're a Clamato fan, try mixing up this Mexican-inspired beer cocktail. No need to wait until Cinco de Mayo to try out this beer cocktail recipe.
11. Panache. Try going one step up from the typical shandy by mixing French lemonade with lager.
12. Beer ice cream floats. Why not reinvent the classic children's favorite for a more adult audience? Combined with an espresso or chocolate flavored beer, a beer ice cream float can be a rich (and boozy) treat. You could build an entire (adult) dessert menu around this beer cocktail recipe. Ice cream floats could become your signature offerings!
13. The Broadway. This drink combines cranberry syrup, club soda, and beer in a beer cocktail recipe that is sure to have guests singing show tunes. Again, this is a sweet option that could make non-beer loving patrons take a second look, err, taste.
14. Beer Bloody Mary. If you're tired of the typical vodka bloody mary, why not give beer a try? This beer cocktail recipe incorporates beer in a way that accentuates the savory, hearty element of the bloody mary. Brunch will never be the same…
15. Beerly Legal. Cutesy name aside, this mix of tangerine juice, orange aperitif, and beer is sweet, light, and refreshing – like a sweeter version of the shandy (lemonade + beer, an must-make summer beer cocktail recipe.)
16. Guinness Cream Soda. This grown-up version of the classic cream soda uses vanilla and ginger liqueur, it's sweet and sophisticated.
17. Steamroller. Beer, whiskey, and some fruity flavors combine to make a delicious drink.
(EXTRA RECIPE) Aperol Mist. The Aperol Spritz is arguable "the" drink of the summer, this version adds in beer for a refreshingly fun twist. The secret to making this Aperol Mist is to choose a Belgian beer.
Next time you're looking for a new drink to whip up, try impressing your customers with an amazing beer cocktail recipe that will please palates and help your venue stand out from the competition.