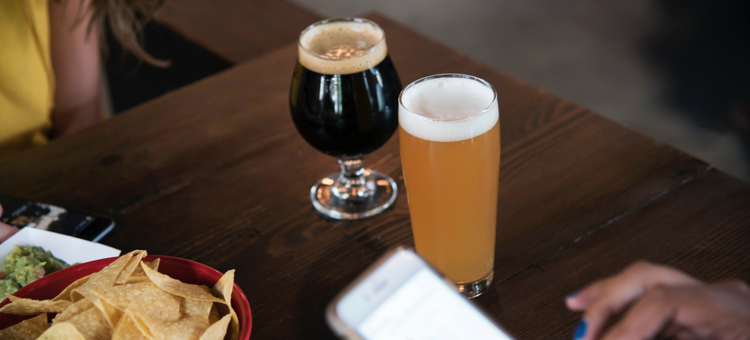 Move over wine. Beer is rising in the ranks when it comes to sophisticated food pairings. According to the Brewers Association, 71% of craft beer purchasers are specifically selecting brews that will complement their meal.
So instead of popping a cork, crack open a can of trendy beer. Then use these 18 food and beer pairings – including recipes – to impress your guests.
Need an excuse to create a beer pairing menu? International Beer Day is held on the first Friday in August. Many of these recipes integrate global cuisines – perfect for introducing your customers to a new world of flavor.
Light Lager
One of the palest selections of beer, light lagers are a staple in most restaurants and bars. Most brands fall under the light lager umbrella (think Budweiser and Heineken), so you have plenty of options for beer pairings. These dishes pair perfectly with the crisp and refreshing flavors of a well-brewed light lager:
Thai Green Curry Hot Wings: Wings and beer go hand in hand. But these Thai wings add an exotic twist with green curry. The lager cuts through the heat, so guests can keep reaching for those wings! This one is a must for any International Beer Day menu.
Cilantro-Lime Shrimp Salad: A cool, crisp lager lets seafood shine. Plus, lighter fare – like this summer salad – works best with lighter beers like lagers and pilsners.
Reuben Hot Dog: Hot dogs and light beer during a baseball game. It's one of America's favorite beer pairings. Pastrami and sauerkraut kick things up a notch in this sandwich/hot dog hybrid.
Dark Lager
Embraced in Europe, the malty and nutty flavors of dark lager call for heartier meats and stews popular across the pond. However, you can still enjoy beer pairings with traditional American dishes. Crispy crusted pizza and grilled meats go well with the toasty elements of a dark lager.
If you're celebrating International Beer Day, you could create an entire menu of European pub food paired with dark lagers.
Shepherd's Pie: Not just for European pubs, shepherd's pie is a savory entree for your beer pairings. Traditionally made with roasted lamb (although this version uses beef), vegetables, and a mashed potato topping, it's the perfect pie to wash down with a dark lager. You could make a mini version in ramekins – ideal for an International Beer Day tasting flight.
Short Rib Stew: For your dark lager beer pairings, you need food that's hearty and filling. Leave your guests full and happy with this mix of meat and vegetables. It's cooked together over several hours to get the juices flowing and the flavors fully mixed.
Brown Butter Lobster and Spinach Pizza: A golden brown pizza crust is the ultimate partner for dark lager. But don't settle for traditional toppings in your food and beer pairings. This decadent pizza stars bacon, lobster, and fontina cheese.
India Pale Ales (IPA)
Craft beer fans love their IPAs! Good news for you: IPAs open up a world of food and beer pairings. IPAs are known for their hoppy flavor and golden amber color. Bitterness is embraced in these brews and measured in IBUs (International Bittering Units). Those IBUs can stand up to fried and meaty dishes, providing a refreshing balance to rich flavors and textures.
Fried Rosemary Mozzarella Balls: This elevated version of traditional mozzarella sticks adds rosemary and panko breadcrumbs for a sophisticated, bite-sized appetizer that tastes even more delicious with IPA beer pairings.
Last Meal Ribs Recipe: Barbecue ribs go well with most beer pairings, but IPAs taste particularly delicious when mixed with the savory flavors of this slow-cooked classic. This recipe walks you through the steps to become a grill master of ribs.
Steak Au Poivre: Light IPA beer pairings are the new trend for steak dinners. This peppercorn-crusted French version featuring mini-filets has plenty of flavor power to counteract the bitterness of IPAs. This recipe would work well on an upscale, elegant menu for International Beer Day.
Double IPA (also known as an Imperial IPA or DIPA)
Double IPAs tend to be made with more hops, giving them a stronger bitterness than the lighter versions. DIPAs are higher in alcohol content lending a slightly sweet taste. For these beer pairings, you'll need flavorful or spicy dishes that can hold their own against the bold taste of this hoppy beer.
Spicy Jalapeno Poppers: Get your DIPA beer pairings poppin' with this bacon-wrapped appetizer that's both spicy and savory.
Spicy Vegan Pad Thai: Made with tofu crumbles and siracha, this exotic dish is a spicy and strong vegan option that can take on powerful DIPAs. And it proves that beer pairings don't just need a ton of meat to be delicious…
Carne Asada Burrito: The mojo-marinated skirt steak, cilantro pesto sauce, and charred salsa make this burrito a must on your list of DIPA beer pairings. No International Beer Day menu would be complete without the tastes of Latin America.
Stout
This dark beer has a reputation for being good with desserts – which it is! But the well-rounded flavor profile of most stouts also make it great for main dish beer pairings that feature strong flavors and spices.
Raw Oysters on the Half Shell with Cucumber Mignonette: The briny sweetness of oysters shines in stout beer pairings. The cucumber mignonette is an elegant touch.
Pollo En Mole Poblano: Send your International Beer Day menu south of the border…to Mexico! Rich mole sauce brings out the toasted flavors in stout beer pairings. And this gluten-free version is also paleo and keto-approved. That means your diners will still feel healthy enough to indulge – with a freshly poured stout of course.
Mousse Au Chocolat: Thick, creamy, and decadent, chocolate mousse is the quintessential dessert for stout beer pairings. Make yours in house by following this simple, classic recipe to end your guests' dining experience on a high note.
Gose
Both refreshing and tart, this trendy beer category is quickly gaining popularity in beer pairings. The citrusy, salty flavors of gose leave a clean finish that pairs well with almost any dish: from grilled meats to spicy entrees. These gose beer pairings will have diners stepping out of their culinary comfort zones.
Grilled Salsa Verde Chicken: If you're looking for a flavorful summer dish to highlight your gose beer pairings, this grilled entree will complement your list nicely. Slight spice and refreshing flavors of the salsa verde finish well with the citrusy gose.
Ultimate Bacon Cheeseburger: For something a little more filling, you can't go wrong with a classic bacon cheeseburger. The greasiness of this American favorite is undercut by the crispness of the gose beer pairings.
Mexican Tripe Soup: Tripe is not something you often see on the menu, which makes it a great option for your gose beer pairings. Get wild and go gose!
While this guide is a great start to crafting a menu for your beer pairings, it only scratches the surface of pairing possibilities. Don't wait until International Beer Day to create your menu. Start planning now. Get creative. Taste and sip. Repeat. When you have a perfect match…you'll know.
[fl_builder_insert_layout slug="bar-menu-templates-signup-module"]