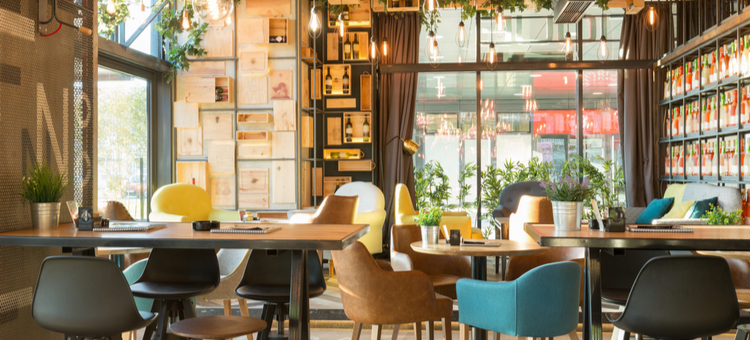 Congratulations! If you've made your way to this article, you're at least somewhat serious about opening a restaurant. So, we're officially welcoming you to the crazy, rewarding, high-energy, (did we mention crazy?) world of the bar and restaurant biz.
To help you get started, we put together a 20-step checklist to guide you from one year out…to opening day. This checklist for opening a restaurant is the result of both wisdom and cautionary tales shared by successful owners and managers.
We've featured 7 of the steps below – along with some inspiring quotes by famous chefs and restaurant owners – but you can download the entire 20-step checklist for opening a restaurant, in the box down below!
Step 1) Pick the Perfect Location (No Pressure!)
"Set yourself up for success from the very beginning and then focus on maintaining that success." –Cat Cora
Most experts believe that a restaurant's success depends largely on its location. When opening a restaurant, don't rush the process of finding that perfect location. In general, assess every space you visit using the 4P's.
Prominence: Highly visible locations have an advantage. You become your own billboard, showing everyone driving or walking by that you're a great place to dine. Be sure to add outdoor seating if you can (you'll boost sales by up to 30%).
Prior Tenant or Owner: Some buildings are just, well, doomed. Someone is always opening a restaurant…then closing it. People in town start subconsciously avoiding the spot. Stay away from this location, no matter how good of a deal is on the table. 
Parking: Give the people what they want…ample and free parking.
Periphery: Don't get laser focused on the building where you're thinking of opening a restaurant. You may have found an awesome converted barn…perfect for your new pub with a rustic vibe! But look around. Are there businesses or residents nearby? Or are you isolated? On the flip side, maybe a perfect, modern restaurant space opened up in the center of town. But you're surrounded by tons of other restaurants.
Step 2) Brand Your Business
"A great restaurant doesn't distinguish itself by how few mistakes it makes but by how well they handle those mistakes." –Danny Meyer
Whether you're opening a restaurant or any type of business, you need a strong brand. And sorry to burst your bubble, but branding is much more than just a logo. It involves everything from your restaurant name to the fonts you use on your menu. Branding gives businesses personality, makes them more memorable, and drives customer loyalty – along with profitability to the tune of a 23% revenue increase.
Before opening a restaurant, fully flesh out your brand. Start with your name. It should be 3 things…
Unique: Basic is boring. Your name should be one of a kind. Don't forge ahead with opening a restaurant until you've ensured your name isn't already trademarked, or in use by hundreds of other businesses.
Memorable: Long names, hard-to-pronounce names, basic names…these are all forgettable. Avoid them.
Descriptive: Are you opening a restaurant or a bike shop? Don't make customers guess with an ambiguous name. You should include the word restaurant or one of these 137 variations.
[fl_builder_insert_layout slug="checklist-for-opening-a-new-restaurant-signup-module"]
Step 3) Master Your Menu
"I don't care if you're doing haute cuisine or burgers and pizza, just do it right." – Grant Achatz
Once you've finetuned your brand, the next step in opening a restaurant is to create your menu: both the items, and the printed menu itself.
Building a menu is an exercise in restraint. Unless your goal is to be the next Cheesecake Factory (please, say that's not your goal), limit your menu offerings. Research suggests fine dining restaurants should aim for 7-10 items per category, fast casual a tighter 6 items in each category. Categories refer to apps, mains, sides, and desserts.
Menu pricing is a something you should study up on before opening a restaurant. Learn how to run the simple food cost formula so you can price for profitability.
Step 4) Set Up Vendor Relationships
"Getting to a place of comfort can be uncomfortable." –Marcus Samuelsson
Once sales people get a whiff that someone is opening a restaurant, they'll come knocking – and pitching their products. We're talking everyone from local TV advertising reps to foodservice distributors. Take time to assess these vendors, and reach out to some on your own.
In today's crazy competitive marketplace, most vendors offer "extras" and value-added services to prove their worth. For example, when opening a restaurant, you'll soon realize that taking inventory is one of your most time-consuming activities. Your POS provider may offer a free inventory tool to help you out.
Interview vendors like you would potential employees. Ask them the same questions and let them compete to work for you.
Step 5) Focus on FF&E and Create Your Atmosphere
"If you think big, then it's going to be big." –Emeril Lagasse
You're opening a restaurant, so it's time to use industry acronyms like FF&E (furniture, fixtures, and equipment). Here are a few tips to set up your FF&E like a PRO.
Furniture: It should reflect your brand, be built to last, and ideally…be movable. Don't install booths; instead, use partitions to create private areas. Skip light-colored or delicate upholstery for your chairs. After opening a restaurant for a week, it will be ruined. Trust us. Instead, work with a commercial furniture supplier that specializes in tough yet good-looking upholstery.
Fixtures: Let's talk lighting for a second. This can make or break the "vibe" when opening a restaurant. Many interior designers recommend 3-layered lighting which is an easy concept to master. Your main light source is ambient light, followed by accent lights to create depth and visual interest. Finally, the third layer is task lighting so your staff and customers can accomplish basic tasks like running tabs or finding their way to the bathroom.
Equipment: Oh, shiny! You want all the new toys for your kitchen, right? What if you could save 50-75% by buying used? Explore your options for used or factory refurbished equipment if you want to stay on budget when opening a restaurant.
Step 6) Hire Your A Team
"A lot of restaurants serve good food, but they don't have very good service." -Wolfgang Puck
The restaurant business is a people business. Never forget it. You're in the business of treating customers to an experience, not just a great meal. When opening a restaurant, it's so critical that you hire front-of-the-house employees who understand – and respect – quality customer service. After all, you're trusting these employees to represent your restaurant as they engage with customers. That's a big deal.
As you're busy opening a restaurant, you may be tempted to "hire in haste" just to get the process over with. Don't do it! Instead, create a repeatable plan for hiring including: pre-written job descriptions for fast posting online, pre-set interview questions for every restaurant role, and a vetting process. Always, always, check at least 3 references.
Step 7) Plan Your Events and Marketing for the Year Ahead
"Challenges met are the scariest but are sometimes the most worthwhile." –Jon Taffer
The last step in opening a restaurant is to kickstart success with a marketing plan. You'll want to begin marketing about a month before you open. And your plan for the entire year ahead should be complete prior to officially opening a restaurant.
Overwhelmed with where to begin? First, decide who will be responsible for your marketing and events. The next step is to claim and build out your space on every online platform: from Facebook to Google, Yelp to Trip Advisor.
Set up a marketing budget (and stick to it). Ensure that you have events going on – think live trivia, live music, paint n' sip nights – throughout the year and start planning them now…before opening a restaurant.
Finally, don't forget the "hidden" marketing opportunities within your own four walls. From coaster to digital signage, these 15 ideas will get you started.
The most important step you can take now is to download the complete 20-step checklist that will empower you along your journey to becoming a restaurateur. Cheers to your success!