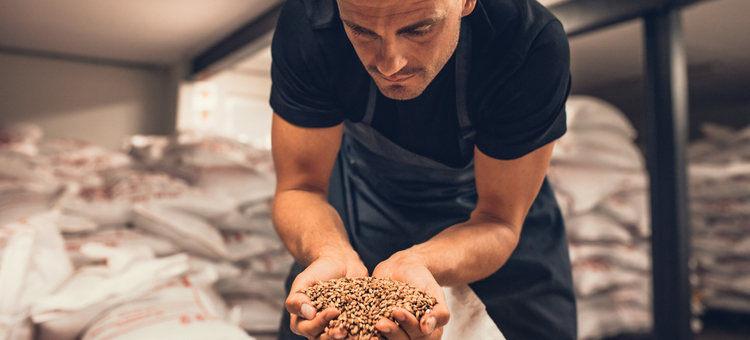 The only thing craft beer lovers crave more than tasting brews, is talking about them. Do your bartenders and servers know basic beer brewing terms so they can keep up with the conversation? If not, no worries, we're here to raise your brew IQ with 21 beer brewing terms to know now.
How to Keep Up in This Whole Brew World
It's no secret: craft brews are big news right now – especially with millennial beer drinkers, 57 percent of whom drink craft beer on a weekly basis. Statistics suggest that 4 in 10 beer lovers are actually craft beer lovers, and 1 in every 4 women is into craft beer, too. That means your servers and bartenders should feel confident in their knowledge of basic beer brewing terms, so they can recommend the right brews for guests and answer questions intelligently.
That's why Eric Sleeper and Ronnie Miller, hosts of the weekly Craft Brewed Radio podcast suggest servers and bartenders undergo formal training in beer brewing terms, through an organization like Cicerone Beer Certification. There are 4 levels of certification to choose from, with the basic Certified Beer Server online exam costing just $69.
"Think of how a server would describe wine to a guest, that's how your staff should be able to talk about beer. For example, IPAs brewed with South African hops are trending right now – a server could describe the flavor as bright with white grape notes, perfect for a hot summer day. Knowing beer pairings is critical, too. A chicken salad would be eclipsed by a bold 14% ABV barrel aged stout, so a server should suggest something lighter, like a session IPA. Using beer brewing terms and flavor notes that are approachable will result in more sales as well," said Sleeper.
Beer Building Blocks: Worts and All
First, master a few beer brewing terms that refer to how the beer was created. Even if you carry just a few beers on tap, encourage your bartenders to master basic beer-making terms so they can impress the craft brew crowd.
Worts

All beer begins with wort. Brewers first steep malted barley in water, add in hops, then boil the mixture. The result is wort. Yeast is added to the wort and then the liquid ferments to produce…beer!

High Gravity Beer v. Session Beers

Gravity impacts the alcohol levels in beer. High gravity beers were brewed with a higher density of wort compared to water. This provided the yeast with more sugars to break down during fermentation yielding a higher ABV (alcohol by volume). Strong beers are typically called "high gravity" while beer with a lower alcohol content are commonly called "low gravity" or "session" beers.

Attenuation

This is one of those beer brewing terms that beer geeks love to throw around. They'll describe a beer with a dryer, less sugary finish as being "nicely attenuated." Attenuation refers to how much of the sugar in the wort was converted to alcohol.

Filtering

Unfiltered beer contains some of the yeast, hops, and barley used in the beer brewing process. It has a hazier look, with sedimentation forming at the bottom of glasses and bottles. Unfiltered beer is on the rise in popularity with craft brew fans who believe unfiltered beer is more flavorful with a fuller mouth feel.

Ale or Lager

Beer is either an ale or lager. While there are of course exceptions to this rule (Octoberfest varieties and cream ale to name a few), ales are brewed with top-fermenting yeast while lagers are made with yeast that falls to the bottom during fermentation. Ales are generally brewed for shorter durations at higher temperatures, and lagers: longer and cooler. If only beer brewing terms could all be so simple…
All Hail the Ale: 6 Ale Craft Beer Brewing Terms
I know what ale is. Not so fast. According to the Brewers Association, there are over 80 official styles of ale. Customers new on the craft beer scene may simply ask for an "ale" to see what all the hype is about. This is an opportunity for a smart server with knowledge of beer brewing terms to help pinpoint the type of ale the customer really wants. Take a closer look at beer brewing terms associated with ales:
Pale Ale

Pale ale refers to the pale malt used in the brewing process. Pale ales are typically lightly hopped with low
bitterness.

IPA

IPA stands for India Pale Ale and as compared to other ales, IPAs are very hop-forward in flavor and aroma. Hops are often incorporated at multiple steps during brewing. The citrusy, tropical, floral, and pine notes of the hops come through strong in IPAs! When a customer requests a "hoppy" beer, point them in the direction of an IPA – not a pale ale.

Double IPA

A double IPA uses double the hops which typically yields a more intense hop flavor and a higher alcohol content upwards of 7 percent. As far as beer brewing terms go, knowing the alternate names for beers is important. For example, a double IPA is also referred to as an imperial ale.

IBU

It stands for International Bitterness Units and indicates how much hop bitterness is present in a beer. While high IBU ales were in high-demand a few years ago, now lower IBU beers are trending (see "Juice").

Juice

At the 2016 Great American Beer Festival, one of America's largest and longest running beer conventions, everyone was talking "juice" – it's one of those unofficial beer brewing terms that is catching on fast. Juice is a term of endearment for hazy, tropical, nearly sweet IPA. With an orange tint, juicy IPAs even look like juice and are often unfiltered. Even big brewers are getting in on the juice trend (Sam Adams Rebel Juiced is flying off the shelves right now).

Dry Hopped

No current list of beer brewing terms is complete without "dry hopping." It's the process of adding dry, uncooked hops throughout the beer fermentation process. Dry hopped IPAs and pale ales will feature a fresher, hop forward flavor that's big with brew lovers right now.
[fl_builder_insert_layout slug="whitepaper-signup-module-29-tactics-busiest-bars"]
Everyone's Bugging Out About Sour Beer
Beer lovers are sweet on sour beers. These mouth-puckering brews are making it on every list of 2017 trending beers. Sour beers achieve their unique, funky flavor profile from wild yeast and even bacteria added to the brewing process. Sour beer brewing terms are weird, wild, and potentially stomach churning.
Bugs

Beer nerds affectionately refer to the wild yeast and bacteria strains that create sour beers as "bugs."

Brett

Short for Brettanomyces which means British fungus in Greek, "brett" is one of the beer brewing terms you must know to talk in the craft crowd's language. Sour beers with "brett" may be described has having notes of horse stable – which is a good thing for brett fans (see #22).

Lambic

Lambic is one of those beer brewing terms you just can't make up. If traditional methods are followed, lammabic beer is "spontaneously fermented" by allowing whatever bacteria and/or yeast strains are in the air, to ferment the beer.
Super Trendy Craft Beer Brewing Terms
Ronnie Miller and Eric Sleeper of Craft Brewed Radio shared the latest unofficial yet trending beer brewing terms:
Crushable

A super easy-to-drink beer, well balanced, USUALLY low in alcohol, lots of flavor to make you take another chug.

Juice Bomb

It's a fun beer brewing term that describes the New England-style IPAs…lots of citrus with pineapple and fruit
salad notes!

Ticking

This is another one of those trendy beer brewing terms – it refers to checking off a beer on your must-have list. The UNTAPPD app is the best for this. As an added bonus, when a drinker checks off a beer they note where they drank it – giving your bar or restaurant extra online visibility with the craft beer crowd.

Whale

A very rare beer.

White Whale

A super rare beer. If your restaurant or bar can use beer brewing terms like whale and white whale (because you
have rare beer) you'll be a big hit with craft beer fans.

Collab

A beer brewed as a collaboration between two or more breweries – these are often limited time releases.

Horse Blanket

This is the holy grail flavor profile for brett beer. Describing a wild ale as having a horse blanket note would make sense to a craft beer lover, but warn your servers about using beer brewing terms like this with guests new to craft beer!
Gone are the days when guest requests for beer meant bartenders could just pour up a Bud Light. While Bud Light is still America's #1 best-selling beer, your staff should be armed with basic beer brewing terms so they can talk with the growing number of patrons thirsty for craft beer.