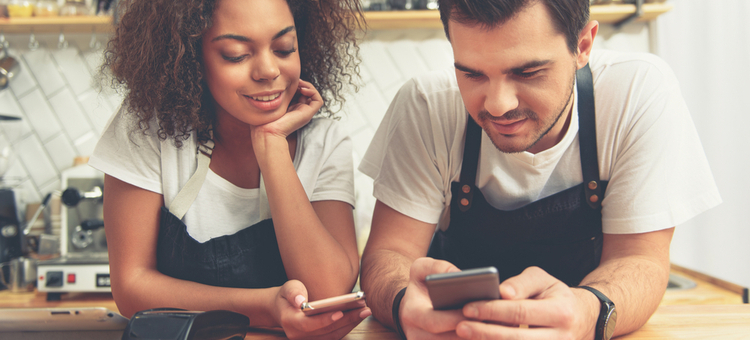 You've probably heard about restaurant employees who abuse social media. In fact, it seems like stories of inappropriate tweets and pictures make the news all the time! But social media isn't always a land mine for restaurant employees. On the contrary—encouraging your employees to use social media can actually be great for business! Still unsure? Here are three reasons why you should get your employees on social media.
1. It's cost effective marketing.
You might be considering hiring an outside consultant to take over your restaurant's social media. That can be a great idea…and it can also cost a ton of money. What doesn't cost you anything is utilizing the employees you already have. Your employees are probably already well-connected online; why not ask them to take advantage of their contacts to promote your business? Let employees tweet for you, update your Instagram account, or respond to customers on Facebook. This type of advertising is the cheapest kind you can get!
2. It shows a different side of your restaurant.
Sure, you could use your social media platforms to simply tweet about your specials and show pictures of your food. But employee-shared content gets eight times more engagement than content from branded channels! Customers enjoy seeing more than just stiff corporate updates—they want to see the people behind your restaurant. Have employees take photos of their work days and the behind-the-scenes things that customers usually don't get to see. For example, Roxy's Grilled Cheese in Boston uses Instagram to show off fun company celebrations.
3. It results in more loyal employees.
It's not all about your external customers. What about your internal customers—your employees? You want to make sure they're engaged and happy, and keeping them involved in your social media output is one way to do that. Let your employees take an active role in deciding what to share about your business on Twitter, Instagram, Facebook, Vine, etc. When employees have more authority, they naturally feel more loyal to the company. And loyal employees are happy, productive employees!
Getting your employees involved in social media doesn't have to turn into a negative news article. Encourage your employees to use social media and you can end up with cost-effective marketing, a look behind the scenes for your customers, and more loyal employees!
[fl_builder_insert_layout slug="whitepaper-signup-module-50-best"]