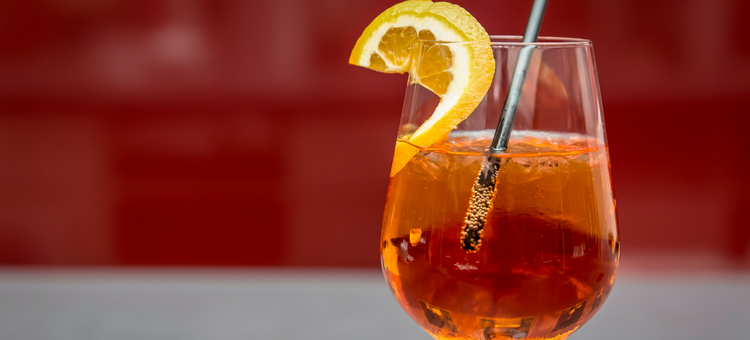 If your cocktail menu is boring customers with uninspired, rum-of-the-mill drinks, you're in luck. Rum Day is here and we've put together a list of 11 refreshingly simple rum cocktail recipes and 3 secrets for selling them.
3 Sales Secrets for Simple Rum Cocktail Recipes
Get Crafty and Keep It Simple
Craft beer is still a major bar and restaurant trend. Now, make room on your drink menu for craft and artisan spirits: this year's top alcoholic beverage trend according to the National Restaurant Association's What's Hot 2017 Culinary Forecast. The "craft spirit" or "craft cocktail" trend is based on two customer preferences: they're eager to try new, small batch liquors and they want to feel like your bartender truly crafted their cocktail. Here's how to get in on the trend:
Start with classic, simple rum cocktail recipes and let the ingredients shine
Use whole ingredients in simple rum cocktail recipes, like freshly squeezed lime juice and house-made syrups
Save time by having your bartender or prep chef create batches of these ingredients each morning
Ask your liquor distrizbutor if they can source rum from a smaller, up and coming rum brand or buy direct from your nearest distiller. There are currently 168 American rum distillers in 39 states according to Rob's Rum Guide.
Tell the Whole Story
Why bother using those fresh, whole ingredients if you don't tell your customer? Craft your menu descriptions to include sources of your ingredients (ask your distributor) and brand names like this example:
Farmers Market Mojito Freshly muddled watermelon and mint sourced from Rolling Hills Farm, house-made simple syrup, fresh lime juice, and featuring artisan ABC Rum from Example Town in Example State
A Rum for The Money
When you highlight the quality ingredients on your drink menu, you can charge more for your simple rum cocktail recipes because the customer perceives more value. Enjoying special yet simple rum cocktails becomes a unique tasting experience instead of a basic drink at the bar.
Of course, many guests order drinks without consulting a menu. This is a chance for your bartenders to upsell by asking guests if they'd like to try your latest craft cocktail or at least swap in one of the craft rums you offer. Just as you would with a new wine or beer you carry, arm bartenders with tasting notes to help sell the rum.
University of Illinois researchers are even creating a rum "flavor lexicon" to help both distillers and consumers talk about rum. Some of the key rum flavor terms to emerge from the project are:
Dried fruit, vanilla, coconut, molasses, walnut, and baking spices
If you bring in a new rum label, gather your staff for a tasting. Put their best descriptions on your menu.
[fl_builder_insert_layout slug="whitepaper-signup-module-37-trending-happy-hour-menu-ideas"]
The Classics: Super Simple Rum Cocktail Recipes
Your guests will love the chance to taste an authentic rum cocktail with a splash of history added to your menu descriptions. And good news for you, these are very simple rum cocktail recipes: easy to make using ingredients you likely have on hand.
The Daiquiri
No, we're not talking about the overly sweet adult slushy. The authentic daiquiri is one of the most refreshing, simple rum cocktail recipes you can make. It's similar to a mojito minus the mint. The ingredients are light rum, fresh lime juice, simple syrup (or superfine sugar) and ice. No blender needed for this one.
The Hemingway Special (and the Papa Doble)
Ernest Hemingway famously said "I drink to make other people more interesting." His namesake simple rum cocktail recipes can add interest and sophistication to your drink list. Let's start with the Papa Doble. Legend has it that when Hemingway (whose nickname in Havana was Papa) first tried a daiquiri he said "that's good but I prefer it without sugar and double the rum." When a customer asks for a Papa Doble, they usually mean The Hemingway Special – a sweeter version with maraschino liqueur (use a splash of grenadine in a pinch) and grapefruit juice added.
Planter's Punch
Many classic simple rum cocktail recipes started in hotel bars, like Planter's Punch, first concocted at the
Planters Hotel in Charleston, South Carolina in 1878. The original punch calls for 3-4 dashes of angostura bitters and at least three types of juice. A simpler version of Planter's Punch includes dark rum, grenadine, pineapple or orange juice plus club soda.
Cola and Rum Recipes: Beyond the Rum and Coke
We're not suggesting you ditch the rum and Coke (assuming your bartenders are using the right rum to Coke ratio). Instead, get creative with simple rum cocktail recipes based on the original rum and Coke with lime juice…the Cuba Libre. Invented in Havana, the Cuba Libre is one of those simple rum cocktail recipes with a rich history. It was a celebratory drink enjoyed by American soldiers stationed in the newly freed Cuba in the early 1900s.
The Santo Libre
Popular in the Dominican Republic, this is a twist on the Cuba Libre that swaps Sprite with Coke making it one of the most simple rum cocktail recipes on our list. Or, replace Coke with Dr. Pepper for a "Rum n' Pepper."
Cuba Pintada or Blond Cuba Libre
This translates to "stained Cuba." Just one ounce of cola is used to "stain" the otherwise clear glass of club soda and rum.
Ginger Beer and Spiced Rum
Be careful when placing this drink on your menu using the name Dark and Stormy unless you use Gosling Black Seal rum, as they own the trademark to this name. (The same is true for the Painkiller™ and Sazerac™). Come up with your own name or try the Captain Morgan Mule featuring spiced rum, ginger ale (or ginger beer), mint, and lime.
Fruit-Forward and Fun: Simple Rum Cocktail Recipes for Summer
Many fruity rum drinks get a bad rap as being overly sweet and complicated (Bahama Mama with 4 different kinds of rum, we're looking at you!) but these simple rum cocktail recipes use six ingredients or less.
Berry Mojito
Add a sweet taste of summer to the classic mojito made with light rum, superfine sugar or simple syrup, and mint. When you muddle the mint, just add in blueberries, raspberries, or strawberries. Another twist to try with these simple rum cocktail recipes is adding basil – which is in the same family as mint.
Mai Tai Two Ways
The mai tai is the iconic Tiki cocktail, created in the 1930s when the famous Polynesian-themed restaurant, Don the Beachcomber, opened in Hollywood. The original mai tai recipe just barely makes our list of simple rum cocktail recipes since it does include six ingredients: aged rum, lime juice, curacao, rich simple syrup (also known as rock candy syrup), Orgeat syrup (an almond-based syrup), and mint. But there are many fruit juice based mai tai variations that make it much simpler – and you can always use almond extract instead of Orgeat syrup.For a fruit-forward mai tai, try one of the simple rum cocktail recipes like this one. It's an easy-to-make mai tai that mixes dark and light rum with triple sec plus orange, pineapple, and cranberry juice. Skip the tacky Tiki mugs (unless that's your restaurant's theme of course).
The Rum Sunset
If you're looking for simple rum cocktail recipes to add to your drink menu, swap out liquor for rum! The Rum Sunset is a riff on the Tequila Sunrise, and uses orange juice, grenadine, and light rum for a beautifully golden drink perfect for happy hour.
Cool Off with Variations on Hot Rum Beverages
Rum stars in a range of hot beverages. But in the heat of summer, hot rum isn't appealing. Surprise your guests with simple rum cocktail recipes served cold instead of hot.
The Cool Toddy
A traditional hot toddy includes dark rum, honey, lemon, cinnamon, and nutmeg. In warm weather, leave out the spices and don't bother heating the ingredients. Use a light rum instead of dark for a bright, golden drink.
Cold Buttered Rum
This indulgent treat would make a perfect addition to your end of summer dessert drink menu. You just need two ingredients: unsalted butter and spiced rum – so this is one of our most simple rum cocktail recipes. You can make your own spice mix or use a spiced rum like Captain Morgan's or Sailor Jerry.As an added bonus, cold buttered rum can be made a day ahead. One variation, the Samoa Cold Buttered Rum, calls for coconut and chocolate. Blend it with ice cream for a grownups-only Buttered Rum Milkshake.
Expect to see more craft rum distilleries popping up in your area; the artisan rum trend shows no signs of stopping. Get in on the rum revolution by adding one of these simple rum cocktail recipes to your drink list today.