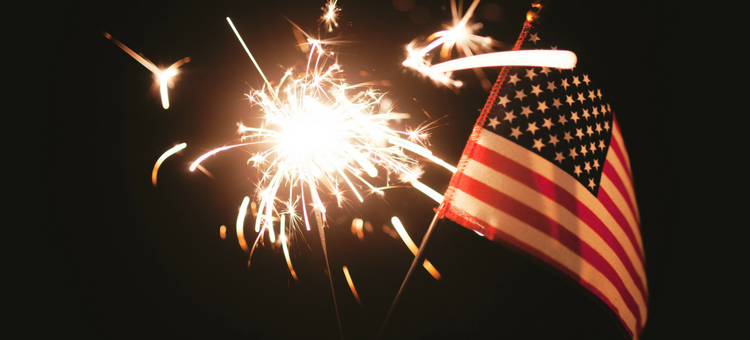 Start your summer season off right. These 12 Memorial Day promotions will bring customers out of their backyards – and into your bar. From patriotic drink specials to competitive bar games, get ideas to make this Memorial Day weekend your best one yet.
3 Secrets to Stand Out with Non Memorial Day Promotions
Every bar in town will offer Memorial Day promotions. Stand out from the crowd with these 3 twists on the holiday weekend.
Say Cheers to National Wine Day – Friday, May 25th
Memorial Day weekend officially starts Friday. Begin the celebration with National Wine Day and these Memorial Day promotions for wine lovers.
Board and Bottle: Offer a board of appetizers: cheese, sliced meats, and crackers. Then pair it with a bottle of wine. One bar in Phoenix, Arizona serves up a board of bruschetta and a house wine for $20.
12 to 12 Happy Hour: When noon hits, be ready with Memorial Day promotions for those lucky employees who are released from work early. Offer a flight of small wine pours for $12.
Wine Slushies: Wine slushies are served up – and slurped down – everywhere from Disney World to the New York State Fair (where they have a cult following).
Sangria Pitcher Specials: Nothing says summer like sangria. Create a few variations of this fruit-wine mashup as one of your Memorial Day promotions. Get creative: try a white sangria made with Chardonnay, white grape juice and nectarines. Bonus! By prepping batches of sangria in advance, you'll free up your bartenders to handle the big crowds.
White Hot Summer Kickoff
According to the rules of style, white clothing should only be worn from Memorial Day through Labor Day. Best for bars with a nightclub scene, host a trendy "white night" as one of your Memorial Day promotions. Ask patrons to dress up in all white. Serve sophisticated white cocktails plus sparkling white wines like prosecco.
Indy 500 Watch Party – Sunday, May 27th
In the race to win customers with Memorial Day promotions, look to the Indy 500 on Sunday, May 27th. Billed as the "greatest spectacle in racing," the Indy 500 broadcast begins at 11 a.m. Eastern on ABC. Turn on the race, and drive fans into your bar with these ideas:
500 Cent All Day Happy Hour: Create a race day menu of appetizers and drinks – all priced at 500 cents.
Car Wash Cash: Team up with a local car wash or detail shop. Randomly select a few vehicles in the parking lot on May 27th to win a gift card to spring-clean their ride.
Rule the Weekend: 9 Winning Memorial Day Promotions for Bars
Military Appreciation
While Memorial Day marks the start of summer fun, it's also a serious, solemn holiday. Memorial Day honors American men and women who have died in service to their country. When launching Memorial Day promotions, put veterans, active duty military, and their families first with these ideas.
Military Eats Free: Take a cue from Hooter's, which offers veterans and military members a free meal for their Memorial Day promotions.
Thank a Hero: Use digital signage at your bar to ask patrons to nominate a military man or woman they know to receive a $10 gift card.
Put Patriotism on Your Menu
You don't need to reinvent your menu for these Memorial Day promotions – just rename a few items. Menu engineering research shows that menu titles that mention family, tradition, or patriotism result in increased sales.
Beer and BBQ Pairing Event
Everyone knows beer and BBQ are Memorial Day weekend essentials. Go a step further with your Memorial Day promotions. Host a guided tasting that pairs different beer styles with select barbequed meat. Use this beer and barbeque pairing guide for inspiration.
Or, bring in a few beers from a local brewery. The brew master and your chef can collaborate on Memorial Day promotions and pairing ideas.
Get Your Grill On
If you've got the equipment, and your municipality's code laws permit, take it outside! Set up a grill and fire up these Memorial Day promotions.
Burger Bar: Put out a burger bar loaded with fixings from gourmet mustards to pickles. Let guests build out their dream burger. This works indoors, too.
Dog Days of Summer: Offer complimentary grilled hot dogs as patrons arrive. You'll make up the loss in drink sales with any free food Memorial Day promotions.
No Grill? No Problem: If your bar doesn't serve food, team up with a local food truck. Or better yet, invite a local VFW chapter to set up a grill and keep the proceeds from any food sales. It's another great way to integrate military appreciation into your Memorial Day promotions.
Summer Bar Games
Bring the friendly competition to your bar with these game-on Memorial Day promotions: from classic backyard games to trivia nights.
Cornhole, Bocce Ball, Croquet Oh My: Perfect as one of your daytime Memorial Day promotions, organize a backyard games tournament. Many trendy bars and breweries run competitive cornhole and KanJam tournaments. If it's raining? Take the cornhole competition indoors.
Trivia Night Summer Series: Get in on America's love of bar trivia. Host a recurring midweek trivia night. To get guests interested, kick off the first event as one of your Memorial Day promotions. With the right bar trivia company, you get all the equipment, trivia questions, and scoring devices. That way, you can run unlimited trivia events any day – any time.
Patio Opening Party
Have a patio or outdoor seating area? Host an official "patio opening" celebration complete with Memorial Day promotions like a new summer menu preview.
If you don't have outdoor seating, your bar is missing out. Research shows that outdoor seating can boost revenue by an amazing 30%. Whether it's setting up a few picnic tables or café tables, take it outside this summer…
Red, White, and Blue Drink Specials
No list of Memorial Day promotions would be complete without themed cocktails and drinks.
Old Glory Shot: Watch this short video and whip up a layered red (grenadine), white (vodka), and blue (curacao) shot. Almost too beautiful to drink, it's very Instagram-worthy.
American-Made Discounts: Create a list of specials on American-made beers, wines, and liquors as one of your Memorial Day promotions.
Monday Brunch
Already hosting brunch at your bar? Add on a special, bonus Monday brunch with a side of Memorial Day promotions. Serve a trio of red, white, and blue morning sippers: red Bloody Marys, white mimosas (use grapefruit juice instead of orange juice), and a blueberry vodka lemonade.
Ice Cream Social
Ask that ice cream truck to park it at your place. You'll make guests feel like a kid again as they order their old school favorites. Or, create an adults-only ice cream drink menu. Use these 12 recipes for boozy twists on the iconic ice cream float.
If you've already planned your own Memorial Day promotions, good news. Fourth of July is around the corner, and these patriotic promos are perfect for an Independence Day celebration at your bar. Here's to a successful start to summer at your bar!
[fl_builder_insert_layout slug="whitepaper-signup-module-29-tactics-busiest-bars"]