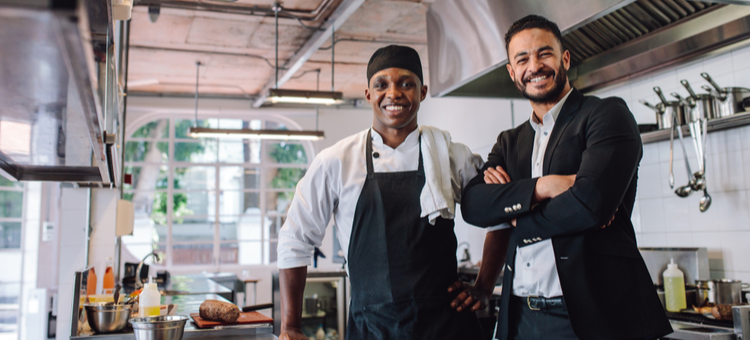 There is perhaps no harder job in the restaurant than retaining high-calibre wait staff. It's common for top servers to move from location to location, as newer bars open and inevitably draw large crowds. Plus, as a meaningful portion of restaurant staff tend to be early in their careers, or engaged in contract work, high churn is a natural part of the industry.
All of this makes it incredibly valuable to be pro-actively filling the top of your funnel through employer branding. When a key employee leaves, if you aren't quick to fill their spot, the additional hours others need to work can lead to burnout.
To minimize risks to your corporate culture, and reduce the amount you spend on frustrating job search platforms like Indeed and Monster, more and more restaurateurs are turning to employer branding. Below we've compiled our top three tactics for developing a brand for your business.
1. Get on Instagram
This is the top social network for people under the age of 30, and is trusted far more than other social platforms by people who use multiple. This means that, more than anything else, Instagram is the way to get in front of potential job seekers.
Now, the idea of learning to use a new social platform can be intimidating for some, especially as Instagram is a far more visual platform than facebook or twitter. To make this easier, we've broken down four tips aimed at making brand building over Insta a breeze:
Copy what other accounts are sharing. This might sound trite, but watching and re-creating the tactics that the most-engaged with accounts are using is a great way to start learning what works.
Share quotes & general images. Don't feel like every post needs to be incredibly deep, or directly related to your experience as a restaurateur. From inspirational messages to touching scenes, there's a tonne of already-created content you can leverage to connect with your ideal wait-staff.
Cross-post relentlessly. Your time is incredibly limited as a business owner / operator. To ensure you don't end up getting lost down a social-media black hole, make sure you are cross posting from other social networks to Instagram, and vice-versa. Facebook even has built in functionality that allows you to do this naturally.
Hire a summer student. Similarly, you can save 100% of the time you would otherwise invest in to instagram by instead hiring a summer student to run your social accounts for you. Pending what they're looking for, you could make this just 3-4 hours of their week, and it would allow you to leverage their more-intimate knowledge of what is cool in millennial-land.
Go beyond the day to day in your social campaigns
When you're thinking about attracting talent it might be tempting to talk about the specifics of the job, or the expectations you hold of your team. While this are important in a job description, they don't have much of a place in an employment brand.
Instead, push yourself to talk about higher-tier motivations (self-actualization, as they are known in Maslow's hierarchy of needs). To set you on the right path here, we've prepared some of our questions meant to help you formulate your employment branding strategy:
Who does your ideal candidate want to be?
How can your job help them become this person?
Understanding future aspirations, goals, and trajectories is crucial not just for getting high-quality applicants in the door, but also for successfully managing them over any meaningful amount of time. The minute a high-performing server or host stops feeling like they're growing, you're at risk of them leaving.
What does your ideal candidate prize about themselves?
How does your job help this candidate realize / live this trait?
The best branding appeals to a part of people they're proud of. If you were marketing jobs in child care, you might consider playing to the fact that your candidates are conscientious and nurturing. In the restaurant industry, appealing to a candidates strong work-ethic, and strong interpersonal skills can help engage top performers.
What does your ideal candidate's perfect day look like?
Where does your job fit in to this picture?
Everyone dreams, but not everyone dreams about work. If you can make the opportunity you're offering your staff fit naturally in to their ideal day, week, or year, you will have hugely increased the odds you'll be able to hire them as an employee.
Why are you different from your closest competitor?
In dining, there's always another place your applicant could go work. From the minute you first start building your brand, you should be pre-empting this potential choice, and framing the unique opportunities your restaurant offers as particularly valuable
2. Engage with candidates online
It seems like every site on the internet these days has the ability to leave reviews, and the trend isn't going away any time soon. The challenge with these review sites is that, whether you participate or not, people are going to talk about you.
As much as it may be painful to respond to nasty anonymous feedback, but it does three things for your brand that are likely to be very positive:
First, it gives you the opportunity to explain how things have changed. The reality is that no restaurant is perfect, and as individuals we all screw up from time to time. Research has shown that acknowledging imperfection, and explaining how you've improved to avoid similar issues in to the future, actually sends a more positive signal than having no critical feedback present whatsoever.
Second, it shows you care. Just taking the time to listen puts you a cut-above many of the other managers you would be competing with for talent.
Third, it gives you the opportunity to shift others' perspective on the situation. For example, if an ex-employee is exaggerating the realities of a situation or leaving out crucial context, you can (calmly and respectfully) provide the missing pieces of information.
If you're keen to start leveraging social reviews, you can check out:
3. Get out and talk to people
This might seem archaic, but far too few owners take the time to visit in-person recruiting events any more. Pouring money into Indeed ads feels good, because it takes next to no time. But the time you save in keeping the first step of the process entirely digital, you'll often "lose" when it comes time to sort through a large pile of irrelevant resumes.
More so than any other recruitment platform, Indeed is incentivized to provide quantity not quality (you pay per-click, after all), so it's not uncommon for hiring managers to pour hours in to phone screens, only to come up empty handed.
Attending in-person events is the opposite. You can tell almost instantly whether someone would be a good fit for your restaurant. If they aren't you can kindly move on, and if they really really are you can move them right along to a final interview.
Perhaps even more important, you already have some sense of where to go to get quality candidates. What schools did your top employees attend? In what programs? Further, what activities did they participate in? Your expert intuition shouldn't be discounted – a whole lot of research has demonstrated this gut-feeling is often incredibly accurate.
It's quite common for community centres, high schools, colleges, and universities to offer semi-annual career fairs. There's probably no cheaper way to generate a tonne of in-bound interest.
If you do end up trekking out to these in-person events, you should consider a few things to make your trip as effective as possible:
Practice your pitch. The best candidates always have multiple offers. Being able to quickly cite all the reasons your business is their best choice will help you stand out.
Look beyond grades, or accomplishments. No other way of meeting candidates allows you to immediately evaluate interpersonal skills in the same way as an event. Use this to your advantage by picking out "under-valued" but articulate applicants.
Ask lots of questions. If a candidate seems promising, spend some time getting to know them. Where do they see themselves next year? Two years from now? Understanding these aspirations will help you to frame your workplace as aligned with their goals.
Wrapping Up
Hopefully we've provided three meaningful ways for you to fill the top of your candidate funnel. The first step in the process is to think deeply and who you want on your team, and why they would be keen to work with you. This is something no recruitment marketing agency can do for you; it'll have to come from your brain.
Once you've reflected on your relative position, your key cultural norms, as well as any unique processes, protocols, or perks you offer, you're ready to start building simple social campaigns. Instagram is almost certainly the best bet here. As mentioned, don't worry if you're new to this world, you can copy pros rather than taking time to learn the landscape yourself.
Finally, once you've built out a robust digital presence, take the time to go to your ideal candidates. Leverage your experience thus-far to hunt out people who are similar to your highest-performers to-date. Good luck!
About Author
Peersight is a recruitment marketing platform that allows employers to build a brand in the image of their most-engaged employees, and allows job seekers to get to know their potential colleagues before they accept an offer.
[fl_builder_insert_layout slug="whitepaper-signup-module-rewards-program"]