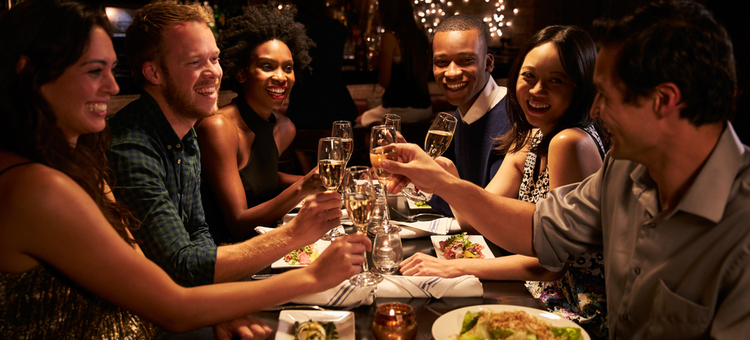 Chirp chirp. Hearing crickets on a Tuesday night? It's the absolute worst, especially after a packed house all weekend at your restaurant. But with a little effort, you can see Friday crowds on a Tuesday night…or any weekday you want. Get started with 3 weeks' worth of midweek restaurant promotion ideas and events for Monday through Thursday.
Monday Funday? It's Possible…
Many restaurants close on Mondays, but if you're open…use these restaurant promotion ideas to bring people through the door.
#Hashtag Monday Restaurant Promotion Ideas  
Drive repeat business with restaurant promotion ideas that run on the same day every week. For added promotional power, create a special hashtag you can use on social media to hype up your offer.
#MealkitMonday: It's the next generation in takeout…restaurants assembling boxes of prepped ingredients that customers can put together at home. In fact, the National Restaurant Association found that 41% of customers would definitely take you up on meal kit restaurant promotion ideas.
#MacnCheeseMonday: Tap Room No. 307 in NYC offers a $15.99 deal that includes 3 gourmet mac n' cheeses paired with a flight of 3 beers.
A League of Your Own
Have a bar area in your restaurant? Great! Bar sports leagues are a great way to bring in repeat business on a set day of the week. You've got options: it could be any sport from cornhole to flip cup, or even video games like League of Legends or Fortnite.
In suburban Milwaukee, Monday night is a big night for dart leagues at local bars and restaurants. And yes, darts appeal to more than just baby boomers.
Or, tie your restaurant promotion ideas to enticing local sports teams to meet up for dinner after their games. From adult kickball and softball leagues to high school soccer leagues, consider sponsoring a team to increase your chances of becoming part of their after-game routine.
Bring Back Bucks
Make the most of the time customers are with you on the weekends with these restaurant promotion ideas. Hand out "bring-back bucks" in any denomination you want – $2, $5, even $10 with the purchase of two entrees. The bucks are only good for the following week…or that Monday if you really want to drive business through your doors.
[fl_builder_insert_layout slug="whitepaper-signup-module-create-menu"]
Turn Around Your Tuesdays with Creative Restaurant Promotion Ideas
Tuesday nights are a wild card. You might get some customers looking for fun "on a school night" along with others who just want to unwind and indulge in a midweek meal. These restaurant promotion ideas cover all the bases.
Make Tuesday Night…Trivia Night
Hands down, live trivia is one of the top midweek restaurant events. Popular everywhere from neighborhood eateries to family restaurants, pubs to cafes, it's never been easier – or more profitable – to host your own trivia event. Wondering about the ROI of live trivia? Beef O' Brady's in Apollo Beach, Florida, ran a recurring midweek DIY trivia event and saw a 40% lift in customer traffic and 25% more food and drink sales.
#Hashtag Tuesday Promotions
#TacoTuesday: This is one of the most popular restaurant promotion ideas, so differentiate your Taco Tuesday by setting up a gourmet taco bar. (We're hungry just thinking about it.)
#TechTuesdays: Located in an area with a lot of tech startups? Host an informal networking meetup or even an organized speed networking event. It doesn't have to be tech-related. Try #TalkShopTuesdays where it's welcome to talk about business! Remember, networking doesn't have to be stuffy and neither do your restaurant promotion ideas. Check out the restaurants that host POSH Networking events for inspiration.
Get Your Hands Dirty with These Restaurant Promotion Ideas
Paint n' sip nights are still going strong at restaurants! The latest twist is "plan n' sip" where instructors lead guests in planting their own terrariums to take home.
Wednesday Restaurant Promotions for the Win!
It's hump day, so give customers a chance to celebrate being one step closer to the weekend. While Monday and Tuesday restaurant promotion ideas tend to be more "chill," when Wednesday arrives, you can turn things up a notch…
But First…Let's Take Care of Business
Could your weekday afternoons use a boost in business, too? Gear your restaurant promotion ideas to the 9-5 crowd at nearby businesses so you can become their designated "off site meeting" spot. Ask your bartender to come up with delicious mocktails for offices that aren't cool with boozy meetings. Of course, you'll need shareable appetizers for big groups. Bonus points if your wi-fi is free and fast!
#Hashtag Wednesday Restaurant Promotion Ideas
#WCW: It stands for "woman crush Wednesday." Why not run ladies night complete with specials on drinks and appetizers?
#WineWednesdays: A restaurant in Lake Geneva, Wisconsin, invites guests to guess the brand of a $10 glass of wine from 8 choices. If they guess correctly, they win the rest of the bottle.
#WingWednesdays: Go casual with your restaurant promotion ideas and offer a killer deal on wings good on Wednesday nights only. It could be 50 cent wing night or bottomless wings for a set price.
Karaoke Night, Comedy Night…or Both
Wednesday nights in Atlanta are a big deal, and both bars and restaurants get in on the action. There are plenty of dance parties, open mic comedy events, and karaoke nights. Sweet Auburn Seafood in Atlanta even runs a Comedy Karaoke Wednesdays event where performers bring the laughs while belting out tunes
Start the Weekend Early with Thursday Night Events
The weekend is within reach! Amp up the excitement with can't-miss events and irresistible promotions.
Be a Hero to Busy Parents
Does your restaurant cater to families with kids? By the end of the week, parents are burnt out. The last thing they want to do is cook dinner. So run restaurant promotion ideas that appeal to the entire fam. After all, 43% of parents let their kids call the shots when it comes to choosing a restaurant!
Hire a magician, balloon artist, or acoustic guitar player who can visit each table. Kids and adults alike will love the tableside fun.
Take some inspiration from PLG Tavern in Brooklyn, New York which features a kid's area stocked with books and toys.
Bring the arcade tableside with handheld gaming tablets. You'll keep the kids occupied so parents can chat and catch up in peace.
#Hashtag Thursday Restaurant Promotion Ideas
#TBT: That's "throwback Thursday" to all the cool kids on Instagram. If you've got the space, run a weekly dance party and hire a DJ to play old school hip-hop…or bring in a live band for classic rock. It all depends on what gets your customers on the floor!
#ThirstyThursday: This is one of the easiest restaurant promotion ideas. Run 2-for-1 pitcher specials or get creative and switch it up each week.
Bust a Move
After the dinner rush, one restaurant in upstate New York pushes tables to the side to create a dancefloor. Then a ballroom dance instructor leads the group in salsa dancing – including lessons for newbies. Pitcher specials on sangria round out these restaurant promotion ideas.
There, now you've got 3 weeks' worth of restaurant promotion ideas. The next step is to put these ideas into play…and watch your midweek business start booming!