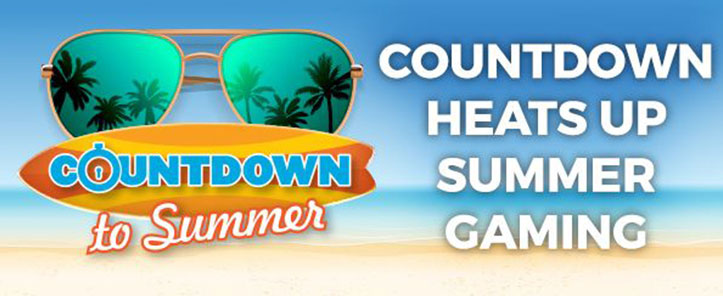 On June 1st, Buzztime launched Countdown to Summer across all Buzztime locations – including yours! This limited time promotion, available through June 30th, incentivizes guests to play Countdown Trivia by rewarding them with double PlayersPlus Points for every game. Here's what Countdown to Summer is bringing you and your patrons:
Repeat Visits
For dedicated, frequent Buzztime players, Countdown to Summer shows appreciation for their loyalty. At the same time, the promotion encourages new and casual players to increase game play with the promise of double points. Throughout June, exciting digital signage alerted patrons of the promotion on tablets and TVs, social media, and emails.
Play All Day!
Timing is everything! By limiting the promotion to a month, Buzztime created urgency. Players have been rushing in to earn their double points – driving more summer business your way. Since Countdown is available to play every day from 2p-10p, players could indulge in multiple rounds of trivia. This has boosted business for many venues during slower dayparts like mid-afternoon, early evening, and after the dinner rush. Since Buzztime players spend 21% more per table check*, these are the guests you want staying and playing at your place.
Friendly Competition
Buzztime players are wired for friendly competition. Their mission? A spot on the Buzztime leaderboard and bragging rights. Countdown to Summer gives players a chance to move up the leaderboard faster, motivating them to play even more trivia as they go for glory.
Community & Camaraderie
To participate in Countdown to Summer, players simply need to sign up for a PlayersPlus account (if they haven't already). Not only does PlayersPlus reward patrons with points, special offers, and insider news about events and new game releases, it gives them a sense of community as they join the 9 million players in the Buzztime Nation. At your venue, Countdown to Summer creates camaraderie as players compete with each other across the bar – and across the country.