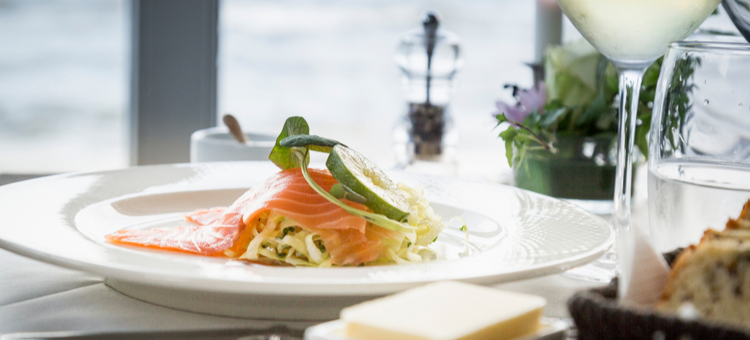 Sustainability has been a restaurant industry buzzword for several years. And with nearly half of consumers looking to lower their impact on the environment, it's easy to see why.
When it comes to going green, many restaurateurs are following the lead of Kerry Heffernan, Executive Chef at Grand Banks in Brooklyn. From using "trash fish" (don't judge just yet) to reclaimed décor, his advice is both good for the planet – and your bottom line.
Meet Chef Heffernan
In Zagat's season finale of Staff: The Extraordinary People of the Restaurant World, Chef Heffernan talked about the different ways he's implementing restaurant sustainability practices in his restaurant.
Housed within a re-purposed ship on the New York harbor, Grand Banks is a floating restaurant and oyster bar…and a true testament to the restaurant sustainability movement.
Here were some key restaurant sustainability takeaways we learned from Chef Heffernan that you can start incorporating to help your business go green:
1. Simplify your menu.
There's a saying that more isn't always better. And that especially holds true for restaurant sustainability. So, take a page out of Chef Heffernan's book…or menu.
Instead of trying to offer everything under the sun with an expansive selection, limit your menu to one or two pages featuring a few high-quality key ingredients that can be used multiple ways.
Limiting your menu will not only help to reduce waste, but it will make the ordering process easier and could even lower your food cost.
And, it's a chance to show off — as Chef Heffernan states, "The fewer things you put in something, I think, the better the chef you are. Because it has to be simple enough that the ingredients speak to you and that the ingredients are discernable"
2. Feature lesser-known seafood.
As Chef Heffernan notes, "There is certainly a finite number of fish in the sea. And we, in my belief, need to be very careful about how we handle that."
High-selling seafood items like salmon, tuna, and shrimp are putting a huge strain on the environment. Fisheries are depleting entire species trying to keep up with the demand, at the detriment of our eco-system — which could mean that someday, these seafood staples could become extinct.
That's why chefs like Heffernan are featuring lesser-known (but equally delicious) "trash fish" on their menus. At Grand Bay, Chef Heffernan serves a Porgy Ceviche to help take the pressure off some of the more popular fish and hopefully lower their demand:
"Porgy is one of these fish that did not have a great reputation — it was not seen as a noble fish, like striped bass or a cod. It's sustainable, and now we're creating a focus on this."
BONUS: When switching out seafood items on your menu, it's important to ensure that your new ingredients are sustainable and responsibly sourced. Programs like Seafood Watch, Marine Stewardship Council, and FishChoice can help you make educated ordering decisions that support your restaurant sustainability.
3. Source local, seasonal ingredients.
Nearly every morning, Chef Heffernan goes to the local green market to pick up fresh, seasonal ingredients for his menu. As an avid fisherman dedicated to restaurant sustainability, it gives him a deep appreciation for what farmers go through.
As he states, "The challenge that farmers and fishermen face are very similar. It's very hard work…you're very dependent on a number of things out of your control — climate, soil. So being in touch with the guys at the green market and seeing what they go through…it gives you a bit of humility in a sense of how hard it is."
Knowing where your food comes from is a large component of restaurant sustainability — and it can be easy to incorporate into your menu:
Partner with a local farm: Find a local farm or produce group in your area where you can order or pick up fresh ingredients every day.
Use an online app: If you're not sure where to look for locally-sourced food items, the online app ChefHero makes it super easy by helping you search and order wholesale ingredients from regional suppliers
Grow your own: You can't get fresher than your backyard, and many businesses have started growing their own produce, herbs, and drink garnishes in container gardens right on site. It's one of the most economical restaurant sustainability moves you can make.
BONUS: Hyper-local ingredients are a huge trend in the culinary world, proving it's a restaurant sustainability practice that customers want to see.
4. Reclaim your decor.
Rather than building a brick and mortar restaurant or relying on an emissions-inducing food truck, Chef Heffernan took his restaurant sustainability practices to the sea — literally. Using a re-purposed cod-fishing boat, he built a floating oyster bar and restaurant that resides in the New York Harbor.
It's a beautiful piece of the past that represents how we can build a better future with restaurant sustainability. Chef Heffernan shares that, "The very history, the very bones of this ship are tied to cod, a resource that we depleted and are now trying to help regulate and create a more sustainable future for."
Now, this doesn't mean you have to go boat shopping in the name of restaurant sustainability. But there are other ways you can go green with your restaurant design:
Buy or rent an existing property: It may not be an old ship, but starting your restaurant in a currently standing structure will have much less strain on the environment than building on a new piece of land.
Use reclaimed or recycled materials: Rather than buying everything new, use thrift shop finds or reclaimed wood as your decor. Who knew restaurant sustainability could be so chic?
Invest in energy-efficient appliances: It may seem greener to purchase a used appliance. But older appliances are less energy efficient and could wind up even costing more money and energy in repairs. And using the right type of modern appliances could actually help you with your restaurant sustainability efforts in more ways than one.
5. Repurpose your waste.
Restaurant sustainability is all about reducing waste. And in some cases, that means finding alternative uses for organic materials that may normally get trashed. At Grand Bay, Chef Heffernan decided to participate in the Billion Oyster Project — a program that takes leftover oyster shells from restaurants and uses them to seed the next generation of oysters in the New York harbor.
Some may see this restaurant sustainability practice as a way to secure the oyster industry. But as Chef Heffernan points out, it will be a while (about 30 years) before the seeded oysters are ready for consumption. In the meantime, the oysters will serve a greater purpose:
"The more oysters there are living in the New York Harbor, the more they're filtering this algae and keeping it in balance and creating a more sustainable environment."
But even if you don't serve oysters on your menu, there are still plenty of ways you can incorporate food waste reduction in your restaurant sustainability efforts:
Challenge your restaurant: The best kind of waste is no waste at all. So participate in a restaurant sustainability challenge, like The Last Plastic Straw, to reduce waste impact and pollution at your restaurant.
Donate leftover food: Rather than throw out leftover ingredients or prepped items you won't use the next day, donate it to a local food bank, church, or soup kitchen to help feed the 1 in 8 Americans who are suffering from food insecurity.
Recycle your grease: Your grease trap could be a gold mine for powering alternative fuel vehicles — or even airplanes. In fact, used cooking oil recycling makes up the most common use (71%) of diverted food waste. Partner with a local rendering company or donate your oil to a local school that may offer an educational program for bio-engineering.
BONUS: Zero-waste cooking and eco-friendly practices are other hot culinary trends that customers want to see.According to ReFED's Restaurant Food Waste Action Guide, 72% of diners said they cared about how restaurants handled food waste. And 47% are willing to spend more on restaurants with an active food recovery program.
Following Chef Heffernan's journey provided so much insight on easy and organic ways to weave restaurant sustainability into your everyday practices. And his take on seafood and restaurant sustainability is inspiring:
"Global warming is a big, massive thing — but water quality, we can impact. It is our responsibility to make sure that we have food for the future….as chefs, we can be leaders."
[fl_builder_insert_layout slug="whitepaper-signup-module-get-more-customers"]