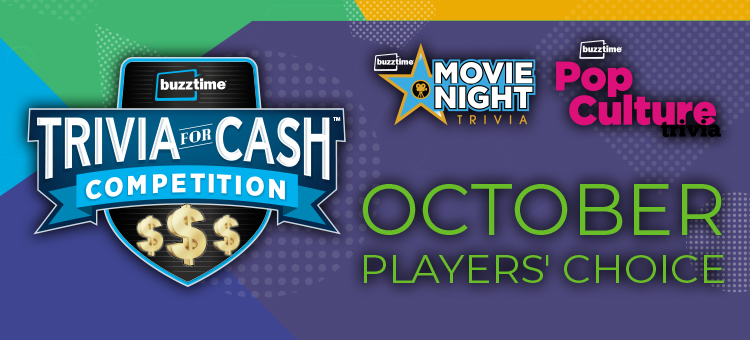 This spring, we launched our first ever Trivia for Cash: Players' Choice competition…and now it's back for autumn!
In August and September, players voted to help shape the specifics of the competition. Now, they're gearing up to get their game on in the Trivia for Cash event they helped create.
The marketing crew at Buzztime is already busy promoting Trivia for Cash: Players' Choice. They're sending emails, launching social media campaigns, and running ads on your TVs – getting the Buzztime nation of 10 million registered players excited about competing at places like yours.
Join in the promotion: just use this toolkit and 5 tactics to draw a crowd this October!
October Trivia for Cash: Players' Choice 101…We're Giving Away $5,000!
Trivia for Cash: Players' Choice Qualifying Game Schedule
Tuesday & Thursday Evenings
Movie Night at 5 PT | 6 MT | 7 CT | 8 ET
Pop Culture at 5:15 PT | 6:15 MT | 7:15 CT | 8:15 ET
Every Tuesday and Thursday night, Buzztime is giving away $500 in cash prizes – yes, that means we're giving away $5,000 in just one month. The top 3 highest combined scores from playing both Movie Night and Pop Culture Trivia will win – players need to play both games to win big!
Each nights's winners receive:
1st Place $400
2nd Place $60
3rd Place $40
Tactic #1) Build Your Buzztime Player Base in 15 Minute Increments!
Our Trivia for Cash competitions are a great way to introduce Buzztime to your customers. After all, with cash prizes on the line…who wouldn't want to indulge in a little trivia?
In fact, the Players' Choice games were selected to appeal to everyone – not just diehard trivia buffs. Movie Night and Pop Culture Trivia games are just 15 minutes each, and cover trending entertainment news. We like to say that "everyone can play, anyone can win."
Train your team to talk up Buzztime to every customer, inviting them to compete. Staff should be comfortable showing customers how to download the Buzztime Entertainment App and register, so they can compete using their own smartphone. Of course, if your venue offers Buzztime tablets, employees can assist customers in registering and competing that way.
Why not offer a reward to the staff member who gets the most players registered each night? Remember, Buzztime players are the type of customer you want. They come back frequently to play their favorite games and trivia – and love to bring their friends along for the fun.
Tactic #2) Let's Get Social
Show your social followers that you're participating in a nationwide trivia competition (how impressive!). Just tag Buzztime when you talk up the Trivia for Cash: Players' Choice event. Here are our handles:
Facebook: @Buzztime
Twitter: @Buzztime
Instagram: @PlayBuzztime
We'd also be flattered if you shared our Trivia for Cash: Players' Choice social media posts! Visit Buzztime on Facebook, Twitter, and Instagram – then go ahead and share any graphics you want.
Into hashtags? Use these: #TriviaforCash #PlayersChoice and #Buzztime.
Tactic #3) Boost Your Midweek Business
It's not a coincidence! Players' Choice runs during the evening daypart on Tuesdays and Thursdays, just when most businesses could use a lift in customer traffic. Use these ideas to take Players' Choice to the next level:
Run a "$5 at 5pm" happy hour special to run until 5:55…Provide a list of drinks and appetizers that are just $5 each, and let customers decide which ones they want.
Give customers a "choice" on what they want to see on special during happy hour. Use the polling feature on Facebook or Twitter to let your followers vote on which brand of beer or wine they'd like to enjoy 50% off.
The latest trend is providing food-beverage pairings…right on the menu. Go a step further by pairing a wine, cocktail, and beer option with each menu item – then let customers choose.
Looking to boost your Happy Hour biz? Try these 37 ideas to transform your happy hour.
Tactic #4) Go for the Big Groups
Trivia is fine to play alone, but it's more fun in big groups. Hello, friendly competition! Entice groups of friends or co-workers to compete in Players' Choice at your venue with specials meant for larger parties:
Board and bottle deals: For a set price, let customers mix and match different bottles of wine with a board of charcuterie (think gourmet cheese, crackers, bread, olives, etc.).
Pitcher perfect: Don't limit your pitcher specials to domestic draft beer. What about pitchers of spiked, house-made lemonade, sangria, or margarita?
10 for 10: Offer 10% off a single tab when someone orders 10 items or more, or their group is 10 people or larger!
Tactic #5) Spark Conversations Online…and In Person
Players' Choice can boost your customer engagement – both on social media and in your business. Use these thought starters to a) promote Players' Choice while b) authentically engaging with your customers:
Have you ever won something big (or kinda big)? What was it? Tell us, then compete in @Buzztime #PlayersChoice to win your share of $5,000.
If you win your share of $5,000 in @Buzztime #PlayersChoice competition…how will you spend it?
What are you waiting for? Put these 5 tactics into play now, and you'll be the hero to your customers for letting them know they could win hundreds of dollars in Trivia for Cash: Players' Choice.