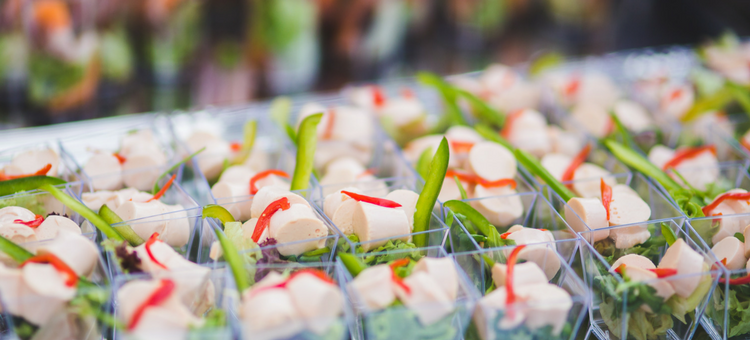 Is your restaurant in the business of catering to large groups? Congrats. You're ahead of the game. Whether you cater private events on premises or corporate meetings off site, you've got an additional revenue stream. Now, turn it into a rush of profits with these 18 game-changing restaurant catering tips.
1) Tech-Forward Restaurant Catering Tips for Private, On-Site Events
It's time to ditch that VCR player in your private event space (and that 1990s wallpaper). Having the latest digital amenities topped Benchmark Hospitality's list of "Top 10 Meeting Trends for 2018." Upgrade the private event experience with tech-focused restaurant catering tips.
Laptop and Projector or Large Flat Screen TV
Make it easy for large groups to run a slideshow or video. It's not just for corporate events. From bridal showers to birthdays, hosts want to show pics of the guest of honor. Purchase a basic laptop ($200-$300) plus a projector and screen ($200-$300) or flat screen TV ($300-$400).
Some TVs include a USB port – so the host can insert a thumb drive right into the TV. When the TV isn't in use by the private party, install digital signage software to promote specials, events, and menu items. Who knew restaurant catering tips could double as promotional hacks?
Live Stream Setup
The top restaurant catering tips take trends – like live streaming events – into consideration. Businesses often record live video feeds of meetings using Facebook Live, YouTube Live or another streaming platform.
So, hook 'em up with all the equipment needed to live stream! Purchase a smartphone tripod ($25) and wireless lavalier mic ($25). You should already have a fast and free wireless connection for guests. If not, talk to your internet provider.
Menu Tablets to the Rescue
Many restaurants host casual non-profit meetings, clubs, and networking groups in their private rooms. When it comes to food and drinks, each guest usually covers their own tab.
Instead of driving your servers insane with individual orders, bring in menu tablets. The best menu tablets let guests browse a digital menu, order, and even securely pay – on handheld devices that sync with your POS system.
Take these restaurant catering tips beyond your private event space. Join nearly 3,000 restaurants that give Buzztime menu tablets to all guests.
2) Off-Site Corporate Restaurant Catering Tips
Now, let's look at restaurant catering tips for beyond your 4 walls – starting with corporate catering. Catersource Magazine surveyed 110 caterers to find that their biggest revenue growth in 2017 came from corporate catering.
So, what are offices looking for in a corporate caterer? That was the subject of a panel discussion at Technomic's Restaurant Trends and Directions Conference held in Chicago. Panelists in charge of ordering catered food from restaurants shared 5 restaurant catering tips:
Get it Right: Accurate orders are key in winning corporate business. The panelists said you get a second chance if you screw up (but you need to give them a credit).
Offer Online Ordering: Next, the panelists shared restaurant catering tips related to the ordering process. Can they pretty please order online? This matches up with research by Fast Casual that found 92% of people placing orders for large groups want to do so online. Online ordering also improves accuracy, since the customer review their order before hitting "send."
Picture Perfect: Looks are everything. The panelists got specific on restaurant catering tips for presentation. Put clear lids on sandwich and salad trays. Food stays fresh, but guests can see their options.
GrubHub? Not So Much: The panelists preferred that restaurants deliver food – not a 3rd party like GrubHub or DoorDash. They want a hands-on approach (literally), with the restaurant setting up the food.
The Brunch Bunch: According to the panelists, 70% of their orders are for lunch – with the remaining 20% for brunch or breakfast, and 10% for afternoon snacks or appetizers. Their restaurant catering tips include offering a snack tray option on your catering menu.
[fl_builder_insert_layout slug="whitepaper-signup-module-supreme-guide-live-events"]
3) Let's Talk Trends: Restaurant Catering Menu Concepts for 2018
Want to take your menu to the next level? Try these trendy restaurant catering tips.
Action! Put on a Show: Half food festival, half science fair, the latest trend in restaurant catering tips is on-site preparation – with a little flair. Dubbed "action stations" by Catersource, this trend is taking off. Purple Onion Catering out of Vienna, Virginia had their caterers dress in lab coats and use out-there prep methods like liquid nitrogen at a dessert station and torched ahi tuna.
Go Local : For menu-related restaurant catering tips, look to the farm-to-table trend. Team up with a nearby farm to source in-season vegetables. In fact, vegetable-forward appetizers are a top trend in restaurant catering.
Booze Without the Bar: Restaurant catering tips can double as cost-cutting measures for you – and your client. Instead of an open bar, the latest trend is filling up a clear beverage dispenser with a pre-mixed, gourmet cocktail. Guests can help themselves to inspired drinks like bourbon peach tea and watermelon mojitos.
4) Score a Home Run! Restaurant Catering Tips for Private, In-Home Parties
According to 2017 research by NPD Group, an astounding 50% of restaurant meals are now consumed at home. When it comes to restaurant catering tips, embrace this trend. Offer packages for in-home catering!
Party in a Box: From Super Bowl parties to Father's Day BBQs, sometimes the host just doesn't wanna cook! Offer a catering "lite" menu for pick up or delivery (but no set up). Create menus starting for groups as small as 8. Include everything from toothpicks for appetizers to themed paper plates and napkins.
Go All Out: On the flip side, go the extra mile with these full-service restaurant catering tips: For big events like at-home graduation parties and milestone birthdays, the host needs all the help they can get. That includes cleaning the house before guests arrive. Team up with a local cleaning company to offer a "Clean and Cater" package.
5) Restaurant Catering Tips for Marketing
Need restaurant catering tips to spread the word – and stay on budget? We got you. First, print off a few thousand small postcards good for 10% off a customer's first catering order. Use an online printer like Vista Print, and you'll pay less than $100.
Make the Rounds: Pull up Google Maps. Locate all the businesses within a 5-mile radius. Hit the streets and drop them off. Restaurant catering tips for marketing don't have to be complicated.
In-House Promotions: Use posters or digital signage to let patrons know that your restaurant also caters. Include the postcard with every table check.
Get on the List: Get listed on a 3rd party catering finder like EZCaterer.com. EZ Caterer lists over 60,000 caterers with an average catering order of $275.
Google AdWords: Set up a Google AdWords campaign in your area. You select keywords like "business catering" or "private party catering" – and how much you want to spend. When folks type those terms into Google, your restaurant's ad can appear.
Event Planners: Last but not least on our list of restaurant catering tips: reach out to the event planners in your town via email or an old-fashioned visit or call. Consider offering a "kick back" (a gift card or credit) if they recommend you for catering.
And that's a wrap! You've now got 18 restaurant catering tips – from tablet menus to digital signage, top trends to insider tips for corporate catering. Put them into practice – and take your catering business to the next level.