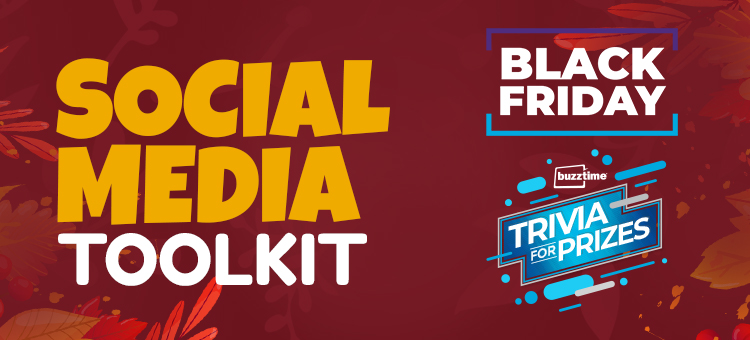 Why let retailers have all the fun on Black Friday? Bring the crowds to your bar, restaurant, or brewery by promoting Trivia for Prizes: Black Friday! Just for playing a 30-minute game of trivia, your customers can enter to win one of five 65" TVs. 
Trivia for Prizes: Black Friday 101
Here's how your customers can qualify to win one of those giant TVs. First, they need to register as a Buzztime player (more on that in Tip #1).
For their chance to win a TV, customers can play Topix Trivia on November 29th at:
5pm PT / 6pm MT / 7pm CT / 8pm ET
Seriously, it's that easy! Topix Trivia focuses on fun facts about trending news and pop culture delivered in the form of 15 questions over a 30-minute gaming period. This is a sweepstakes, so even if a player has a low score, they could win. Everyone can play…and anyone could win a brand new 65" TV.
Players can compete on Buzztime tablets (if your venue provides them) or using their own mobile device, after downloading the free Buzztime entertainment app.
We're spreading the word about Trivia for Prizes: Black Friday among the Buzztime Nation of 11 million registered players. You'll also notice ads for this exciting event on TVs. Now, join us in promoting Trivia for Prizes and bring the Black Friday party to your place. Use these graphics in your social media posts, email campaigns…anywhere!
1) Focus on New Registrations and App Downloads
Trivia for Prizes: Black Friday is just one day, but don't wait. Train your team to alert every customer that A) They can win a TV by playing Buzztime Trivia on November 29th at your venue and B) They just need to be a registered Buzztime player…so why not register now?
To register, the customer can either download and open the free Buzztime Entertainment app. Or, if your venue offers Buzztime tablets, they can register right on that device. Registration takes minutes, and it's totally free.
Reward staff for helping patrons get registered. In fact, why not hold a competition to see which of your employees can get the most players registered?
2) Be the Main Event on Black Friday
The chance to win 1 of 5 TVs at your business is definitely a draw for customers. Go the extra mile with extra promotions to see even more foot traffic!
Promote a Black Friday gift card package, like a free $10 gift card to your business with the purchase of $100 in gift cards. After all, 38% of people plan to give gift cards this holiday season!
Black Friday is all about insane deals. To entice folks to come in, could you make Black Friday "Free Fry-Day" and give away complimentary fries at the bar.
Sweeten the Trivia for Prizes deal by offering a year-long subscription to Netflix for the highest scorer in Topix Trivia at your venue.
3) Get Social with Us!   
Start making some noise about Trivia for Prizes: Black Friday on all of your social media platforms. Use #Buzztime and #TriviaforPrizes to let guests know that Buzztime is running the promotion.
Get in the habit of "tagging" Buzztime on social media. You'll align your business with this buzzworthy national Black Friday promotion:
Facebook: @Buzztime
Twitter: @Buzztime
Instagram: @PlayBuzztime
Invite your patrons to take pics and share them on social media using #Buzztime #TriviaforPrizes #YourBusinessName
4) Get Live on Black Friday
Show everyone what they're missing by going live on Facebook or Instagram during the Trivia for Prizes event. All you need to do is get out your smartphone, open the Instagram or Facebook app, and hit "go live." Your followers will be alerted you're live, and you can respond to comments as they come in.
Before going live, announce to everyone in your venue that you're about to do a live broadcast, so any wall flowers can get out of your way!
No pressure. If your live video isn't up to your standards after the broadcast, delete it. If it went well? Save it and use it to promote upcoming trivia competitions and events at your venue.
For tips on using Facebook and Instagram Live, use this 6-step guide to live streaming.
5) Strike Up a Convo
To promote Trivia for Prizes: Black Friday, and to increase your social media engagement, chat up your followers on social media! Create posts that invite a response or a reaction, while at the same time, subtly promote the fact everyone gets a chance to win 1 of 5 TVs:
What's the best Black Friday deal you've ever scored? Tell us. Then join us for a chance to win 1 of 5 TVs on November 29th from @Buzztime #TriviaforPrizes #BlackFriday
What's your favorite TV show of all time? Picture yourself watching it on your own 65" TV – join us on Black Friday for a chance to win 1 of 5 TVs!
We're excited to find out which 5 players will win 65" TVs on Black Friday. Until then, let's join forces and get the word out that Black Friday is going to be BIG at your business this year!