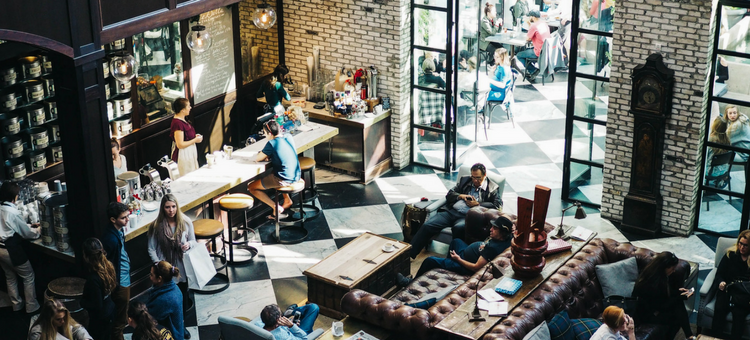 Loyalty programs are increasingly becoming an integral piece of the marketing strategy for bar and restaurants. Implementing a loyalty program is a way to reward your loyal customers and give them an incentive to continue their relationship with you and your business.
According to an article by Fast Company, researchers tallied more than 2 billion loyalty program memberships, which means the average U.S. household belongs to about 18 different loyalty programs. This proves the American people truly enjoy and value loyalty programs.  Remember, your top customers are 5-6 times more valuable than the other 90% of customers.
The National Restaurant Association reported the percentages of restaurants that have loyalty programs (see bar graph below). The quick serve segment is particularly low. Loyalty programs should be more than just a punch card for quick serve restaurants.
Loyalogoly is a provider of loyalty program consulting and analysis services to the restaurant industry.  In the chart below, you can see how repeat restaurant visits correlate with the use of a loyalty program based on the segment of the audience.
[fl_builder_insert_layout slug="whitepaper-signup-module-50-best"]
Building a Loyalty Program
One of the best ways to create a loyalty program is by tapping into the knowledge of preexisting programs. Check out the 5 best and worst practices of loyalty programs to bypass failed program attempts and to shape your loyalty program by following winning formulas.
There are key components that need to be present to make a loyalty program coincide with your overarching business goals and strategies and ultimately satisfy your customer base.  Below are the top 5 key components of a successful loyalty program:
1) Motivate customers
Properly planned and executed programs can foster a relationship between you and your clientele. You must create a program that appears to actually exude a reward. Moreover, you and your staff must convince customers to join the program based on its inherent benefits.
Do not arbitrarily target random customers. If you notice a habitual pattern of the "Jones" family enjoying breakfast every Sunday, you should approach them with an offer to receive a free stack of pancakes once per month.
Let customers know they will receive a free appetizer or dessert during their current visit if they sign up for the loyalty program.  This pressure may entice them to sign up for the loyalty program on the spot. We all love instant gratification.
2) Connect with your customer base on a personal level
Your guests need to feel as if they are more than a mere transaction, a revenue-generating piece of the operations puzzle. Customer-specific prizes are a great way to approach this concept. Your program should permit you to track purchasing records and thus, you can tailor your rewards based on each patron's preference.
Remember, if customers feel special, they will share the feeling with their friends and family. Positive word-of-mouth can is an easy way to increase traffic.
Consider randomly giving an "added bonus." If your customers feel an emotional bond with you and your restaurant, they will feel obliged to frequent your restaurant.
3) Keep it simple
First and foremost, facilitate a quick and easy registration process. The last thing you want to do is annoy your customer or deter him or her from signing up for the loyalty program.
"Buy 9 and Get 1 Free" can be a bit overwhelming for the average consumer. Think of an alternative approach to rewarding repeat business. Make the reward attainable or your customers will disregard your program entirely.
Match your rewards to your restaurant concept. If you are a Chinese restaurant, offer a free quart of fried rice. If you are a Mexican restaurant, offer a free jar of homemade salsa.  Consistency is key.
4) Focus on points, not dollars
Some customers may be skeptical if you are asking them to spend 'x' amount of dollars. They may wonder if they are actually benefiting from the program or if they are simply adding to the restaurant's revenue.
By delegating points, it not only makes it more of a game, but also removes that level of skepticism.
During slow shifts or times of the season, offer extra points to loyal customers.
5) Measure your successes
Seek customer feedback and ways to enhance your current program or create a comprehensive, worthwhile loyalty program. After all, this initiative is for your customers and you want it to be successful. Actively utilize feedback.
Effective programs measure and track spending habits. This can help project future sales and help you tailor programs to specific customers.
Evaluate the program after a set amount of time. Remove any pieces that are not functional and add any that you have found would be beneficial. Be sure to keep restructuring the program to one-two times per year and communicate changes to your customers. People do not like to be blindsided.
In continuation to the aforementioned suggestions, Loyalogy found the following results:
If you want further proof, visit this article for more convincing statistics regarding the benefits of loyalty programs.  The bottom line: A properly executed program will give you a competitive advantage and will position your establishment in the marketplace, giving your customers a compelling reason to revisit your location.
What types of loyalty programs are you running at your bar or restaurant? How are they working for your business?