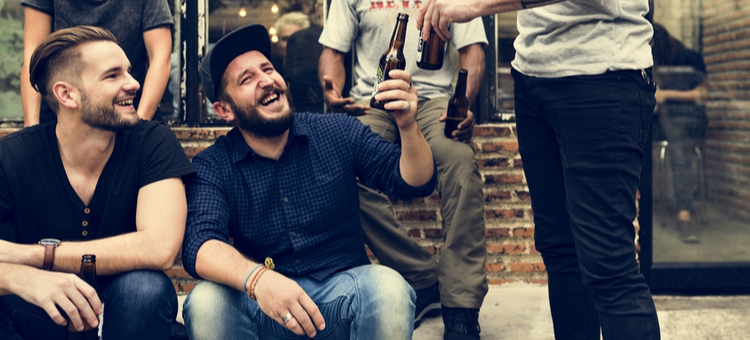 Happy hour. It's the most wonderful time of day for patrons. With these 5 key elements and 15 ideas for irresistible happy hour promotions, it can be your golden opportunity, too.
In no particular order, here are the components of a rockin' happy hour:
An awesome food and drink menu
The right timing
A great vibe
Entertainment
Smart marketing to bring in the crowds
Ready to get happy? Let's do this.
1) Food and Drink Happy Hour Promotions
Spoiler alert: guests aren't just looking for happy hour promotions featuring cheap booze. They're hungry for bargain eats, too.
A study by research firm Technomic revealed that while great drink prices are the top priority for 46% of guests, 41% are drawn in by food. These 3 menu-focused happy hour promotions will ensure everyone wins:
Pop in a Premium
Mix in premium items on your happy hour food menu – like shrimp cocktail. As diners scan your happy hour promotions, they'll feel like they're getting a great bang for their buck, leaving more cash to spend on drinks.
This is an awesome move if you offer a set price for a list of different appetizers. Pack it full of high-margin items. Then, drop in that premium item. Yes, you'll take a loss on the shrimp – it's a sales tactic known as "the loss leader." But it's worth it to improve the value perception of your happy hour promotions overall.
Try a New #Hashtag Menu Theme
#TacoTuesday happy hour promotions are a dime a dozen these days. Why not get #TikiTuesday trending? You'll give guests a tropical escape from the winter blues. Plus, the classic tiki drinks are retro – in a good way – making them 100% Instagram worthy.
Miniaturize your Mains
Create small-plate versions of your popular lunch and dinner entrees as one of your menu-focused happy hour promotions. Think slider-size gourmet burgers, mini tacos, and bite size avocado toast (give the millennials what they want). For new customers, those small bites are a big sales pitch to return and enjoy the full portion. For repeat customers? They just scored a great deal.
Still itching for more ideas? Check out this free whitepaper – featured on Nation's Restaurant News – packed with 37 happy hour promotions and menu ideas that work.
2) Happy Hours at Odd Hours
Don't pigeonhole your happy hour promotions. While the hours between 3 and 6 p.m. are common times, depending on the laws in your municipality, any hour can be happy. Jeremy's Ale House in New York City even offers one from 8 to 10 a.m.
Late Night Bites
To bring in the coveted millennial demographic – who spend over 20% of their budget at restaurants – launch a late night happy hour. In the Technomic study, a third of millennials agreed they'd visit a restaurant more often if it stayed open later. When planning millennial-friendly happy hour promotions, focus on pitcher specials and shareable appetizers meant for groups of 4+.
Creative Happy Hour Promotions: Partner Up!
Partner with popular local brands for events during odd hours. Chicago's Logan Arcade hosts an annual robot-building class in partnership with the city's Metropolitan Brewing.
The event draws attention to their happy hour promotions available on Sunday afternoons. Participants get a bottle of Metropolitan and their own robots to take home. Plus, they can score $2 off all canned beers.
All Day Tuesdays
One pub in upstate New York hosts all-day happy hour promotions on Tuesdays. If you're open on Monday, definitely make that your day-long happy hour. Everyone needs an escape from a case of the Mondays.
Repackage Your Lunch Specials as Happy Hour Promotions
While you may also offer lunch specials, revelers celebrating a birthday or bachelor party will be drawn to noontime happy hour promotions.
3) Happy Hour Atmosphere: Create the Right Vibe
What diners hear and see from the outside of a bar can have a big effect on drawing them inside for happy hour promotions.
Take It Outside
Go big with a full beer garden. Or start small with a few picnic tables or bistro tables out front. Whatever you do, find a way to set up outdoor seating. Why? Letting guests settle in with a drink outside can increase revenue by up to 30%.
Also, when passersby see customers having a great time, they'll be tempted to check out your happy hour promotions.
If sidewalk seating isn't an option, install garage doors or roll-up windows. That way, you'll bring the outdoors in so customers can enjoy a beautiful day. Plus, you're still showing off happy hour promotions and awesome vibe.
Look Like a Local
Patrons who hang out in trendy neighborhoods can identify their favorite street artists by sight, if not by name. Comb through Instagram and connect with these trending artists. See if they'd like to hang their work on your walls. It's like a free gallery show for them, and it lends your space some street cred. In addition, the art gives customers something to talk about as they enjoy happy hour promotions.
Sounds Like a Great Happy Hour
Should you crank up the Bruno Mars? Or, let that smooth Ella Fitzgerald jazz play in the background? That depends. Use this research-based guide to restaurant background music to plan your playlist.
For example, studies show that loud music can increase alcohol consumption significantly, but only if your bar is packed. If your happy hour promotions haven't brought in the volume of patrons you'd like, turn down the volume. Playing low and slow music can increase drink and dessert sales by as much as 40%.
4) Entertain Me!
Abandon the price war over happy hour promotions. Serve guests a side of entertainment and they'll perceive more value in their visit.
In Trivial Pursuit of Love
While the post-holiday months of January and February can be rough for restaurateurs, it's peak dating season according to a study by Match.com. Draw in those new lovebirds with happy hour promotions that double as icebreakers.
Tabletop trivia tablets lets daters connect over common knowledge (and tease each other about missed answers). Who knows, that relationship sparked over happy hour promotions could lead to a new pair of regulars.
Karaoke
Is it awkward to belt out "Livin' on a Prayer" before 9 p.m.? Maybe. But karaoke is like a snowstorm. One exhibitionist is like a snowflake who can turn the entire bar into a blizzard of wannabe Bon Jovis.
Include a ticket for one free song with each of your happy hour promotions. You'll soon have a queue of eager singers, many of whom will share videos of their performance on social media.
Bar Games
Got extra space in the back of your restaurant or bar? Maybe an outdoor patio? Congrats. It's now a bar games arena. Bring in cornhole boards and bean bags and run a tournament as one of your happy hour promotions. Or, go all out with a multi-sport competition featuring darts, ring toss, and beer pong.
5) Spread the Word
The best part about happy hour promotions? When they're good, you earn that coveted word-of-mouth reputation for being the "it" spot. But a little savvy marketing helps, too.
Jokes On You
Play up the bartenders who are working during happy hour promotions. Got someone who's a big jokester? Offer one free Dad joke with every happy hour promotion purchased…but only for people who post a pic with the bartender and share it on Instagram.
Sponsor a Team
No, you don't need to spring for MLB rights. Plenty of rec league groups – from kickball teams to volleyball squads – are looking for a home bar. Pay for their team T-shirts (featuring your logo, of course) and offer group specials after games. You'll earn yourself a loyal crew likely to bring friends along to enjoy your happy hour promotions.
Whatever you do, don't let your happy hour promotions become boring. Two-dollar-off martini special, we're looking at you. Your promotions are a direct reflection of how much you care about creating a great experience for guests. That's something they'll be truly happy about.
Feeling inspired? Check out this shareable infographic of some of our favorite happy hour promotions below:
Share this Image On Your Site

[fl_builder_insert_layout slug="whitepaper-signup-module-37-trending-happy-hour-menu-ideas"]