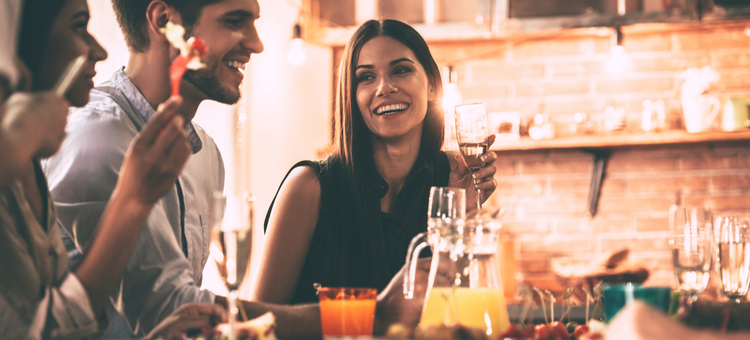 Creating unique customer experiences don't just happen, nonetheless they are essential to building loyalty and increasing sales for your bar or restaurant. Here are five guaranteed ways to deliver those unique and memorable experiences that will have your guests coming back for more.
1) Personalize the experience:
Your guests will remember and appreciate the small gestures that show that you care about them, such as sending them an email message to wish them a happy birthday with a special offer to come in and celebrate the special occasion or personally visiting their table to see how they are doing. These simple actions of gratitude and personalized service will go a long way to make your guests feel special and create a lasting impression.
2) Entertain guests with interactive games and live events:
Tap into Buzztime, our social, mobile and entertainment platform for bars and restaurants, to liven up the crowd and keep your customers entertained longer. A 2008 Arbitron study found that Buzztime players spend 27 minutes longer and $5 more per visit. Create signature live events around these games challenging guests to play and compete against each other for a chance to win fun prizes. BEOND makes it easy for customers to participate. They can play games from your TVs, our Buzztime BEOND tablets or by downloading our mobile Playmaker app to their own smartphone or tablet.
3) Create a unique atmosphere representative of your concept:
Chris Sturk, author of the Swipely Payment Marketing Blog, shares in a recent blog post entitled, "Creating Unique Restaurant Experiences," examples of great restaurants that have transformed their environment to create a truly unique dining experience for their guests. One of them is Casa Bonita, a Mexican restaurant in Lakewood, Colo., which has designed its 52,000-square-foot-space to replicate a Mexican village with cliffs and caverns, as well as live shows that include cliff divers, puppet shows, multiple arcades, table games, and a gift shop.
4) Shower your best customers with recognition:
What better illustration of this than The Palm, the fine-dining steakhouse notorious for showcasing caricature animations of their important guests, from local business leaders and dignitaries to sports figures and celebrities. But you don't have to reserve such an honor to the "Rich & Famous." Perhaps one of your regulars loves a cheeseburger his own way slightly off-menu. Why not turn it into a new menu item and name the burger after him in his honor?
5) Capture and share unique and special moments:
When you encounter guests enjoying a unique and memorable experience in your bar or restaurant, capture and share it, such as a romantic wedding proposal at Table 23 or the couple celebrating their 70th wedding anniversary. Your social media platforms like Facebook and Twitter are perfect mediums for showcasing those special moments with your fans and customers.
While exceptional food, service and atmosphere – the three essentials for any successful bar or restaurant – cannot be overlooked, make sure you're also going that extra mile to create unique and memorable impressions that will turn them into loyal customers for a lifetime.
[fl_builder_insert_layout slug="whitepaper-signup-module-33-customer-loyalty"]