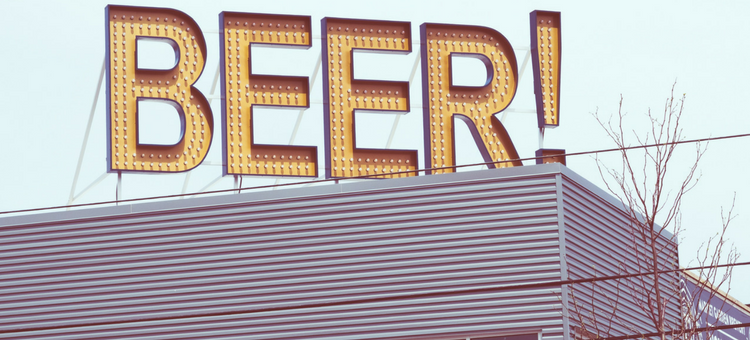 Famous philosopher Friedrich Nietzsche said, "without beer, life would be a mistake." Ok, that's a little intense. But bargoers do love their beer – whether it's the latest craft brew or a classic Miller Lite.
Show beer drinkers you've got their back: put exciting beer-focused promotions and events on tap. Along the way, you'll increase beer sales, and give beer lovers a reason to come back for more.
Step #1) Increase Beer Sales by Appealing to All Customers (A Tale of 3 Beer Drinkers)
The first step to increase beer sales? Get to know 3 types of beer consumers, then use the next 4 steps to win over their beer-drinking hearts.
The Craft Guru: Ronnie, 35 in Syracuse, NY
Ronnie and his craft crew (mainly millennials) meet at bars to sip and discuss the latest, greatest craft beers. The only thing Ronnie loves more than drinking craft beer? Posting about it on social media (his Twitter feed is proof).
Craft beer drinkers know their stuff. To increase beer sales among the craft crowd, study up on the latest 2018 beer trends – then plan your beer list accordingly.
The Craft-Curious, Casual Sipper: Camilla, 28, in Boulder, CO
Camilla enjoys trying new beers – both craft and domestic. But she's also intimidated by these 21 craft beer terms.
Make Camilla feel welcome with promos and events that introduce her to new styles and brands of beer (and increase beer sales at your bar).
The Domestic Diehard: Steve, 56 in Detroit, MI
Steve has no interest in fancy sour beers and hoppy DIPAs (double India Pale Ale). Instead he'll have a Bud, thank you very much.
In the race to increase beer sales, many bars focus 100% on craft beer and neglect guys (and girls) like Steve. But Steve is in the majority. When looking at total 2017 beer sales in America, domestic beer – like Budweiser – accounted for 70% of all sales (12.7% craft beer, 17.3% imported beer).
Step #2) Build the Best Beer List and Price it Right
Next on your list to increase beer sales: craft an irresistible beer list. From crafts to domestics (and a few imports like Molson or Labatt), cans to bottles, pitchers to draught pours – the best strategy is to offer a little bit of everything.
Summer 2018 Menu Forecast: Sours, New England Ales, "Juice," Oh My…
For summer 2018, New England style ales are already generating a buzz. Funky sour beers are still going strong. And the juicy, hazy, unfiltered IPA is always a win with craft beer lovers. Remember Steve: keep him in domestic bliss and don't go too craft-crazy.
Beer Cocktails for the Win
There's a reason the summer shandy (beer and lemonade) is so popular. It's refreshing, delicious – and a little weird. Put a few of these 17 beer cocktails on your menu to increase beer sales…and get people talking.
3 Menu Design and Pricing "Hacks"
The secret to increase beer sales at your bar might just be your menu layout and pricing. Are your pitchers $8.00? Make them $9.00. An MIT study showed that customers bought more of an item priced at $39 than $34.
Remove the dollar signs and double zeroes from your menu, too. It's a proven way to increase beer sales. Research by Cornell University found that people ordered more from menus without dollar signs and double zeroes. So that pitcher is now just 9. or 9-.
Last but not least…Never list your beers in order from least to most expensive. This invites price comparisons
(which definitely will not increase beer sales).
Keep it Fresh to Increase Beer Sales
Rotate your beer menu at least quarterly. Craft beer fans look for more frequent updates – even weekly. Plus, rotating in a new beer gives you a reason to post on social media.
[fl_builder_insert_layout slug="whitepaper-signup-module-golden-book-of-upselling"]
Step #3) Launch Events That Increase Beer Sales (6 Ideas)
Bring in the crowds with these beer-focused events…
Beer Release Party: Make an event out of the arrival of a seasonal brew – like an Oktoberfest beer in the fall. Bars across the Midwest celebrate "Oberon Day" and the start of spring, when Bell's Brewery in Kalamazoo, Michigan releases their iconic Oberon Summer Ale. Some bars even increase beer sales the night before with a midnight tapping of the keg.
Beer 101 Flight Night: Invite craft beer newbies to try out different beer styles with an "intro to craft beer" flight. Provide descriptions, history facts, and tasting notes for each beer.
Tap Takeover: Partner with a local craft brewery and invite them to "takeover" a few taps. Ask the brewmaster to give a guided tasting. Increase beer sales of the featured brews by offering flights so guests can try 'em all.
Trivia Night: Put live trivia on tap. It's a proven way to increase beer sales – and bring in midweek business. With Buzztime Trivia LIVE, bars get all the trivia questions plus handheld tablets for guests to answer on. Scoring is automatic and fast (no pen and paper). Beef O'Brady's in Apollo Beach, Florida started a weeknight Trivia LIVE event. They saw pitcher beer sales increase by 200%.
Beer "Holidays": Need an excuse to launch an event? Celebrate Halfway-to-St.Patty's Day (September 17th). Commemorate the end of Prohibition on December 5th. Then keep the party going on December 10th for National Lager Day.
Pimp My Pint: You could host a popular "Paint n' Sip" party at your bar. But a Pimp My Pint night is much more on-brand. Attendees walk away with a decorated pint glass. You increase beer sales, because everyone needs creative "juices" while working.
Step #4) Market to Beer Lovers: Smart Promotions to Increase Beer Sales
After you've created an awesome beer list and events to match, promote 'em! These marketing tips will help you increase beer sales.
Social Media for Beer Lovers: Everyone is on Facebook, but beer drinkers have their own social networks. Apps like Untappd and Taphunter let beer fans rate and write reviews for beers. If they're seeking a specific beer? These apps show them where to go (your bar obviously!). Both apps allow users to "check in" at bars – so it's an opportunity to get on the beer lover's map. To really increase beer sales, invest in a little paid advertising on these apps.
Hoppy Hour: Fish tacos and an American-style lager (like Budweiser). Cheese plates and Belgian beers. Create a happy hour menu that pairs appetizers with featured brews. If your bar doesn't serve food, no worries. Just invite a food truck to set up outside your bar. You increase beer sales, the food truck gets a business boost. Everybody wins.
Tap Into Your Distributor: Your distributor can help increase beer sales by hooking you up with co-op dollars. Some big beer brands may offset your advertising costs if you mention their brews in your ads.
Step #5) Train Your Team
If your goal is to increase beer sales by appealing to the craft crowd, do your homework.
Head of the Glass
You wouldn't serve a martini in a tumbler. There are rules for beer glassware, too. Impress your guests and increase beer sales by investing in the right glasses (use this beer glassware guide).
Hint: Craft beer lovers prefer the trendy TeKu glass. Invented by an Italian "sensory analyst" to enhance every sip, TeKu glasses looks similar to a wine glass. Instead of a mug club, reward your top craft customers with a TeKu glass engraved with their name. It's a chance to increase beer sales and build loyalty.
Beer U
If you're serious about being the "it" beer spot in town, send your bartenders to beer school (online). That way they can speak (and sell) with authority. You've got options for training. The elite course is the Cicerone Certification. Or, try the less rigorous Beer 101 course from the Brewers Association. It's just $25 and includes a quiz and certificate.
If you can increase beer sales, you'll raise the bar on your overall profitability. Put these 5 steps into play at your bar today. Then say cheers to brewing up more business – one pint at a time!