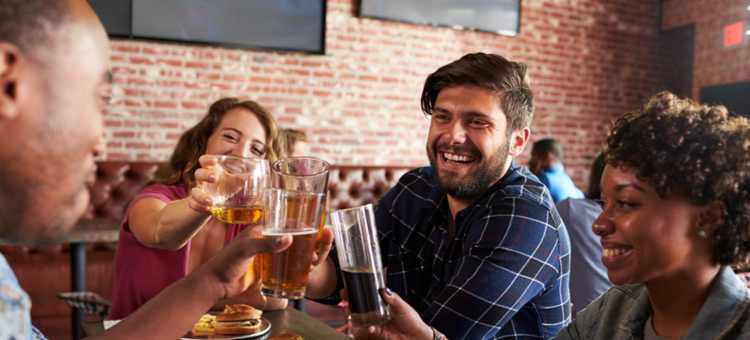 Super Bowl Sunday might as well be a national holiday. A season's worth of football all comes down to one game, and over 100 million viewers tune in to watch it. But the Super Bowl is about more than just football. It's also about over-the-top halftime shows and 30-second ad spots that cost $5,000,000. But perhaps most of all, the Super Bowl is about friends and family gathering to eat, drink, and be merry. While many do this in the comfort of their own homes, others venture out. So how can you make sure these groups of people choose to watch the big game at your bar or restaurant? This post will explore 6 Super Bowl promotion ideas that will help boost business on the biggest TV day of the year.
Rename Your Meals and Drinks
In honor of the big game, give a unique spin to your menu. Rename classic food and drink items based on the players and coaches who are in the Super Bowl. Although we don't yet know who'll be in the game, here are a few potential ideas:
Roethlis-Burger (Named after Pittsburgh Steelers Quarterback Ben Roethlisberger)
Bill Beli-Chicken Club (Named after New England Patriots Head Coach Bill Belichick)
Drew Sea-Brees (Named after New Orleans Saints Quarterback Drew Brees)
Dak Pres-Scotch on the Rocks (Named after Dallas Cowboys Quarterback Dak Prescott)
Antonio Brown Ale (Named after Pittsburgh Steelers Wide Receiver Antonio Brown)
Patrick Mahomes-Style Fries (Named after Kansas City Chiefs Quarterback Patrick Mahomes)
After the Super Bowl teams are determined, there are two full weeks before the game is played. This gives you and your staff plenty of time to brainstorm name ideas. If you're struggling to come up with anything, reference local sports bars of the teams that are set to square off. These places often name menu items after players and can give you some ideas. Last but not least, provide discounted prices for the renamed items to really get your patrons in the Super Bowl spirit.
Pre-Game Trivia
Although Super Bowl Sunday features hours of coverage leading up to the game, kickoff isn't until 6:30 PM EST. This means bars and restaurants will need to offer patrons something special if they want to attract a day-time crowd. A football trivia contest can be just that. Especially good for locales that regularly host trivia night, football trivia is fun, easy, and educational. Patrons make teams and square off against one another, testing their football expertise. Keep teams motivated by offering a special prize to the winners. Whether you want give them free drinks, meals, or tickets to a future football game, the idea is to make sure they go home happy.
[fl_builder_insert_layout slug="whitepaper-signup-module-50-best"]
Predict the Winner and Final Score
Another way for football fans to show their expertise is by predicting the game's winner and final score. Challenge attendees and reward whoever comes closest with a special prize. There are a few way you can go about the contest. One is to make the competition open to anybody on social media. So if someone tweets you a final score and a winning team, he's entered into the contest. Another way is to only allow people who are physically at your bar or restaurant to enter the contest. Let patrons know about the contest in the weeks leading up to the Super Bowl and encourage them to try to their hand. The final way to run the contest is by allowing anyone to enter via social media but requiring them to be at your bar during the Super Bowl to claim their prize. If they're absent, simply give the prize to whoever made the next-best prediction, assuming that person is in attendance. If he's not, just keep going down the list.
Catering and Delivery
Super Bowl house parties are tradition for some fans. And no matter how great your promotions are, there's no getting these people to watch the game at a bar or restaurant. So to capitalize on this elusive demographic, consider offering catering. You don't need to make your whole menu available. Maybe just some popular dishes that are easy to make. Before committing to catering, make sure you have all the resources you need. This includes cooks in the kitchen and drivers on the road. The last thing you want is a house-full of hungry fans going on social media to complain about how their food arrived hours late.
Activities for Non-Football Fans
Not everybody loves watching football. Some people go out on Super Bowl Sunday just to spend time with friends and family. To keep these patrons content while everyone else is invested in the game, host some kind of tournament they can partake in. Not everyone will want to participate, but the ones who do will appreciate the option. Classic bar games like darts, billiards, corn hole, and shuffleboard are all great choices. If your bar doesn't currently offer any games, installing a dart board is quick, easy, and inexpensive. Reward tournament winners with prizes that will make them want to come back to your bar for every Super bowl.
For viewers who are less interested in watching the Super Bowl, you can always dedicate a single TV to showing the Puppy Bowl. Of course, this is assuming your bar has enough TVs to ensure all the football enthusiasts have a good view of the Super Bowl. Making its debut in 2005 on Animal Planet, the Puppy Bowl has quickly become a fan favorite. Each year, millions of people tune in to watch the puppies, all between 12 and 21 weeks old, play on a miniature football field. Squeak toys are squeezed, cameras are licked, and one special pooch is given the Most Valuable Puppy (MVP) award.
Something for the Anti-Football Crowd
Some people don't like football but will tolerate it. Others would rather do anything than watch the Super Bowl. So if you have a bar that's not big on sports and maybe doesn't even have a TV, consider marketing yourself as a football-free zone. Whoever's not interested in watching football but still wants to go out will see your bar as an oasis of sorts.
Since the Super Bowl is such a big celebration, you'll want extra staff members on hand so you can keep up with the rush. And with only a couple weeks left before the big game, it's time start planning and getting the word out. The earlier you start, the better.
Post provided by Culinary Depot.