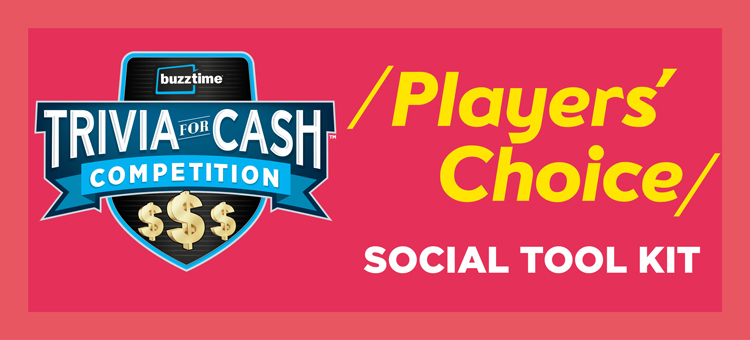 In February and March, we asked players to help shape Buzztime's April trivia competition. The results are in, and the Buzztime Nation has spoken…
Introducing Trivia for Cash: Players' Choice! Fans voted for more chances to win – and more prizes up for grabs. So, we made it happen. Every day in April, Buzztime is giving away over $100 in cash and prizes to the 10 highest scorers in Countdown Trivia.
The Buzztime team is already spreading the word about Players' Choice on social media, ads on your TVs and tablets, and emails sent to 10 million registered Buzztime players. Now, we're sharing this toolkit and 6 strategies to help you promote our latest Trivia for Cash competition!
Quick Overview of Player's Choice
Players' Choice is part of the Buzztime Trivia for Cash series where the most skilled players are rewarded with cash and prizes.
Every day in April, the 10 highest scorers in Countdown Trivia will win cash and prizes. The 3 highest scoring players take home $50, $25, and $25 plus Buzztime prizes. The next 7 players with top scores get Buzztime prizes.
While Countdown Trivia airs 7 days a week from 2pm until 10pm, there is only one 30-minute qualifying Players' Choice game per day at:
4:00 PT / 5:00 MT / 6:00 CT / 7:00 ET
Tip #1) Host Practice Rounds
Invite customers in to practice their Countdown skills in the hours leading up to the qualifying Players' Choice game in the early evening. Ask seasoned Buzztime players to share their best Countdown strategies with new players. It's a great way to create a social, friendly, and fun community of Buzztime players at your location.
Tip #2) Get Social with Us!
Alert your followers that your business is part of a national trivia competition by tagging Buzztime on social media:
Facebook: @Buzztime
Twitter: @Buzztime
Instagram: @PlayBuzztime
You can also share our Trivia for Cash: Players' Choice social media posts! Just head to Buzztime on Facebook, Twitter, and Instagram and find a graphic to share. Don't forget hashtags when sharing the following graphics to your accounts! Use #TriviaforCash #PlayersChoice and #Buzztime.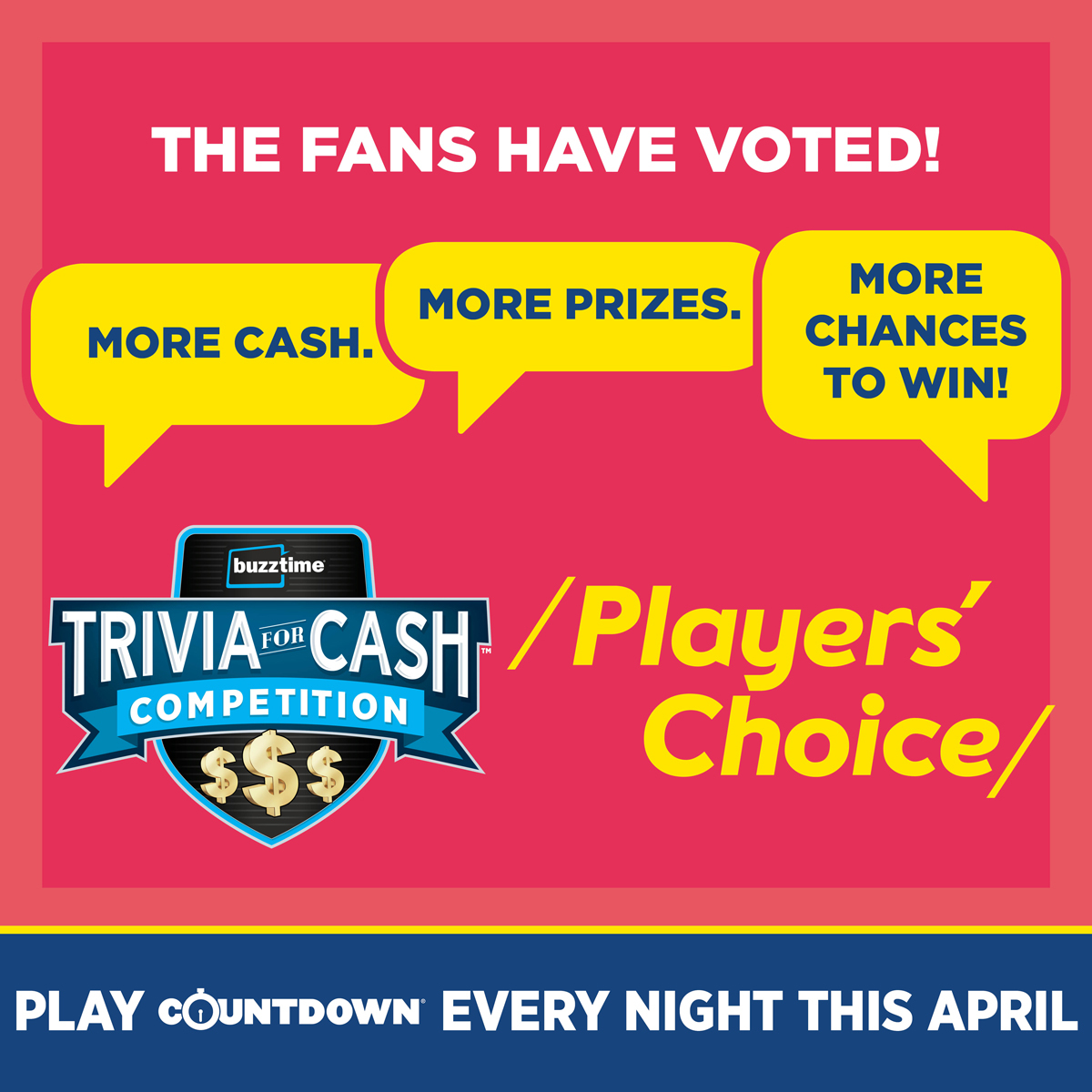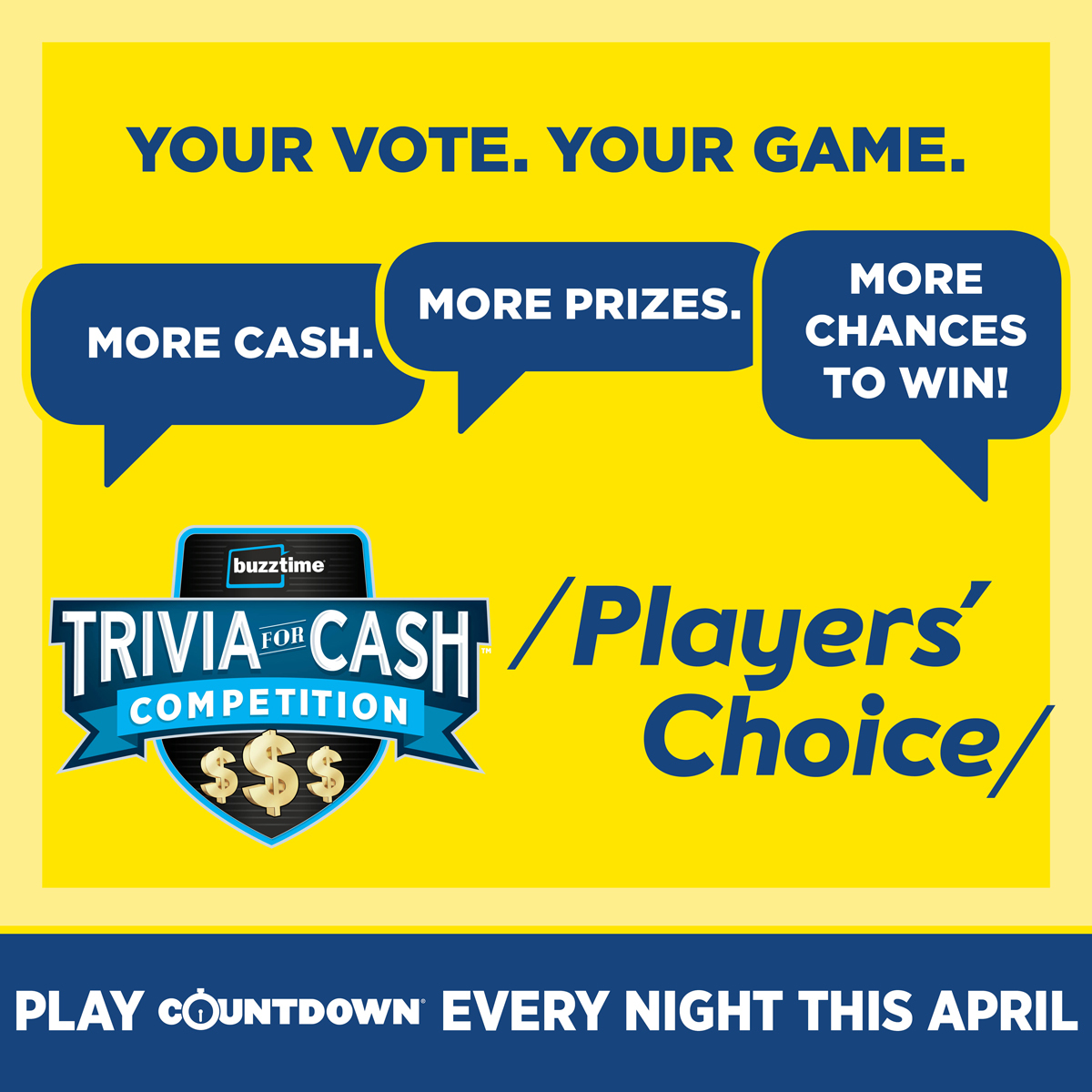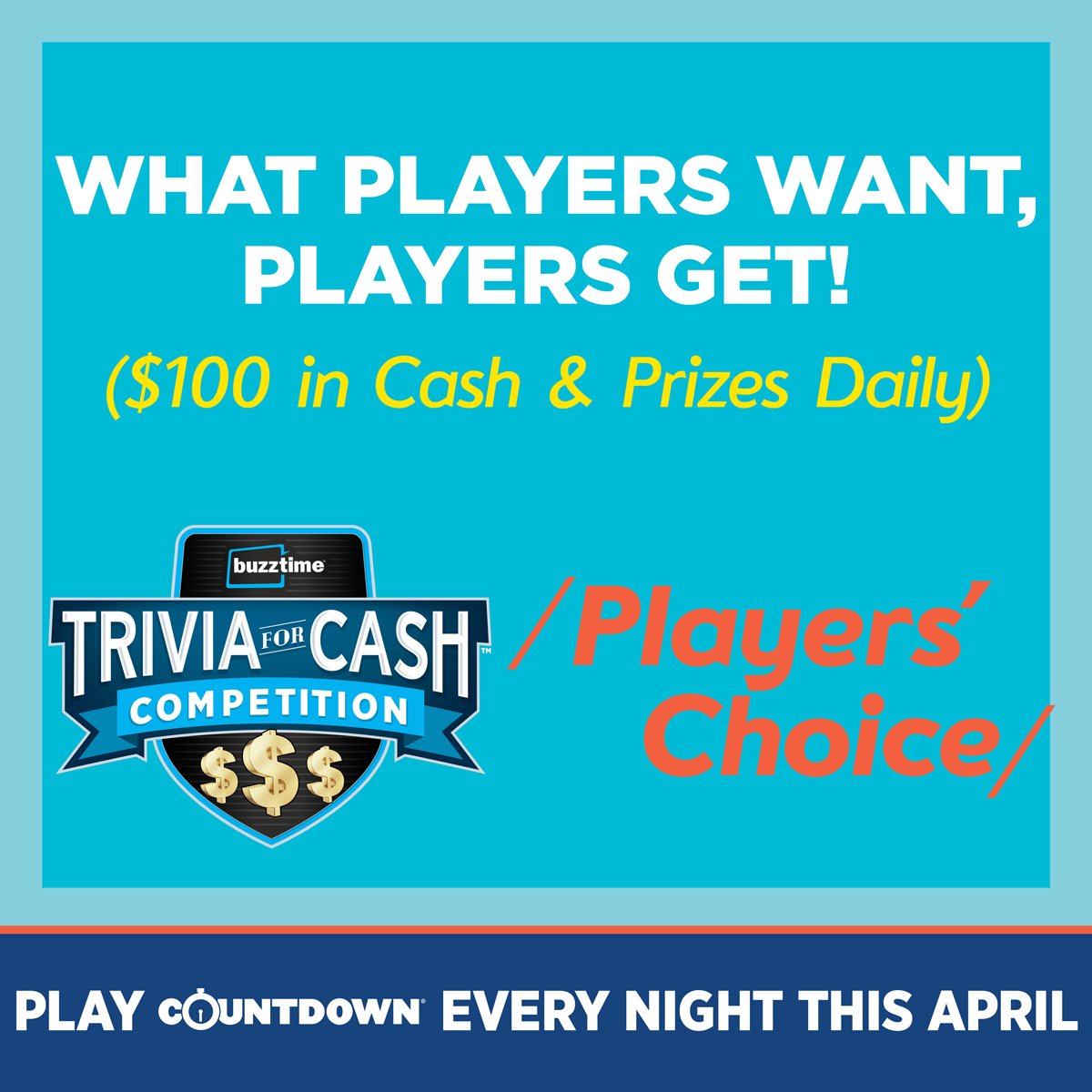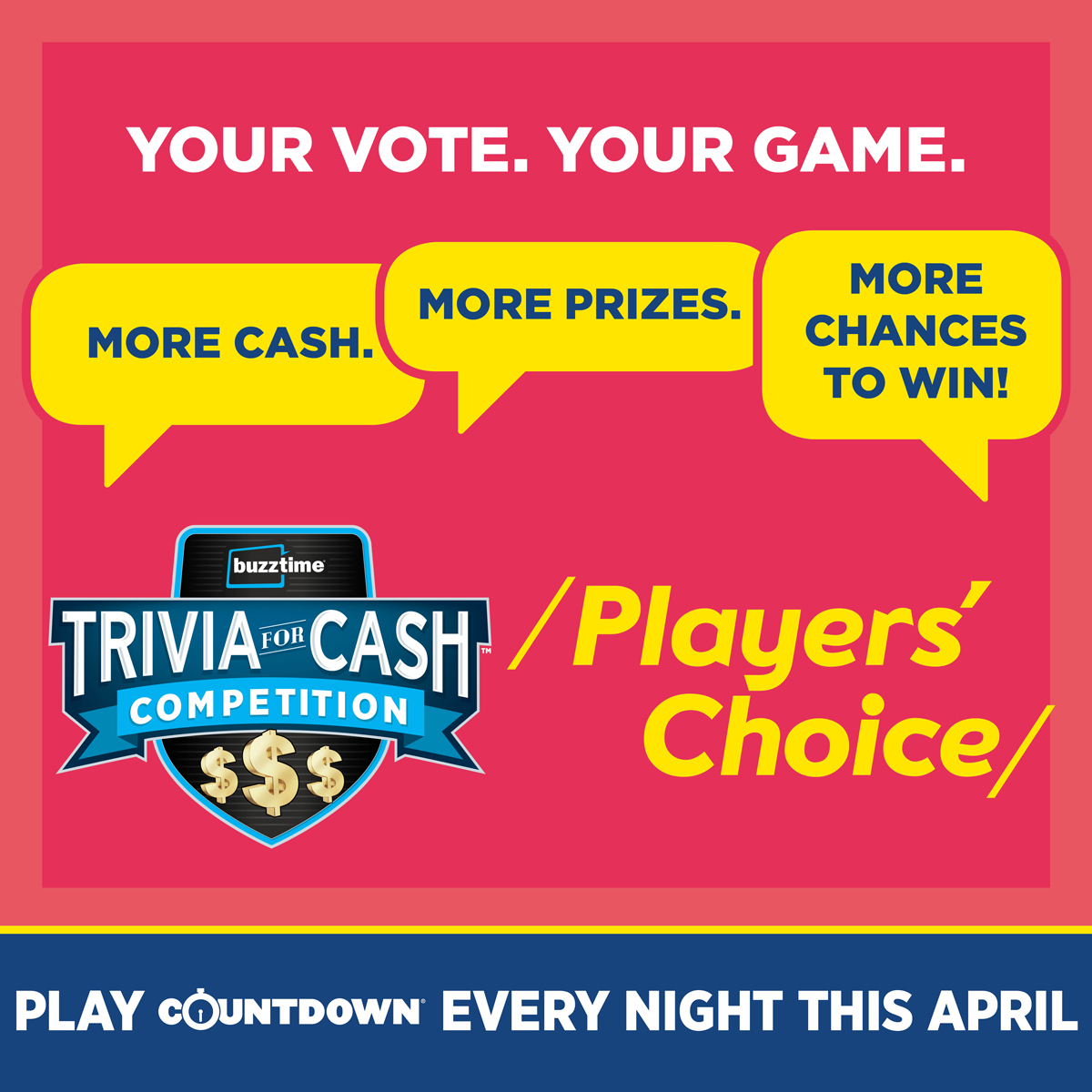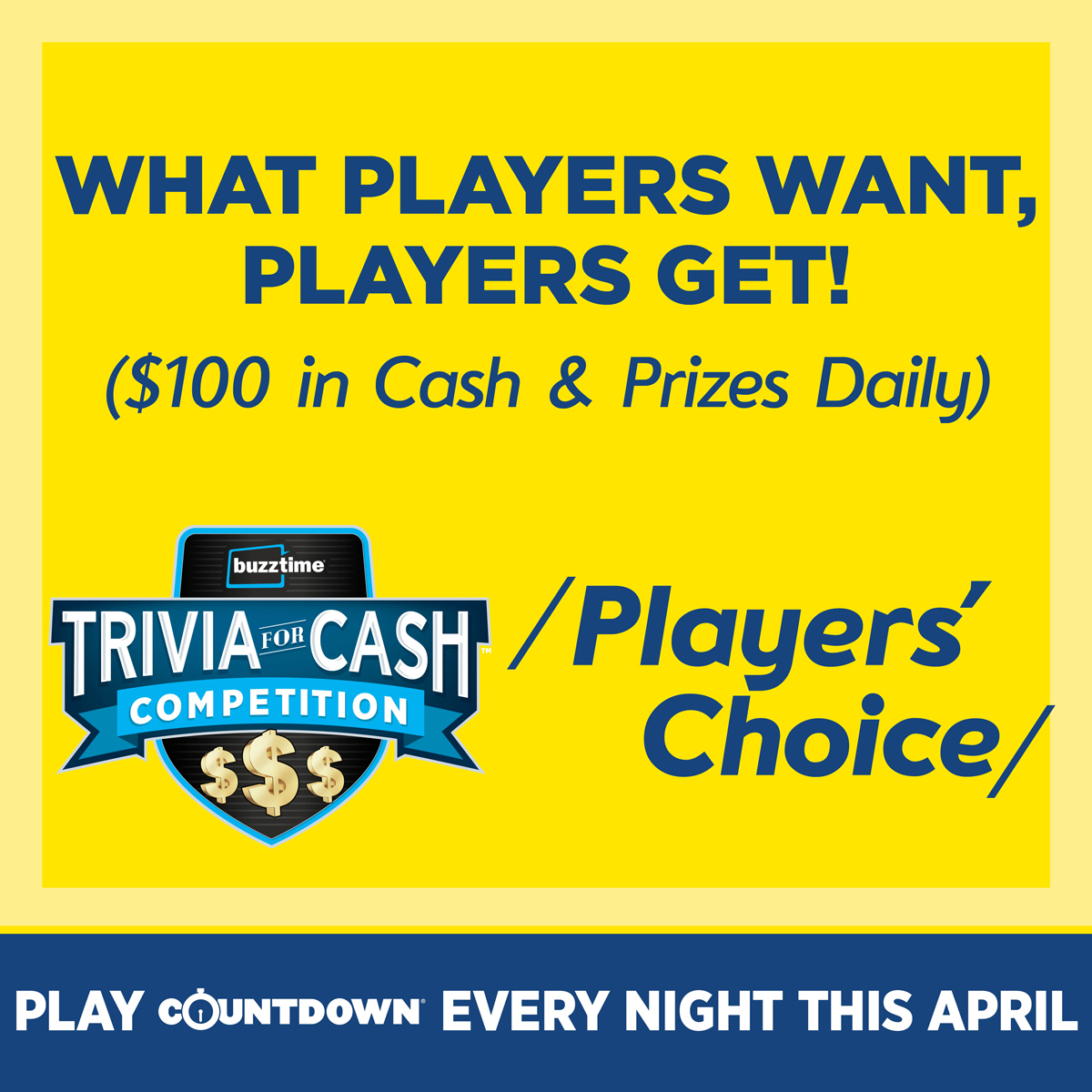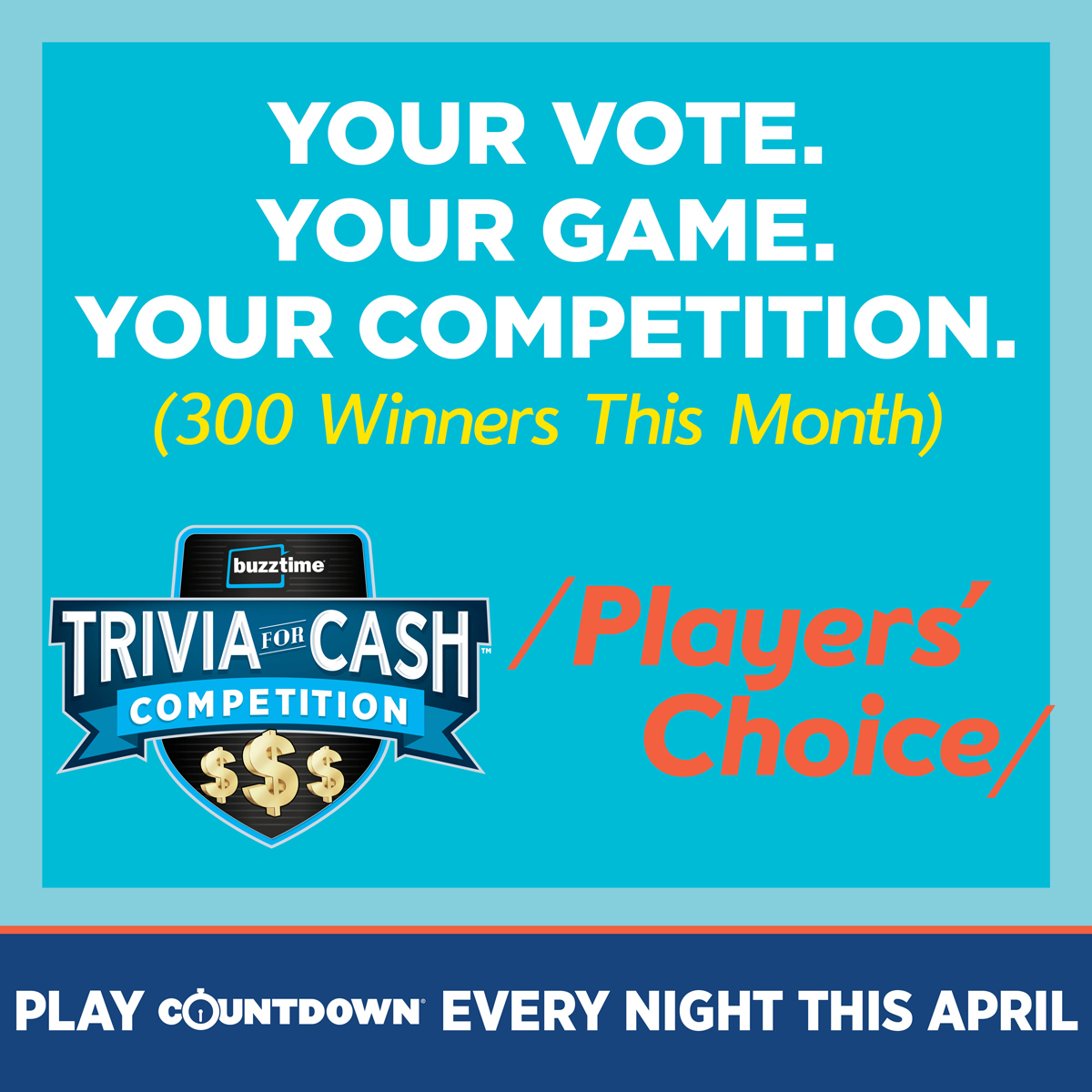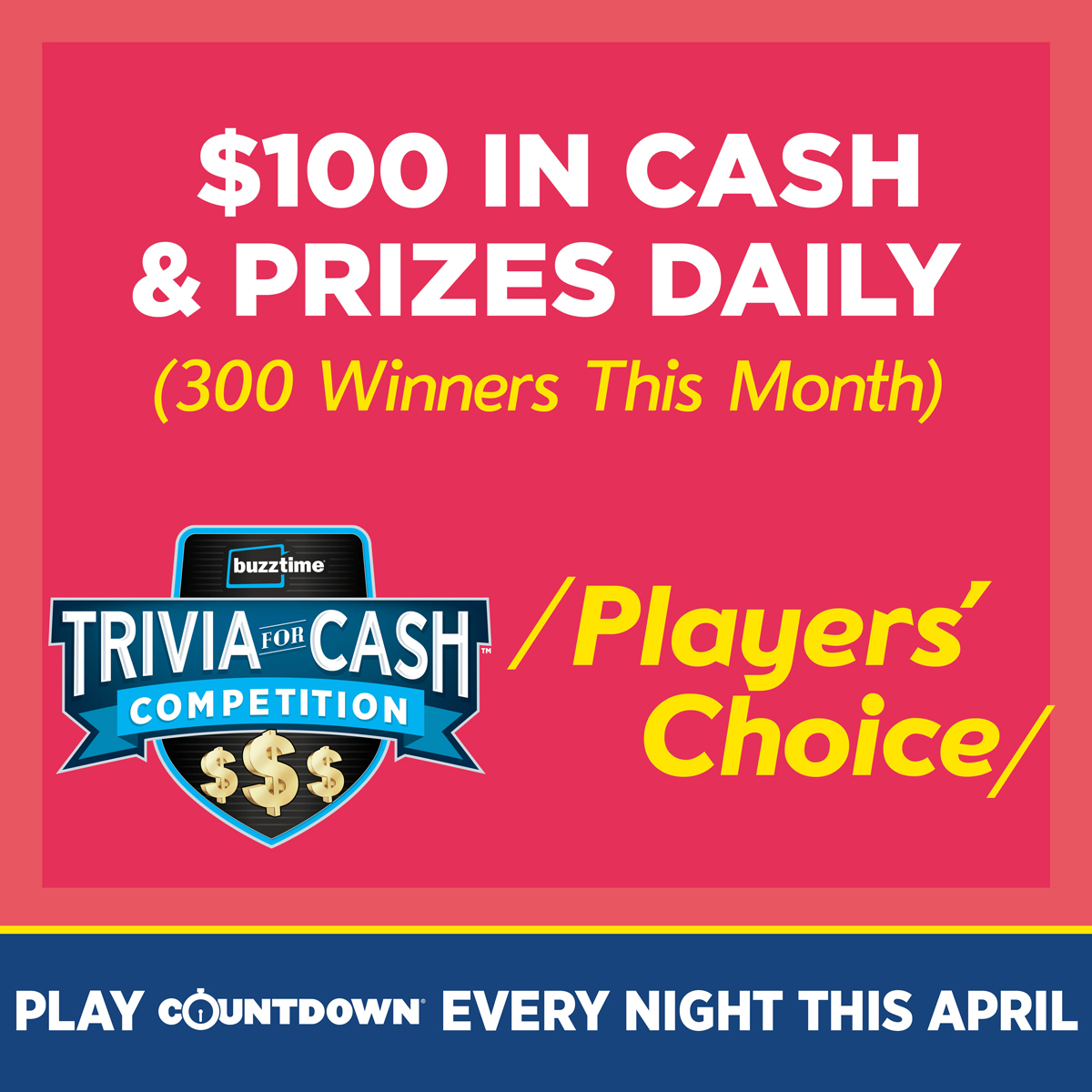 Tip #3) Focus on New Registrations
Players' Choice is your chance to grow your Buzztime player base. Invite patrons to take their daily shot at cash and prizes…just for playing a 30-minute game of Countdown Trivia! All they have to do is register first on a Buzztime tablet. It's easy and fast.
To increase your Buzztime registrations, reward staff for helping patrons register. You could hold a competition to see which staff members can get the most players registered.
Tip #4) Player's Choice Appetizer and Drink Specials
Spring has finally arrived, it's the perfect time to update your menu. Why not extend the "players' choice" theme to your happy hour appetizer and drinks list? Try these ideas:
Create a list of 4-5 different sliders – from Southern friend chicken sandwiches to a hamburger on a mini pretzel bun – then let customers choice any 3 for $10.
Use the Facebook, Twitter, or Instagram polling feature (on Instagram, it's available through the Instagram Stories platform). Let your customers choose which beer or wine to put on special for the week!
Take the guesswork out of pairing food with alcohol. Provide a recommended wine, cocktail, and beer option for each appetizer…then let customers make their choice!
Want more tips to draw a crowd for Happy Hour? Check out this popular whitepaper including 37 trending happy hour ideas.
Tip #5) Go LIVE on Instagram and Facebook
Give folks at home a little FOMO (fear of missing out). Use Facebook or Instagram Live to stream video during the Players' Choice competition. According to Facebook, live videos get up to 6x more engagement than static videos and photos.
Before you go live, give patrons a quick head's up so the camera shy ones can get out of the way. It's also helpful to know best practices for live streaming, this guide to going live explains it all.
Tip #6) Start a Conversation Online and IRL
Players' Choice can help you spark engagement – both in your venue, and on social media. Whether it's a bartender talking to a patron, or a post on Facebook, use these conversation starters to promote the competition in a casual way:
Ever won anything big in a competition? Tell us, then play Players' Choice to see if you're one of today's 10 winners in the @Buzztime #PlayersChoice competition!
How would you spend that extra cash if you're one of today's big winners in the @Buzztime #PlayersChoice competition?
What's your favorite beer? Tell us, then come grab a beer – and play a round of @Buzztime Countdown trivia for a chance to be one of today's 10 cash and prize winners!
Now that you've got these 6 tips for promoting Trivia for Cash: Players' Choice at your venue, go forth and spread the word. And stay tuned…Soon, we'll be releasing the next big Buzztime player promotion for May!