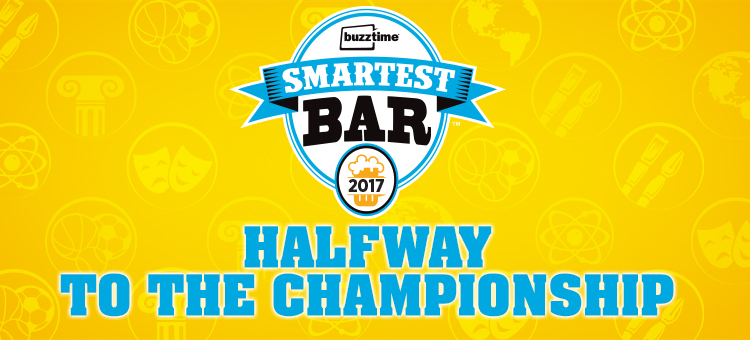 Smartest Bar is a big opportunity to build a bond with your guests, increase sales, and bring glory to your bar. Use these 6 tips to make the most of Smartest Bar. Remember, the competition runs Wednesdays at 5:30 PST / 8:30 EST through December 13ths, with a final championship round on December 20th.
Tip #1) Keep Recruiting Players!
This is one of the best tips: anyone at your location can join Smartest Bar at any time! Even if they haven't played in previous rounds, guests can still join in and compete. Only your location's top 5 individual scores count – so keep recruiting players. Plus, if they have a ball in Smartest Bar, they'll return for more gaming action after the competition.
Tip #2) Use the Leaderboard to Motivate Players
Is your location on the Smartest Bar Top 50 leaderboard? Find out, here. If you're on the board, share the link on social media and in your emails to congratulate your team. Also, remind them that it's the final stretch – and victory is within reach if they keep playing hard!
Not on the leaderboard? Use it as motivation! The leaderboard can change dramatically week by week. All it takes is a big effort from your players.
Tip #3) Reward Your MVPs
If you're in the Top 50, you'll see your location's Smartest Bar MVP. Give them the spotlight by highlighting their accomplishment on social media, in your emails, and on your own TVs using Buzztime's digital signage. It's a great way to build loyalty. Treat them to a complimentary appetizer, too.
Even if you're not on the leaderboard, reward and recognize the players competing on your behalf. Invite them in early for the next round and offer that complimentary appetizer. Take a team picture and share it on social media.
Tip #4) Create a Facebook Event for the "Playoffs"
Wednesday, December 13th is the last qualifying round of Smartest Bar trivia. Only 10 bars will go on to the Championship Round on December 20th. Create a Facebook Event inviting both players and "spectators" in for the playoffs on the 13th. Offer a drink or appetizer special for the night. By setting up a Facebook Event, you'll generate excitement over the final round and pull in more guests.
Tip #5) Use Smartest Bar as PR
Smartest Bar is an awesome PR opportunity. Even making it to the Championship Round is a big deal! If you're one of the 10 bars headed to the finals, draft up a quick press release and send to local media. Be sure to include the date and time of the finals, and invite the local community in to compete or just watch the bar vs. bar action. After all, you're competing for the title of Smartest Bar in North America…that's newsworthy!
Tip #6) Keep Your Eyes on the Prizes
Remind players (and yourself) that big prizes are up for grabs. The top 3 bars are rewarded with funds to host a victory party, medals for each player, and the winning bar gets a trophy! Use the prizes to keep players motivated and focused in the final rounds of Smartest Bar. Good luck!