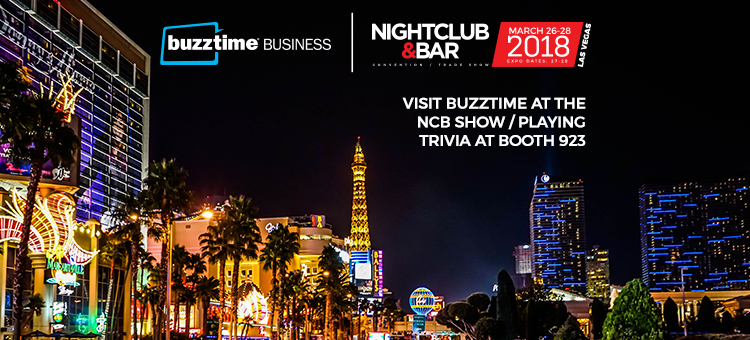 What happens in Vegas, stays in Vegas…unless it happens March 26-28th at the Las Vegas Convention Center. That's when you can score business-boosting resources and ideas at the 2018 Nightclub and Bar Show. You'll want to bring those back to your bar. And if you visit the Buzztime Bar at booth #923? You could even return with awesome prizes.
See the 6 things Buzztime has in store for the 2018 Nightclub and Bar Show. HINT: It's all about changing the game and elevating operations at bars like yours.
#1) Discover How to Drive Guest Loyalty
It's crazy competitive out there. How can your bar or nightclub bring guests in – and keep them coming back? Buzztime CEO Ram Krishnan will share proven strategies at the Nightclub and Bar Show:
How to Leverage Interactive Experiences to Drive Guest Loyalty
March 26, 2018 1:40pm-2:30pm
Room S220 at the Nightclub and Bar Show
#2) Pull Up a Chair…at the Award-Winning Buzztime Bar (Booth #923)
Yes, Buzztime is bringing an actual bar to the Nightclub and Bar Show. It's your chance to try out the interactive games and trivia in use at nearly 3,000 venues today. Enjoy a little friendly competition in a round of live trivia and you could win an Amazon Echo. Games run 3/27- 1pm, 3pm, 5pm and 3/28- 1pm, 3pm.
We can almost guarantee a great time. Last year, the Buzztime Bar won the all-around best booth at the Nightclub and Bar Show. Our fun, friendly, and knowledgeable team also took home the Outstanding Team Award. So stop by, ask us anything, and show off your mad trivia skills.
#3) Go Live
By 2020, experts predict that live online streaming will account for 82% of internet traffic. And Facebook's new algorithm rewards businesses that "go live" – stating live videos are viewed 6x more than regular videos. Discover how to own this trend. Join Buzztime's VP of Growth Markets, LaShawn James, at the Nightclub and Bar Show.
Engaging the Experience Economy & Live Streaming
March 26, 2018 1:40pm-2:30pm
Room S219
#4) Take Guest-Facing Ordering and Payment Tech for a Spin
Today's guests are thirsty for the latest technology. According to a study by the National Restaurant Association, 79% of guests agree that technology in bars and restaurants increases convenience. Nearly half of them also believe tech makes a night out more fun.
After you're done playing a round of trivia on tablets at the Buzztime Bar, try out the latest way guests are getting their tech fix: digital menus with order and payment functionality. Many bars are putting their beer, wine, and cocktail menus on touchscreen tablets. Take this tech for a test drive at the Buzztime Bar (booth #923) at the Nightclub and Bar Show. Can't wait? Sneak a peek at digital dining tech now.
#5) Taste and Sip on the Latest Trends at the Nightclub and Bar Show
One of the best parts of the Nightclub and Bar Show? Beyond trying out the latest tech, you can taste the newest liquors and foods. Previous Nightclub and Bar Show product debuts have made headlines: like Cabernet sorbet and Pop Rocks Jello shots. Expect to sample to your heart's delight – and be inspired by products that tap into the biggest 2018 trends in the bar and restaurant biz.
#6) Get in the Game with Sports Programming and Events
Buzztime's LaShawn James has more insights to share at the Nightclub and Bar Show. Whether you're a sports bar or a trendy nightclub, sports programming can be your ticket to larger crowd size and bigger sales. Find out how…
How to Drive Customer Traffic with Sports Programming and Events
March 27, 2018 1:00pm-1:50pm
Room S105
If you're ready to up your game as a nightclub or bar, put Buzztime on your list of "must-attend" booths and speakers.