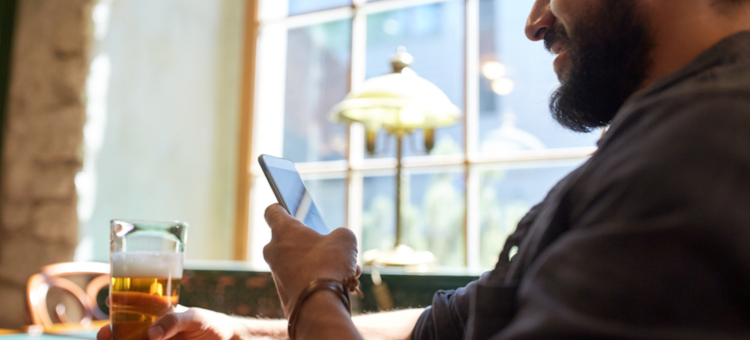 A beer in one hand, a smartphone in the other. That's how you can spot today's craft beer drinkers. Sure, they could be scrolling Instagram. It's more likely they're using beer apps to rate beers, read reviews, or even get paid to imbibe (see #7 on the beer apps list). Discover 7 popular beer apps – and how your business can tap into more insights, customers, and profits by using them.
7 Benefits of Beer Apps for Bars, Breweries, and Restaurants
1) Get on the Map with the Craft Crowd
Hands down, this is the most important reason you should use beer apps. Right now, thousands of thirsty craft beer drinkers are using these apps to find places with awesome tap lists. You want to get found, right?
A quick note: beer apps are on the rise nationwide. Check to see if there is a local or regional app available in your area – then ensure you're listed. Case in point: The Brewers Association of Pennsylvania recently launched the Digital Ale Trail App with over 200 breweries.
2) Be Part of the Social Media Community of Beer Lovers
Let's be honest. Social media is for humble – and not-so-humble – bragging. On Facebook, parents show off their cute kids, and pet owners proudly display Fluffy's latest trick.
On beer apps like UnTappd? Beer drinkers do their own bragging, letting friends know where they've scored a white whale (aka a super-rare beer) by "checking in" at locations like yours.
You can even respond to beer reviews through public comments, just like other social media platforms and review sites like Yelp. Ultimately, by using these beer apps, you're joining a community of beer lovers and speaking their language.
3) Show Off Your Selection
This one may frustrate you…but craft beer drinkers won't always go to your website to see what's on tap. They're more apt to use beer apps to seek out a specific beer they're craving. They also want to view ratings of those beers, which they can do on a beer app (but not your website).
4) Reach Out of Townies
This ties into the first benefit, but it's worth reiterating: Beer apps put you on the map with craft beer drinkers in the area – and many are coming in from out of town. You can bet they'll use their favorite beer apps to see where to get crafty. The HopPlotter app even focuses on beer tourists with a handy beer tour planner.
5) Drinking as a Game
No, we're not talking about flip cup or beer pong here. Beer apps "gamify" the process of drinking beer, turning it into a quest. On UnTappd, users can earn badges for completing missions. For example, an UnTappd user can acquire the "Silence of the Lambics" badge (that name) by checking in 5 different beers in the lambic style.
6) Be a Voyeur: Watch the Trends…and the Competition
It doesn't hurt to look. In fact, it can really help your business. Use beer apps to check out what styles of beer are trending in your area. If there's an "it" craft beer spot in town, see which beer brands and styles they carry – and follow suit. If you run a bar or restaurant? Don't place an order with your distributor before checking out a brew's rating on RateBeer or Beer Advocate.
7) Extras if You Pay to Play
While almost all of the 7 best beer apps provide free listings for businesses, you can unlock powerful promotional tools by ponying up a little extra cash. For example, for about $25 a month, you're able to list upcoming events alongside your beer menu on the aptly named BeerMenu app.
Reviews of the 7 Best Beer Apps
Know them. Use them. Love them. The best beer apps are easy to use and can better position your business as a craft beer hot spot.
Available for: Bars, Restaurants, Breweries
Price: Contact for a demo, fee is roughly $600/year.
UnTappd is first on this list of the best beer apps for good reason. The app has been downloaded 7 million times, making it the most popular beer app by far.
While your business may be listed already on UnTappd, to unlock the full benefits you'll want to pay for UnTappd for Business. You can then create and edit beer lists; easily update your menu on social media, your website, and the app itself; send alerts of new brews and events to UnTappd users; and more.
According to UnTappd's case studies, Night Shift Brewing in Everett, Massachusetts joined UnTappd and gained 226 customers in the first month.
Available for: Bars, Restaurants, Breweries, Beer Stores
Price: Free to set up a basic listing, $25-$40/Month for additional promotion
It's free to set up a profile for your location and list your beers at BeerMenus. As of November 2018, BeerMenus had over 44,000 places listed and nearly 7 million users. BeerMenus users can set up a customized feed of their favorite beer spots, and receive alerts from your biz when new brews arrive. For between $25-40 per month, you can also promote your events. (P.S. live trivia events are trending at bars and breweries!)
Available for: Bars, Restaurants, Breweries, Beer Stores
Price: Contact for a complimentary demo and estimate
Based in San Diego, TapHunter is unique among beer apps in that it also includes wine, spirits, and cocktails. App users can search for a nearby place that carries their favorite drink, submit reviews, and get directions. TapHunter has also categorized venues based on useful information like "dog-friendly bars" or "growler fills available." Since brands and venues pay to be listed on TapHunter, it gives them a competitive advantage over unlisted businesses.
Available for: Bars, Restaurants, Breweries, Beer Stores
Price: Free for breweries to set up a listing
As of 2018, RateBeer is strictly a beer review platform. Only breweries can set up a free listing and profile. However, if you serve craft beer, definitely use this app to help you plan out your tap list. On RateBeer (and all the other beer apps on this list) you can also find nearby breweries. See which ones are the most popular, then reach out to see if you can put their brews on tap at your place. In the future, RateBeer may join the list of beer apps that also let breweries pay for additional promotion. Stay tuned…
Available for: Breweries
Price: Flat out free
Over 10,700 breweries worldwide can be found on this app. If you own a brewery, make sure you're listed. While it's not the most popular of beer apps, HopPlotter has a niche function: helping folks create a custom map of breweries. Whether it's a self-guided day trip to local breweries, or a tour for a big group, chances are these beer drinkers will tap into HopPlotter.
Available for: Bars, Restaurants, Breweries, Beer Stores
Price: Free to claim and manage your "place" listing
Why is a website on this list of beer apps? Because Beer Advocate is working on one, according to a forum post by one of the founders in March 2018.
In the meantime, it's essential that you get your business listed on BeerAdvocate.com ASAP. Millions of craft beer drinkers turn to BeerAdvocate.com to read and write in-depth beer reviews. You can purchase advertising on Beer Advocate's social media platforms, with rates starting at $250. That's a great deal considering Beer Advocate has over 800,000 social media followers…
Available for: Breweries
Price: N/A
Last on this list of beer apps is PintPass, a new platform launched in the fall of 2018. Currently, there aren't any tools available to brewery owners. However, PintPass is generating serious buzz in the world of beer apps and you should definitely know about it. Why? Because PintPass pays people to drink beer. Seriously. A PintPass user can visit any brewery, take a brief survey, and get paid $2. In the future, PintPass may provide benefits to breweries by sharing survey data or offering advertising on the app.
Start with these 7 beer apps, but don't stop there. Do your homework. Talk to your customers. See which apps they use. Check out ratings in the Apple and Android app stores. There's only one rule when it comes to beer apps: it's good to be in multiple places at once. Get app happy, and claim your free listings on as many apps as you can. Cheers to your success!
[fl_builder_insert_layout slug="whitepaper-signup-module-29-tactics-busiest-bars"]