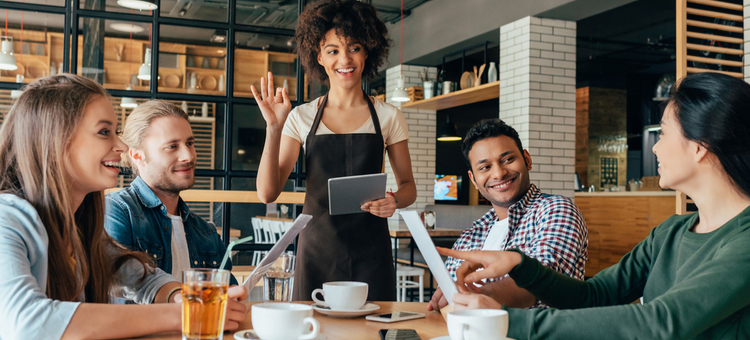 Servers play an important role in your restaurant – they're the first people your guests interact with, making them the face of your business. So, give your waitstaff the tools they need to succeed with these 7 types of trending restaurant technology.
Restaurant Technology to Level Up Basic Operations
1. Roll Out the Red Carpet with a Rockstar Reservation Solution
Reservation systems are usually only seen as a solution for diners looking avoid a long wait on a night out. But when used to its full advantage, this restaurant technology can do so much more than save seats.
Know what they like: Software like SevenRooms lets you input data about your customers' meal preferences, diet limitations, or allergies so your servers can make personal recommendations for your guests.
Make first-time customers feel like regulars: Most reservation systems let you enter notes about guests before they arrive, so your servers can add little touches to make them feel at home – like greeting them by name on their first visit.
Save the date: Record birthdays and anniversaries, so your team can set the mood for a celebration during your guests' special night out.
Train your staff to use this restaurant technology as a way to customize the guest experience. Your guests will feel like rock stars, which means rave reviews for your restaurant and bigger tips for your wait staff.
2. Stay Connected with an Integrated POS System
POS systems are one of the most common forms of restaurant technology – 81% of restaurants use either a POS or Electronic Register System. But now, they are becoming so advanced that you can integrate your POS with other apps and software to help your team stay more connected in real time:
Eighty-sixed a sold-out menu item?
Your inventory software can automatically make a note for your servers, so they can find out and notify your customers before they place an order.
Booked a large party coming in during the dinner rush?
Your reservation system can notify the hostess so she can avoid seating people in the reserved area before the party arrives.
Server missed a shift?
Your manager or hostess can quickly adjust the sections so your servers won't be stretched thin with too many tables.
With integrated restaurant technology, your servers are better equipped to deal with potential issues and provide a better experience for your guests. Check out these reviews of the top digital POS systems available today!
3. Simplify Your Shifts with Scheduling Software
Juggling schedules is hard work – especially when you have a large staff with rotating shifts. But thanks to restaurant technology, you can remove the headache for your managers and servers with an easy-to-use scheduling solution.
Instead of relying on the old-school method of printing out a schedule and hunting down servers, scheduling software like 7 Shifts streamlines the process and provides easy access for your team.
Some restaurant technology solutions for scheduling even include an app, so your servers can easily view their schedules and request time off. And if they have to switch shifts, the adjustments are automatically updated on the schedule, reducing confusion about who's supposed to come in and when.
[fl_builder_insert_layout slug="whitepaper-signup-module-33-customer-loyalty"]
Restaurant Technology for Stellar Service
Put the power in your customers' hands with self-service restaurant technology, so your servers can focus on what's important…your guests.
4. Upsell and Save Time with Restaurant Tablets
Ordering from a digital menu on restaurant tablets is a growing trend in the hospitality industry.  And with all the upsides, it's easy to see why.
Reduces the wait: Unfortunately, servers can't be everywhere at once. But even in the middle of a busy dinner rush, your customers won't have to wait to place their order – they can just take it to the tablet.
Encourages easy modification: With restaurant technology like tableside tablets, guests can peruse the menu at their leisure and discover more ways to customize their meals with add-ons and extras.
Naturally upsells: With the ability to upload mouth-watering photos of your best-sellers, you can upsell without saying a word. Some restaurant technology on these tablets can even automatically display a prompt like: "Nice choice on the pasta primavera, our house pinot grigio pairs perfectly for just $7!"
But don't think this restaurant technology is making servers obsolete. They're still necessary to answer questions and add a human touch to the guest experience. And, since they'll be spending less time running around taking orders, they'll be free to mingle with guests and ensure they're having a great time.
5. Redefine Pour Service with Self-Serving Taps
While a full bar is every restaurant owner's dream, it often means that patrons are waiting for drinks! That results in lost revenue for you and fewer tips for your staff. But now, restaurant technology made it so your guests can be their own bartenders with self-serving taps.
Self-serving bars are popping up across the nation, but you don't have to go full self-service with this restaurant technology! Some restaurants just feature a few table taps, so guests can pour their next round without leaving their seats. And while customers are pouring themselves a drink, your bartenders and servers are able to check in with customers, provide details about the different drafts, and offer stellar service that will keep your guests coming back for more.
6. Save Time (and Money) with Secure Payment Options
Credit card security is a pretty big deal for customers. So providing secure payment options – like restaurant tablets – can really pay off. In fact, a recent Accenture Loyalty study found that 85% of guests are more loyal to businesses that protect their financial data.
With restaurant tablets, guests are able to pay right at the table…without their credit card ever leaving the table.
This restaurant technology isn't only good for business, it also saves time for servers, by eliminating ALL 5 of these time-consuming steps.
Step One: The server asks if the customers are ready for their check (and will have to repeat if they aren't yet).
Step Two: Server leaves to print bill.
Step Three: Server drops off the bill at the table.
Step Four: The server picks up a bill to process the payment.
Step Five: The server returns to the table so guests can (finally) sign the check and end the transaction.
Instead, restaurant technology like pay-at-the-table devices frees up to cover more tables, and chat with guests.
Restaurant Technology to Enhance Entertainment
Guests are looking for more than a meal when dining out. According to an AT&T and Technomic study, 70% of consumers view it as an opportunity for entertainment. Fortunately, restaurant technology has your back, with options to help servers put on some pizzazz for your guests.
7. Put Fun on the Menu with Tableside Arcade Games and Trivia
Restaurant wait times are inevitable. But never fear – restaurant technology comes to the rescue with tableside arcade games and trivia.
Let's talk about those arcade games first. Guests can use restaurant tablets to access arcade games without ever leaving their table. Time will fly by as they challenge their friends and family to everything from race car driving to word puzzles. No matter which game they choose, ticket times will feel ten times faster – which means a better experience for your guests.
Restaurant technology is even transforming the trivia experience…introducing trivia on tablets. In addition to the arcade gallery, these restaurant tablets offer nationally broadcasted trivia games 24/7 to keep your guests entertained any day of the week.
Questions and scores are automated, so guests can log in and go while your server focuses on their tables – and maybe offer their own two cents on difficult questions. Who knew restaurant technology could be so fun?
Armed with the right restaurant technology, you can take your service to the next level. Even veteran servers will be excited by the edge restaurant technology gives them when it comes to taking care of tables…and the extra tips that come with it!